Today's guest post comes from Kristin Caynor, Ph.D. student at Trinity College Bristol/University of Aberdeen, TCK from Thailand, and a global theological educator. For her full bio, see below.
---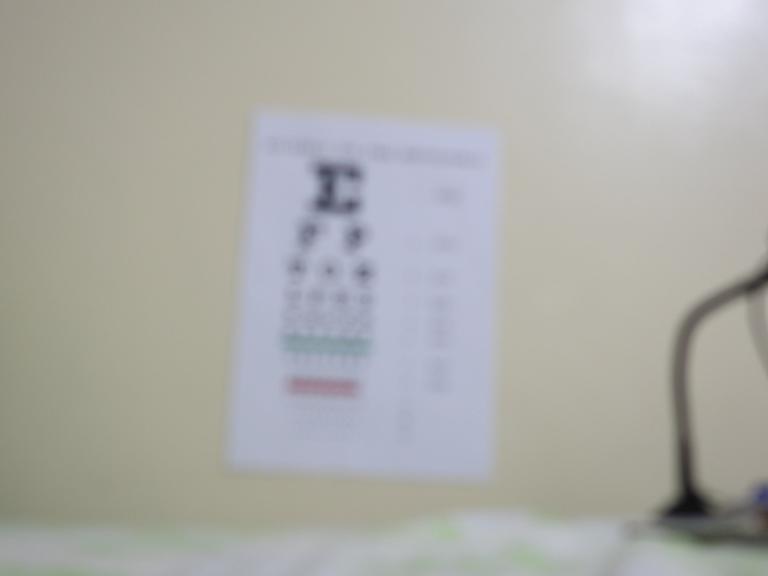 In the first post, we dealt with the concept of re-kin-ciliation and explained key ways that it is distinct from "reconciliation." Then, in the second post, we looked specifically at how re-kin-ciliation deals with human evil.
In this post, we'll look at how responding to God's calls for re-kin-ciliation heals our vision of God's Word, ourselves, and others.
We Have a Vision Problem
Scripture often uses the metaphor of blindness to explain the human condition.
In more than one place, Jesus calls the religious leaders of his day "blind men" or "blind guides" (Mat. 15:14, 23:17, 23:24). Peter urges his readers to adopt a list of attributes arising from the knowledge of God, culminating in the pinnacle virtues "brotherly affection, and love" (2 Peter 1:3–11). The apostle then says,
"if these qualities are yours and are increasing, they keep you from being ineffective or unfruitful in the knowledge of our Lord Jesus Christ. For whoever lacks these qualities is so nearsighted that he is blind, having forgotten that he was cleansed from his former sins" (vs. 8–9, ESV).
James likewise describes those who are "hearers" of the Word but not "doers" as "deceiving themselves." He says they are like those who look in a mirror and then at once walk away and forget what they look like (1:22–25).
And I could go on.
Re-kin-ciliation is OUR Problem
If we slow down, we notice that these passages are addressed not to an individual, but to a community. In Greek, these injunctions are given to you in the plural, to "all y'all".
Many of the qualities that we are urged to take on are inherently communal in nature. Who can practice love by themselves? What about gentleness? How about kindness? Generosity? Brotherly affection?
These qualities must be ours together, and according to 2 Peter, they must also be increasing if we are to be effective in the knowledge of our Lord. In 1 Peter 1:22–23, the apostle explains it in another way:
"Now that you have purified your souls by your obedience to the truth so that you have genuine mutual love, love one another deeply from the heart."
Our souls are purified by obedience to the truth, leading to love.
Putting all of this together, we discern a kind of "epistemology of re-kin-ciliation." In order not to be ineffective, unfruitful, so nearsighted that we are blind, forgetful, deceiving ourselves, people of worthless religion (James 1:26–27) and dead in faith (2:17–18), we must be obedient to the Word that we hear (1:21).
As we seek to obey this Word in relationships, we experience healing from the harm that sin has done in our lives. We gain a restored vision of ourselves, God, and others. We begin to gain more of the purity of heart by which we see God.
Belonging to God's re-kin-ciling community causes us to grow in holiness. It holds up a mirror and lets us see ourselves and our blind spots more clearly.
See and Share the Glory of God
But, praise be to God, we don't just see more of ourselves! Illuminated by the Holy Spirit working in the gifts and fruit of the "one anothers," we also behold our God, our Lord, our Beloved One, Jesus Christ. 2 Cor. 3:18 says,
"And we all, with unveiled face, beholding the glory of the Lord, are being transformed into the same image from one degree of glory to another." (ESV)
Where do we behold the glory of the Lord? Jesus is very clear: it is no longer on a mountain (John 4:23–24) but in a people uniquely re-kin-ciled because of their wholehearted, lived response to the good news about him.
As he prayed in John 17:22–23,
"The glory that you have given me I have given to them, that they may be one even as we are one, I in them and you in me, that they may become perfectly one, so that the world may know that you sent me and loved them even as you loved me." (ESV)
Now, this doesn't mean true insights cannot come from people who are not actively being re-kin-ciled. But they will not behold the fullness of Truth rooted in the universe-altering work of Jesus, Truth that demands not only that we hear but that we respond by becoming a new creation. As these changes continue by the power of the Holy Spirit, we come to produce more seeds, and perceive more of the Truth, bearing fruit a hundredfold.
Without an active response, Truth is like a seed that sprouts up and then withers in the sun, never reaching full maturity. We become like people who look in the mirror, immediately forgetting what they look like. We have seen something, but it hasn't taken effect.
So, if we want to accurately interpret God's Word, then let us be doers and not hearers only. Let us strive for peace, and for the holiness without which no one will see God (Heb. 12:14).
Let us be a re-kin-ciled community, constantly returning to the truth about who we are, and the Truth of our God: the wondrous Good News of peace (Eph. 2:14–22).
---
Kristin Caynor's Bio
Kristin is a Ph.D. student at Trinity College Bristol/University of Aberdeen, and a global theological educator working with national and indigenous organizations and seminaries around the world through Live Global. She is an American with Hispanic background who grew up in both the U.S. and Thailand.
Her dissertation explores how hermeneutical practices themselves can foster relationships with others of difference, awareness of cultural diversity, reconciliation, and the inclusion of diverse cultural resources which may not yet have been considered in mainstream discourse. She is also a researcher for The Ephesians 2 Gospel Project, a global conversation around Eph. 2:11–22 exploring issues of collective identity conflict and shame-fueled violence from social scientific, theological, historical, cultural, and biblical perspectives.