New Initiative | New Services Offered | New About Page
FYI: I have the opportunity to launch a new initiative.  In a way, it is in a softlaunch mode because I am releasing the news in stages.  This year I have become a Limited License Marriage and Family Therapist in Michigan (under supervision).  To bring all of the ministries that I am involved with under one umbrella, my wife Crystal and I have also launched a nonprofit named JC Ingle, Inc.
To read about it, please see my new about page, Meet Jared.
I've written in quite a different style on the new about page, hoping to connect more with the future audience I would like to attract.
Just a note for those who are writers, bloggers, etc.: this page is a more formal page for an academic readership.  The new about page is still professional, but perhaps more engaging for a wider audience.
If you would like pointers from an internet marketing coach who has been a key player in the game for more than a decade, see David Boozer.
Take time to peruse this previous About page and the new Meet Jared page.  I'm keeping this old one as a keepsake.  It is, after all, my first About page on Patheos, and I love being here.
Enjoy your day!
JVI
P.S. Next week, Lord willing I'll start a series highlighting some of Crystal's writings!  Stay tuned.
---
Rev. Jared V. Ingle
Minister | Teacher | Writer | Pulpit Supply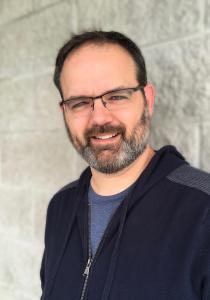 Raised in a ministry family as a third generation preacher, I've held ministerial credentials since 1993.  I have served for over ten years in Christian higher education.  I've also been privileged to counsel under supervision, although I'm not fully licensed yet.
We're actually in a process of discerning now.  It would be an honor to serve in any of these three fields . . . or just start working on a doctorate.  Doesn't everyone want to?  And my wife would like to formally study spiritual formation.  We're not sure what the path is, and whether it will be here or there.  We're willing to relocate, hopefully closer to family.
I have purposefully written four narratives at the beginning of my time as an Evangelical Columnist for Patheos.  These are a little more personal than formal, or research based.  I hope they will offer insights that are not readily available by looking at my qualifications or professional development.
1 Prologue: Of Faith Community, Faith Development, and Faith Practices
2 Continuing the Narrative: Family, Community, Superheroes, and Ministry
3 On the Spirit's Gifts, Strengths-Based, and Integrative Approaches
4 Doctrine in the Greater Christian Community
Professional Snapshot: How We Came to Town
We served in various ministerial and professional roles in the Ashland-Huntington area.  I was working for Messenger, writing for PCCC, attending Asbury, evangelizing, and moonlighting for a coffee shop.  I was a pretty fast barista.  Then, the loving community of faith known as MT. ZION FWC called upon us in 2013, and we entered a new phase of ministry.
None of us had ever been to Traverse City, but we did have friends here, and we fell in love with the congregation.  We love town as well, which reminds us of other regions we have lived in.  In the autumn of 2017, we began to sense that we had fulfilled our mission with the church, so we resigned at the beginning of 2018.  We've been seeking wisdom in this season, hoping to set the foundation for the next phase of our family's life.
For more about my vocational background, visit LinkedIn or request a CV
For ministry or speaking bookings for Crystal or I, take a moment to Connect
Academic Preparation
2017 M.A.T.S. (Theological Studies),
Asbury Theological Seminary, Wilmore, KY
2004 M.A. Counseling, Assemblies of God Theological Seminary, Springfield, MO
Dual Concentration: Licensed Professional Counseling/Marital and Family Therapy
SP-02 and SP-04: M.F.T. Practicums I & II, CARE Counseling and Family Life Institute
FA-03: Advanced Counseling Practicum, Family Life Institute
1997 B.A. General Ministries, Psychology Minor, Bethany College, Scotts Valley, CA
Recent Professional Development
1993 – Present: Minister, Pentecostal Church of God, Bedford, TX (PCG)
2010 – Present: Writer and PCG Representative, Pentecostal-Charismatic Curriculum Commission(PCCC).  Members: Assemblies of God, Church of God, Church of God of Prophecy, International Pentecostal Holiness Church, PCG
2012 – Present: Adjunct Instructor, Messenger College, Bedford, TX (MC)
2018 – Present: Evangelical Columnist, Patheos (patheos.com/blogs/jaredingle)
2013 – 18: Lead Pastor, MT. ZION Family Worship Center, Traverse City, MI.  Jared and Crystal Ingle, Lead Pastors (Senior Pastor/President)
2010 – 14: Marriage & Family Therapist Associate, Ashland, KY.  Supervisors: Leonard Knight, James Rayburn, Nada Harrington-Bocook
2009 – 12: Associate Pastor for Young Adults & Discipleship/Interim Pastor, First Pentecostal Church, Flatwoods, KY
Courses Taught
Adjunct and Online MC:
General Psychology
Counseling Children and Adolescents
Person and Work of the Holy Spirit
Child and Adolescent Development
Theology of Ministry
Courses Prior to Ashland
Course Facilitator: Seminar on Campus Leadership, Evangel University (EU)
Guest Lecturer:
Essential Christianity, EU
Marriage & Family, MC
Church History, MC
Asbury Scholarships
2017 – 18: Karnes, Harold & Carol Scholarship
2017 – 18: Odgers, L.H. & Fae Scholarship
2016 – 17: Karnes, Harold & Carol Scholarship (two awards)
2016 – 17: Wesley Scholarship
2010 – 11: Haight & Helen Gurney Scholarship
Specialized Ministry
2015 – 17: Presbyter, Northwest Section, Michigan District PCG
April 2017: Presenter, "American Ministry in Light of the Emerging Majority World Church," Forward: Leadership Webinar, MC/PCG
2014 – 15: Task Force on General Bylaws: Marriage, Divorce & Remarriage, PCG
January 2011: Preacher, "Transformation," Winter Retreat (Grand Junction, CO: Rocky Mountain District PCG, 2011).
2010 – 14: Kentucky District PCG
Member, Kentucky Restructure Committee (2010 – 14)
Presbyter, Eastern Section, Kentucky District (2010 – 12)
Publications
(in-press) "Story of the Old Testament."  Adult Discipleship Guide, Unit 1 (Fall 2020). Pentecostal-Charismatic Curriculum Commission (PCCC, all publishing houses).
(in-press) "Story of the New Testament.  Adult Discipleship Guide, Unit 2 (Fall 2020).  PCCC.
(in-press) "Why We Need the Bible."  Adult Discipleship Guide, Unit 1 (Summer 2020).  PCCC.
Ingle, Vernell, and Jared Ingle.  "Wisdom from Ecclesiastes and Proverbs."  Adult Discipleship Guide, Unit 2 (Winter 2013 – 14).  P.C.C.C./Messenger Publishing House (MPH).
"Jesus Christ in the Gospel of John."  Adult Discipleship Guide, Unit 1 (Spring 2013).  PCCC/MPH.
"The Church."  Adult Discipleship Guide, Unit 2 (Spring 2013).  PCCC/MPH.
"Christian Ethics."  Adult Discipleship Guide, Unit 2 (Winter 2010 – 11).  PCCC/MPH.
"College Students: Keeping Them in the Kingdom."  The Pentecostal Messenger 84, no. 10 (2010): 14-16.