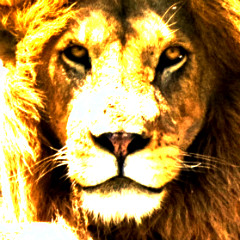 In C.S. Lewis's Narnia novel, Prince Caspian, the four Pevensie children, Peter, Susan, Edmund, and Lucy, are lost. Walking through the woods, they cannot make their way safely and are uncertain about the right course.
Lucy catches a glimpse of the great lion Aslan and knows that they should walk toward where she spotted him. The others disbelieve, however, and think they have a better idea. They don't and after going their own way nearly get killed. Aslan appears again and directs Lucy to follow him even if the others will not.
Lucy tells her siblings about Aslan's direction, and again they're in doubt. They cannot see Aslan, but Lucy is insistent and so they follow her lead. Lucy keeps her eyes on Aslan, and everyone else keeps their eye on Lucy. Aslan leads through dangerous regions, down steep and narrow paths, but Lucy fixes her eyes and follows the lion. The others bound along in the dark, unable to see Aslan at all or even hear him.
Finally, after traveling a long distance, Edmund's eyes open. He sees Aslan, at first just his shadow. But he keeps moving and then sees him fully. At last the others do as well, but not after traveling still farther.
For the Pevensies, seeing and knowing came by obeying. It's the same for us: First we follow, then we see.
As Fionn and Felicity and I read this passage Saturday I was reminded of one of the lines that close Psalm 111: "A good understanding have all those who do His commandments." Understanding comes after obedience. Knowledge follows action. This is roughly the inverse of how we want it to work. We want the argument, the rationale, the plan all laid out before we move. If I say I want the kids to do this or that, they want to know why.
I'm no different. If God tells me to do one thing or another, I want to know why. But understanding follows obedience. I can see and know Christ only if I turn and follow him.