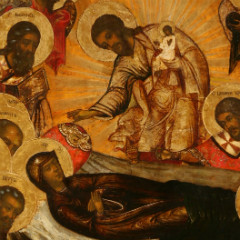 The first time I really got Mary was on Good Friday a few years ago.
In a very solemn service the night of Great and Holy Friday, as the day is called in the Orthodox Church, a series of funeral dirges are sung, one after another. I stood there in a dark church, a bier with an embroidered icon of the crucified Christ in the middle of the room, as the chanters and congregation expressed the mystery of the Lord's Passion in somber melodies. How could the Lord of Life die? And to what end?
I listened intently to the mournful lyrics, many which referred to the grief of Mary, and my mind returned to the prophet Simeon's sobering words to her: "[A] sword will pierce through your own soul also. . . ." Here was the sword. As I stood there, those lyrics rolling, rolling, rolling on, I imagined Mary at the foot of the cross, looking up into the dimming, anguished eyes of her boy, and my heart broke.
It's impossible to know what Mary knew in that moment exactly, but did she realize her son would rise? There's no evidence she did, and much to the contrary. For all she knew, the words of the angel spoken those many years ago were horribly, tragically wrong. All she could see was her dead son's ravaged body, pulled down from the cross, hastily wrapped in grave clothes — did the windings make her think of his newborn swaddling clothes? — and placed in a tomb.
A tomb.
And as I faced that thought, looking through her eyes, I became aware. I understood Mary in that moment through her grief — a mother's grief.
For years Mary was an argument to me. Or a dismissed doctrine. My understanding of her was entirely contextualized by the fact that I was Protestant, not Catholic, and therefore nearly forced into marginalizing her. I treated my friends' mothers better than I treated Jesus' mother. I had no connection to her, merely a doctrine with which I disagreed. But how do you disagree with sorrow? How do you argue with grief?
In Mary's pain, I finally saw her motherhood and through that her whole person. I considered the mutual feeling between Jesus and Mary, seen so movingly in the tortured distance between cross and earth when the dying Christ compassionately ensured his mother's earthly care by entrusting her to his beloved disciple John. How could I have missed what was happening?
Another thing I missed for years — and this is so obvious I feel foolish just mentioning it — but Mary is still Jesus' mother. It is not as if the ascension reversed the incarnation. Jesus is still the incarnate son, and Mary is still the woman who gave him flesh. This is more than a statement of bald fact. It testifies to an ongoing relationship. It was Orthodox pastor and author Patrick Henry Reardon who first helped me see this, something for which I will always be grateful.
The church reveals this truth in its iconography. Oftentimes when the death of a saint is depicted, angels stoop over the body to welcome the person's soul into their arms and escort them to the side of Christ. Not so with Mary. Would Christ send angels on the errand for his own mother? Inconceivable. Traditional icons of Mary's death show Christ at the side of his mother's resting body, her soul, tiny like a baby, in his arms.
There's a lot to unpack when considering Mary and her place in the church. But the place to start is with affection and honor, because she's the dear and precious mother of our Lord.