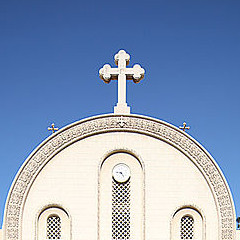 Christians in Egypt suffer amid a "climate of impunity," according to the U.S. State Department's newly released International Religious Freedom Report.
Despite word of positive developments — including prosecution for the murder of a Coptic man and occasionally increased police security for threatened Copts — the meager gains hardly diminish the unimaginable threats regularly faced by believers in one of the world's oldest bodies of Christians.
"While recognized and unrecognized religious minorities mostly worshiped without harassment," said the IRFR, "the government generally failed to prevent, investigate, or prosecute crimes against members of religious minority groups, especially Coptic Christians, which fostered a climate of impunity."
Christians regularly face obstacles building or repairing churches because of discrimination, according to the report. They endure the indignity of meaningless "reconciliation sessions" following victimization, while Muslim aggressors go unprosecuted. They are forced to relocate for fear of attacks by Muslim neighbors. They suffer mob violence and destruction of their property with insufficient help from police.
Targets of mob violence
Most recently, a church west of Alexandria was attacked by a mob throwing Molotov cocktails. According to a report by the Assyrian International News Agency, attackers shouted "Allahu Akbar" while launching bricks and firing birdshot into crowds of Christians. Several Copts were wounded. One supposedly "died of fright," according to the police report, though his family said his body was heavily bruised and riddled with birdshot.
Authorities said the riot was provoked when a Coptic man tried peering into the apartment window of a Muslim woman — an offense evidently worthy of mass destruction.
Less than a week prior, another church was attacked in the village of Menbal. Muslims rushed the building, destroyed the interior, and assaulted a parishioner. "The mob then went along the streets looting and destroying all Coptic-owned businesses and pharmacies and torching cars," reported AINA. "The Copts were also threatened to be expelled from the village. According to witnesses, any Copt who was met by the mob in the street was beaten up."
Per the IRFR, police are often slow to move in these cases, either to intervene or prosecute after the fact. Video of the April 7 assault on St. Mark's Coptic Cathedral in Cairo even showed one officer helping attackers.
Trumped up charges a growing problem
"[Muslim] Citizens also filed more cases than in previous years against Christians, accusing them of blasphemy or denigrating Islam," according to IRFR. Whereas these charges were rarely pursued under the Mubarak regime, they are prosecuted with aplomb today, and blasphemy codes are increasingly wielded as weapons against Christians, according to Ishak Ibrahim of the Egyptian Initiative for Personal Rights.
"An EIPR study to be released at the end of this month found that 41 percent of blasphemy cases taken to court from Jan. 25, 2011, to Dec. 31, 2012, were filed against Christians, who make up only about 10 percent of Egypt's population,"
reports
Morning Star News, something which we looked at
here
recently.
Tellingly, "[o]f the 36 blasphemy cases brought to court, only one case was filed against someone for blaspheming Christianity — in spite of a near-constant din of insults by the nation's religious leaders against Christians and Christianity on Egypt's television and radio airwaves." And that solitary case was later dropped.
Prevalent anti-Christian mood
Despite protests inside Egypt and advocacy abroad, the mood is decisively against Copts and other religious minorities. Journalist Rayyan Al-Shawaf speaks of widespread "anti-Coptic stereotypes among ordinary Muslims" — not just radicals — "the sort that depict Copts as treacherous manipulators of the economy, and the Coptic Orthodox Church as a sinister and disloyal institution."
"Manipulators of the economy" is reminiscent of German stereotypes against the country's Jewish minority in the 1930s. So is the rhetoric of imaginary power and influence. Islamists like Mohamed El-Zawahiri, brother of al-Qaeda leader Ayman El-Zawahiri, for instance, make the preposterous claim that Copts are close to "triumph" because the new government has failed to effectively institute Sharia.
It must be an rather unsatisfying victory for the abused believers in jail on fabricated charges, in hospitals because of Muslim violence, or in graves because of police indifference and contempt. All the more because their oppressors have apparently failed to oppress them enough.
Side note: Anti-persecution resources

For a thorough report on Christian persecution in Egypt and other hotspots like North Korea, Iran, and Pakistan, see the recent book from Paul Marshall, Lela Gilbert, and Nina Shea, Persecuted: The Global Assault on Christians. And for up-to-the-minute coverage, see Marshall, Gilbert, and Shea's news aggregator, PersecutionReport.org.