I'm out of the country on a 12-day trip that's part vacation and part pilgrimage.  Yes, you'll hear all about it when I get back.  Until then, take a look at the top 10 posts since I moved to Patheos.
When I moved here from Blogger in January 2013 I lost all my statistics.  So this list is based on traffic after I moved to Patheos – about the last 14 months.  But as you'll see, some of the most popular posts were from the Blogger era.
10) Race and Religion in the Modern Pagan World (August 2013) Late last summer the Pagan internet had a dust-up on the question of racial ties between groups of people and the Gods.  My take: we're all humans and the Gods call who they call, be sensitive when approaching cultures that have been oppressed, and show some basic hospitality to everyone.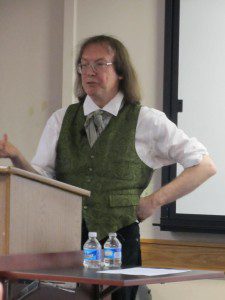 9) Ronald Hutton and the Paradox of Witchcraft (April 2013)  Last year I attended the Sacred Lands and Spiritual Landscapes conference sponsored by Cherry Hill Seminary.  Professor Ronald Hutton was the guest of honor – this is my summary of his two presentations.  The title comes from his statement that "we are the only society that both believes in witchcraft and doesn't believe in it, and I'd like to keep it that way."
8) Why I Am a Devotional Polytheist (February 2014)  Rather than wade into the Pagan street fight about the definition of "polytheist" and who owns the term, I decided to talk about my journey to polytheism.  It all comes down to experience.
7) American Horror Story and the Currents of Magic (February 2014)  My wrap-up of the witchy TV show American Horror Story: Coven.  It was bad, it was fun, and it reflects a growing mainstream interest in magic and witchcraft.
6) Farewell Sookie Stackhouse (May 2013)  This was a recap of the final book in Charlaine Harris' Southern Vampire series, which is the basis for the True Blood TV show.  I figured a handful of people would read it.  But Anne Rice posted my review on her Twitter account, giving me my heaviest traffic day ever at the time – on a Saturday.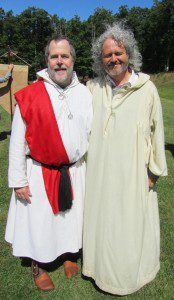 5) Druids and Their Robes (October 2012)  I put this together after the 2012 OBOD East Coast Gathering, where I asked people to talk about their ritual garb and what it means to them.  This was before I moved to Patheos – people are finding it when they Google "Druid robes," either as a web search or as an image search.
4) Fate, the Gods, and Free Will (July 2013)  This was my response to a question in Patheos' site-wide "What Do I Really Believe?" series.  My answer: whether we have free will or not, we are far better off ordering our lives as though we do.  This post had a decent initial response, but it's had a long tail – it's turning up on Google searches.
3) The Call of the Morrigan (July 2012)  This is my observation of the increased activity of the Goddess Morrigan starting in late 2010, including my own interactions with Her.  I still don't know what She's up to, I'm just honored to have a small part in it.  This post has been linked to many times in many places – it's another one with a very long tail.
2) Psssst – We're Winning (August 2013)  Over a few days last summer I saw several articles attacking polytheism: some from Christians and others from atheists.  And it occurred to me – they were attacking us because they saw us as a credible threat.  We're still small but now we're too large, too vocal, and too visible to ignore.  Unlike the other posts in the top five, this traffic came all at once – it generated what is still my biggest single day ever, but it died down to nothing after two weeks.
1) The Purpose of Religion (November 2011)  Yes, this is the oldest post on the list, but remember – the clock was reset in January 2013.  This traffic is all coming from people asking Google "what's the purpose of religion?"  My answer is that there are three kinds of religion, each with a different purpose.  Interestingly, while this is far and away my most popular post, it's generated a grand total of one comment.