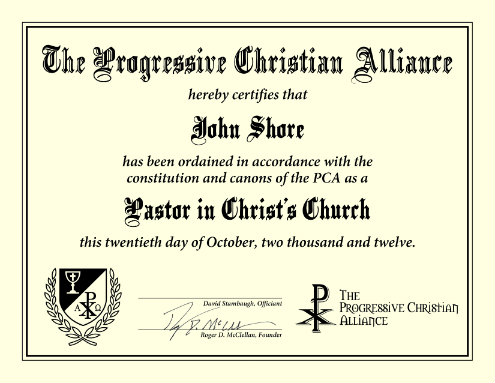 So for a couple of years now Roger McClellan, founder of the The Progressive Christian Alliance, has offered to recommend me to the PCA leadership counsel for ordination as a PCA pastor.
"You have a ministry larger and more vibrant than ninety-nine percent of the pastors out here," he wrote me on one occasion. "Day in and day out, you speak the prophetic voice of the true spirit of Christ to thousands of people, many if not the majority of which have been most hurt or marginalized by the church. John, you're a pastor of Christ's Church if ever there was one."
But I always turned down Roger's kind offers of ordination into the PCA, because I felt that calling myself a Reverend would just be too pretentious for words—not to mention obnoxiously disrespectful of all the good men and women out there who actually went to seminary, who actually are real pastors of real churches.
How could I possibly presume to accept such a title, when my whole thing in life is to basically and reflexively loathe pretentiousness? I'm as anti-pretentiousness as any alley cat who ever … I dunno: sat atop a trashcan and made that spooky-weird cat sound that from a dog would be a howl.
So no thanks, I always said to Roger. Thank you so much. But I can't.
But starting about six months ago I came to slowly but surely realize that not only could I become a PCA pastor, I couldn't not. Which I know sounds about as pretentious as anything it's possible to say. But … well, there it is. That's what happened. (And I'll be writing more about this soon.) So I applied for PCA ordination, waited, and soon enough learned that I'd been unanimously affirmed by the PCA leadership counsel.
So tomorrow, at 3 p.m. Pacific time, I'm going to be ordained as a PCA pastor in a little ceremony held at the church of my dear friend Pastor Bob (who's back from his five-month sabbatical spent writing his doctoral dissertation!!) Officiating will be PCA representative David Stambaugh, associate pastor of Hollywood United Methodist Church.
I'd like to ask you to say a little prayer on my behalf around this. I'm certain I will feel those prayers and supporting thoughts in my heart tomorrow afternoon. Thank you.
Though I've never joined anything, ever, in my whole life, I'm proud to join the PCA as they go about their business of deconstructing so much of the worst of what Christianity has become, and in its place building an affirming, encouraging, open, grassroots Christianity that encourages and facilitates people stepping into the spirit of God's reality in whatever way is best for them at that time.
No rules. No judging. No exclusion. No dogma. Just the very spirit of God.
So I'm all in. Thanks for helping bring me to this.