I was raised up in the South, home of the One True Church of the Heterosexual God.
The Southern Baptist Church. 
From the time I was saved I believed all other churches fell short of the Glory of God.
I'm not exactly sure why I believed that. Maybe it's because of the way the Baptist poked fun at their Methodist neighbors, those undisciplined Christians who doused themselves in wine vats and sprinkled their saved with tepid water. Or perhaps it was the Baptist's tendency to refer to Catholics as misguided souls devoted to a false god — the Pope.  Or maybe it was the Baptist's constant belittling of Holy Rollers who got down in the Spirit and spoke in tongues as one of the demon-possessed.
All that "us" against "them" rhetoric has turned to mumble-jumble now.
In many ways I will always be a Southern Baptist. The choruses to Just as I am and Trust and Obey are as common to me as The Battle Hymn of the Republic and The Star Spangled Banner. They helped shape me. They help define me.
The church gave me security when I needed it.
The church gave me a soft place to land during a hard time of life.
I will forever be indebted to the Southern Baptists who loved me to Jesus.
I will always consider myself as one of their family members.
You know — the Black Sheep of the family.
Everybody has one.
I'm theirs.
As someone remarked recently: "I can't believe you went off up North and lost your Southern politics."
Indeed. I did.
Going off up Northwest forced me to think beyond all that was familiar to me.
Still, there will always be a tender place in my heart for the SBC and its people.
I think that's why I wince whenever the Southern Baptists take a stand that puts them at odds with others. It is a troubling reminder that standing against others is what the Southern Baptists of my youth always did so well.
Delegates attending the SBC in New Orleans passed a resolution Wednesday that affirms their believe that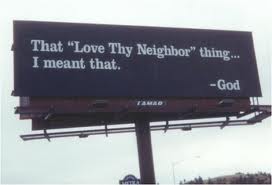 marriage is the "exclusive union of one man and one woman" and that "all sexual behavior outside of marriage is sinful."
I applaud the latter part of the SBC's resolution. If only the Church as One Body would focus their collective energies on the rampant promiscuity that is the culprit of so many ongoing sociological problems in this nation, including one of my latest platforms, that of child abuse.
Yes. By all means take to the pulpits across this land and call out those who are defiling the marriage bed by glamorizing Fifty Shades of Grey porn as a harmless book club read. Take to the pulpits and issue a call to faithfulness. Tell your deacons that if their adult children are shacking up with others then they aren't fit to be deacons. Tell your Bible Study teachers that if they are macking on the preacher behind the closed doors of their imaginations or the choir loft , they've got some repenting to do.
I double-dawg dare you to take on promiscuity as the sin that is sucking the lifeblood out of the Body.
Where I part ways with the SBC is when they suggest that promiscuity is a primary sin for one segment of the population — Gays.
"It is regrettable that homosexual rights activists and those who are promoting the recognition of same-sex marriage have misappropriated the rhetoric of the Civil Rights Movement," the SBC resolution states. Explaining the passing of this misguided resolution, Rev. Dwight McKissic, who is black, and one of the authors of the resolution, said it was wrong of gays to equate same-sex marriage with civil rights because there isn't enough science to back up the evidence that homosexuality is an innate characteristic like skin color.
"They are equating their sin with my skin," McKissic said.
Wow. Just. Wow.
This here is where you lose me, SBC. Because whether we are talking about blacks, or gays, the morbidly obese or the wheel-chair bound, discrimination at its very essence is just a way of saying, "I'm better than you."
I'm way smarter.
I'm way prettier.
I'm way thinner.
I'm way sexier.
I'm way richer.
I'm way whiter.
I'm way more righteous
Than any of the rest of you
Sinners.
Losers.
Homos.
How is this not a Civil Rights issue?
Civil Rights is about how we as a society treat others.
Oh. Sure. Go ahead and pat yourself on the back SBC. You took the extra measure of condemning the practice of condemning gays as you condemned them.
How very magnanimous of you.
Do you really believe that anyone is fooled by your double-speak?
"Only the Word of God can change the heart of a racist; only the Word of God can change the desire of a child molester," Dr. Fred Luter declared. "The Word of God can change a lifestyle of a homosexual. The Word of God is the only hope for America today."
Clever juxtaposition of the child molester with the lifestyle of the homosexual in that sentence there, Dr. Luter.
How is the Word of God going to be of help to anyone as long as you, SBC, continue to employ it as justification for your discriminatory policies?
You pass resolutions that basically reaffirm your ability to exclude others, to call out the sins of others, while not taking the speck out of your own eyes.
You pass resolutions that enable you to continue to act out of fear and discrimination.
Resolutions that ultimately affirm what you have believed all along — You are right and everyone else is wrong.
Resolutions that show a total disregard for the Scriptures which command us to honor others above ourselves.
Who, pray tell, is falling short of the Glory of God now?
Be devoted to one another in brotherly love. Honor one another above yourselves. Romans 12:10
A new command I give you: Love one another. As I have loved you, so you must love one another. John 13:34
Do nothing out of selfish ambition or vain conceit, but in humility consider others better than yourselves. Phil. 2:3
Karen Spears Zacharias is author of A Silence of Mockingbirds: The Memoir of a Murder, MacAdam/Cage. She can be reached via Twitter @karenzach.