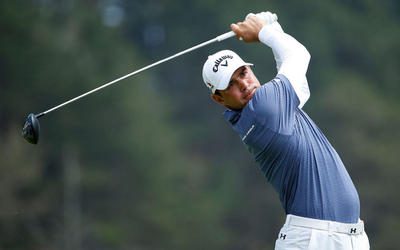 Gary Woodland just won the Waste Management Phoenix Open in a one-hole playoff with Chez Reavie on the 18th hole at the TPC Stadium Course in sunny Scottsdale, Arizona. It was athletic-looking Woodland's third win on the PGA Tour in five years.
Both players closed strong to make the playoff in a big group of players on Sunday who were in the hunt. Woodland, playing out front, birdied 15, 16, and 17, and made a weak putt on his ten-foot birdie and the 18th hole to shoot a blistering 7-under par 64 to take the clubhouse lead at 18-under par 266. Reavie birdied 17 and 18, holing a pressure-packed 20-foot putt to gain the overtime.
The playoff started at the 18th hole. It is a par-four with a lake bordering the left side of the fairway which ends almost 300 yards from the tee. Since the tee is elevated long-hitters usually can clear that lake. But only a few years ago a huge sand bunker with "church pews" of rough were added, starting barely past the water. That presents a challenge to long hitters like Woodland, who hit driver and go over the water.
Woodland hit first. He pulled his drive slightly left. The ball landed in the upslope of the sand and nestled backwards a few feet. His lie in the sand was smooth. But with about 120 yards to the pin, he needed to strike the ball almost perfect for the ball to clear the gnarly rough of the church pew.
Reavie is a somewhat short hitter. So he played a conservative fairway metal off the tee to the fairway, leaving himself 148 yards to the pin. At this point, it looked as though Reavie had an advantage, since Woodland was in trouble.
Reavie played next. His hooked second shot landed on the front left side of the false-front green. The ball rolled off back off the green to the left and many feet downhill, leaving himself a lengthy chip.
Woodland hit his second shot barely fat from the sand, which wasn't bad since he needed to clear that church pew. His ball landed on the front of the green, online with the pin, and stayed put.
Reavie then hit a poor chip, pulling up when he struck the ball. That seemed to be the cause of him leaving the shot short of the hole about ten feet. Woodland then putted up close, about a foot away for his par.
Reavie hit a good par putt that barely rimmed the left side of the hole, finishing right behind the cup. If his ball would have been just a whisker more to the right, it looked like it would have dropped. Instead, he finished with a bogey five and Woodland made his one-foot par putt to take the victory.