This incredibly busy season of the year can feel daunting for all of us. So much to do, so little time! Personally, I feel the pressure of social engagements, gifts to be extended, and the general calendar-filling that accompanies December. To be sure, it is all wonderful stuff. But I feel so very busy.
On the professional front, as we race to "beat the clock" to take a short Christmas reprieve from work, it crunches all that would normally be done over the course of month into a few short weeks. At the same time, I am (literally, it feels) fighting a book deadline. Most of these December days, it feels as though there is simply not enough of me to go around.
One remedy for the December daze I've been feeling is the two Marian feast days we celebrated this week. Both early, pre-dawn Mass opportunities did wonders for my attitude. "Mary's got this," I told myself. And she does. Today, I've been prayerfully reading her words to St. Juan Diego. Spoken to him so many years ago, Mary's loving words are balm for my stressed-out heart, a caress for my soul. She is here, my Mother. What else could I need?
"Hear and let it penetrate your hearts, my dear little ones. Let nothing discourage you, nothing depress you; let nothing alter your heart or your countenance. Do not fear vexation, anxiety or pain. Am I not here, your Mother? Are you not in the folds of my mantle, in the crossing of my arms? Is there anything else that you need?"
I'm grateful to my friend John Clem, O.F.S. for this week's Sweet Tweets:
Papal Tweet: "

Let us learn from the Virgin Mary how to be bolder in obeying the word of God." (Pope Francis, December 8th)

Video: The Beauty of the Immaculate Conception reflected through images (Rome Reports)

ow.ly/FvkJJ
Video: Our Lady and me (USCCB) ow.ly/FzyFL

Pope decrees sainthood causes of 8 women, including founder Sisters of Immaculate Conception

ow.ly/FzwVB

Solemnity of Immaculate Conception: What the Immaculate Conception Means (Fr. Steve Grunow -Word On Fire)

ow.ly/Fxh6k

Advent Reflections with Fr. Robert Barron – How Can We Fully Enter into Advent ow.ly/FFwJh

6 Lessons from John of the Cross to Advent Pilgrims (Billy Kangas – Patheos)

ow.ly/FuJZV
Celebrating the Year of Consecrated Life: 5 different congregations in Ireland share their call to their vocation ow.ly/FJ1v7

International Chain of Prayer for the Year of Consecrated Life (Rome Reports)

ow.ly/FzPDJ
Pope Francis urges world towards nuclear disarmament (Vatican Radio) ow.ly/FB4Q3
Jordanian Prince hails progress at Christian-Muslim summit (Vatican Radio) ow.ly/FB7rY

St. Juan Diego's Miraculous Proof | Word On Fire

ow.ly/FB5wi
Vatican briefing: Stop the threat of Cyberbullying (Vatican Radio) ow.ly/FB6L2

'Festival of Lights' backs Iraqi Christians facing ISIS threat | Crux

ow.ly/FtJyt
It's a dog's afterlife: Pope Francis hints that animals go to heaven (The Guardian – UK) ow.ly/Fz0Dm
Vatican asks for wide input on 2015 synod, not based on doctrine | National Catholic Reporter ow.ly/FByYj

Little Sisters of the Poor press conference in Denver after presenting case in Federal Court Dec. 8th (CNA)

ow.ly/FzqyK

God's Existence and The Argument from Desire (Father Robert Barron – Word On Fire)

ow.ly/Fu5EI
National Day of Prayer for families and against pornography – Dec. 9th | iPadre Catholic Podcasting ow.ly/FBJmp
NEW Digital Slums: Cyberslums where online abusers prowl need pastoral care, say speakers (CNS) ow.ly/FDTJq

The Angels of Advent (Fr. Dwight Longenecker – Patheos)

ow.ly/FBI6N
Vatican at risk as Islamic State smuggles dirty bomb into Europe (Catholic Online) ow.ly/FD7lz
Pope: no conservative or liberal families, family is family! (Vatican Radio) ow.ly/FGdct

Pope calls for more 'integration' of divorced Catholics, gays (CNS)

ow.ly/FDe3p

Pope Francis: Demotion of Burke not 'punishment' | Crux

ow.ly/FuFjC
Prayers need for Florida: Happy Holidays from the Satanic Temple! – Aleteia ow.ly/FBQYV

Why Does Advent Matter? (Father Robert Barron – Word On Fire)

ow.ly/Fs1CI
Torture Report Quotes from Religious Leaders – National Religious Campaign Against Torture ow.ly/FDVfz

Torture is a Moral Issue: a study guide (USCCB)

ow.ly/FGVPs

#LightforLima

vigils pray for climate pact | National Catholic Reporter

ow.ly/FDVpu

Report: Retired pope wanted to be known as "Father Benedict" (Deacon Greg Kandra – Patheos)

ow.ly/FxFmt
2015 World Day of Peace Message: "No Longer Slaves, but Brothers and Sisters." (News.va) ow.ly/FFq8F
3rd

Sunday

of Advent is 'Bambinelli

Sunday

' Teachings kids what Christmas is all about (Rome Reports) ow.ly/FHRex

Photo: LIVE Nativity in front of the US Supreme Court Dec. 11th (Faith & Action) ow.ly/i/7Ul1r
Horseback riders make pilgrimage to Our Lady of Guadalupe shrine (CNS) ow.ly/FL8Ln
Vatican releases pope's Christmas season schedule – Celebrating the REAL Epiphany on

Jan. 6th

(CNS) ow.ly/FHN9Z
NEWS UPDATE: Philippines Typhoon Hagupit Relief Work Begins (Catholic Relief Services) ow.ly/FLfhP
Congress gets personal as support surges for disabilities act :: Catholic News Agency (CNA) ow.ly/FLpWi

Peace and Good; Through The Year with Francis of Assisi (Fr. Pat McCloskey, O.F.M. – Franciscan Media)

ow.ly/FJdCb

Meet Fr. Joshua Johnson, the Rapping Priest (Catholic Extension / ChurchPOP)

ow.ly/Fvk2t
Don't Just Do Something, Stand There! A Brief Consideration of the Importance of Experience (ADW) ow.ly/FLxLr
3 Easy Ways to Share Your Faith when Hosting "Holiday" Parties (Lisa Hendey – Patheos) ow.ly/FLyhk

Privacy and Wearable Devices – News Updates – (Faith and Safety – USCCB)

ow.ly/FxOSA

The 20 Best Religious Songs for Advent | ChurchPOP

ow.ly/Ft9qP
The Illustrated Monk: Brother Andre Can't Leave His Tattoos Behind But Can Pursue Sanctity – Aleteia ow.ly/FDwLq

Mistletoe Mishap: Mistletoe-bearing restaurant drone draws blood (Gigacom)

ow.ly/FD5rT

The Saint Who Punched a Heretic – Brandon Vogt

ow.ly/FtcSr
St. Boniface and the Christmas Tree | Catholic Answers ow.ly/FLj6V

Inside America's most beautiful churches (

USCatholic.org

)

ow.ly/FFJDb
Lourdes Premiers

December 16th

on PBS (Sacred Journeys) ow.ly/FLvZm

Satire: Images that Perfectly Describe Our Faith (EpicPew)

ow.ly/FLlVM

It's a "Piano Guys" Christmas! Listen to Their Holiday Album | ChurchPOP

ow.ly/FqBDo

World's Largest CHRISTmas Store + Silent Night Chapel: Bronner's in Frankenmuth, Michigan

ow.ly/FLKXU

A Prayer for the Internet from the 1946 Roman Ritual? Sure, and its wonderful. « Archdiocese of Washington

ow.ly/FLLaX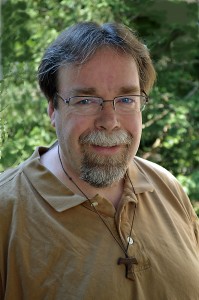 John Clem, O.F.S is the Director and Media Minister at Catholic Web Services (http://catholicws.com/). John is a professed member of the Secular Franciscan Order, and loves to share his talents in faith, technology, and journalism in service to the church. John also writes a blog entitled Call To Holiness (http://www.calltoholiness.us/). Follow John on Twitter at @Catholicwebs, on Facebook and at Google+.