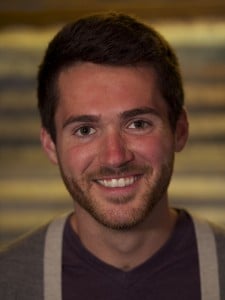 The following post is from Brent Bailey, a Master of Divinity student at Abilene Christian University. You can find his blog at oddmanout.net
The holiday season is one of the only times of the year when I'm not particularly interested in talking about faith and sexuality. The rest of the year, it's kind of my thing—I write a blog about being gay and Christian, I've worked the last two summers with The Marin Foundation, and I love getting to share my story with others and hear theirs. During this time of the year, though, my attention is elsewhere: on the season of Advent, on the gifts I'm knitting for family members, on all the films getting Oscar buzz, and on warm reunions with old friends.
There was a season when reconciling my faith and my sexuality took over my life. It was the subject of most of my conversations, it was the primary area of focus in my spiritual life, and it was the dilemma that kept me up at night. There was also a season when the reality of my sexuality sort of took over my relationship with my parents. It happened in the months following my coming out to them. I was a sophomore in college, so our relationship was sustained by emails, phone calls, and trips across Texas to visit each other. In those first few months after I came out to Mom and Dad, my sexuality was always an elephant in the room for all of our interactions, begging to be discussed and examined and worked out. None of us knew the right words to use or the right questions to ask—they were two of the first people I came out to, and my disclosure was a complete surprise to them—so we were all groping in the dark together. The questions we did face together seemed endless: What does this mean for my future – in ministry, in church, in relationships? What caused this, and would/could/should that cause be reversed? Whom else should I tell, and when? What does God desire for my life? Those discussions felt so heavy for everyone involved because they were emotionally taxing and forced all of us out of our comfort zones.
But, well, as awkward and uncomfortable as those conversations may have been, they accomplished their purpose for us. They brought my folks and me to a place of much greater mutual understanding and trust, and our conversations became much less heavy. I remember the first time I made a joke that was even tangentially related to my sexuality to my mom; she laughed, and I felt incredibly relieved. It wasn't that the tension had dissipated or that all our big questions had been resolved. Rather, it was a sign that our situation was getting better. My sexuality didn't feel nearly so intimidating, and we were starting to realize we might eventually reach a place where my sexuality didn't have to set the agenda for all our interactions, even as we continued to dwell in questions.
I say all of the above to my parents' credit. They demonstrated a remarkable willingness and courage to do that work with me. I've got friends who would love nothing more than to have emotionally taxing, productive conversations with their parents, since the alternatives they're facing right now are silence or outright rejection. I could tell variations of the story above for a number of relationships in my life: siblings, grandparents, friends, ministers. In many cases, there was much less work to be done; I had figured out more things on my end, or they had fewer years of experience with me to unpack. I could also tell contrasting stories for other relationships, when people weren't ready to do that work with me, or when I wasn't ready to go there with them, with the result that my sexuality always occupied that awkward, unsettled, elephant-in-the-room status.
The holiday season is here, and that means I'm going to be spending a lot of time with my family over the next few weeks. I imagine my sexuality will come up in conversation with my parents and siblings. It's not going to stop being a significant component of who I am, so we'll never exhaust the topic. Nevertheless, those conversations will be much less heavy and taxing than the ones my parents and I shared in those first few months. Thankfully, much of that work is done. I'll be making the Bailey family Yuletide 
gay
 to some extent, har har—that much is inevitable—but the reality of my sexuality no longer consumes the time we spend together. That's a special blessing, I think, to have reached a point where I can devote my attention to Advent and knitting and movies and reunions, a point where my sexuality doesn't set the agenda.
I'm writing this post for people—whether sexual minorities or those close to them—in three different places. If you have, like me, been blessed to live in the tension with your loved ones and to have seen understanding and trust emerge, or if that work was entirely unnecessary for you and yours in the first place, give thanks. It's good when people manage to live in the tension together and emerge stronger on the other side. Whether you think those efforts are praiseworthy or simply ought to be expected, they're still good. Many families remain stuck in awkward silence or painful rejection, especially in the Christian world, so those of us who aren't stuck should give thanks.
If you're in the midst of that tension with your loved ones, press on. I know it can often feel like the heavy cloud of long talks or tense dinners may never melt away, but as much as you can—and as long as it's healthy and safe for you—continue to be patient, and listen, and remember that you're headed to more solid ground. "Love each other deeply, for love covers over a multitude of sins" (1 Pet 4:8). To be sure, there are a number of different factors that affect how someone's coming out is going to affect that person's long-term relationships, so please don't hear me say that it's all a matter of everyone's willingness to communicate. In addition to that communication, it matters in families, for example, whether everyone believes the same things about sexuality (and whether differences in beliefs become more tangibly apparent in the decisions someone makes; see Laura's post for Christian parents of LGBTQ children). It matters whether the family has historically made a habit of handling conflict and difficult conversations well. It matters how confident the child feels in their sexual or gender identity. It matters how long it's been since the child came out (See Jason's post about the journey parents often travel when a child comes out.). None of these factors determines the ultimate outcome of the relationship, but they all affect how attainable reconciliation may seem.
If you're in a situation where that tension seems impossible—if your parents have made it clear they have no intention of ever bringing up your sexuality again, or if your LGBT child has shut the door on communication—take heart. I've got friends (two in particular come to mind) whose family situations seemed entirely hopeless until, all of a sudden, they weren't hopeless, when someone suddenly and unexpectedly extended an olive branch that permanently changed the tenor of conversations. If I'm being honest, though, I've also got friends (three in particular come to mind) who have waited years for a loved one to do that work with them to no avail. In any case, I am a firm believer in the power of God to change hearts and heal wounds, even if God's timing may be woefully slower than what we have in mind. Take heart, because things may not always be the way they are today.
Have you seen significant changes in your family or friendships since someone came out? If that coming out was initially difficult for loved ones, what helped get you to a place of greater understanding and trust?