Today's post is from Phil Ross, student at Indiana Wesleyan University, and a summer intern with The Marin Foundation: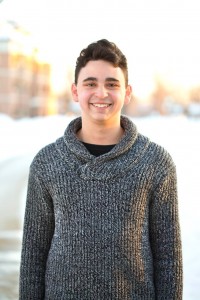 It was a little over seven years ago when I first got a slur thrown at me I never expected. "You're a f*ggot" was poignantly spoken to me and even now I remember the smug face of the boy in the gym locker room who stood in my face saying it. Smug, because he could see how totally it disarmed me and how livid it made me.
Growing up in a small conservative denomination and attending a conservative private school, I had come to know the power of that word to hurt and tear down the identity of others. Depending on the day, "gay" may or may not have been used as an offensive adjective among my peers, but the word I was called…there was no "appropriate" way to say that to someone.
Fast-forward a year to high school, when the many members of those same communities legitimately started calling me gay, both behind my back and to my face. Some people were decent enough to talk to me about it, but in the Christian environment I was in there was no acceptance of or love for someone different in that way. No one in my community of faith was even aware those ideas could coexist with their Christianity; as far as we knew, there were Christians (who would never associate with someone that was gay) and then the sinners who were friends with those who were gay, or who were gay themselves.
The kicker to this story is I'm not gay, nor have I ever questioned my sexual orientation. Even when I did things that people thought were stereotypically gay, such as wearing pink and purple clothing or enjoying singing and acting, I always knew who I was. I tried to explain that to people, but the ostracization and bullying I experienced was hurtful. Seven years later, I still live with clinical depression borne out of the pain I lived with then.
So now I'm here at The Marin Foundation, working towards loving others and helping people to love those different from them, specifically in the LGBTQ context. To God's credit, I would never be here had all that not happened in my life. Looking forward, although I'm doing a lot of personal searching right now, I couldn't be more excited for what God has in store for me. I don't see sexuality as black and white anymore and I'm definitely still learning what I believe about a myriad of things. What I do know is God pulled me through that experience to set me onto a path of humbly learning to better love, listen and understand the world around me.
Back when I was in the midst of being ignored and bullied, the thing I most wanted was to prove I wasn't gay. I thought, "If only people could see I was straight, then I'd be okay!" For years, that's what I attempted to do, until I realized I simply needed to begin loving and accepting myself.
Looking back on those times from where I am now, which is a place of loving who I have grown into, I'm touched by a thought I remember passing through my mind as a kid. Wow, this must be even harder for people who are actually gay…who aren't just trying to "step out" from some label placed on them. They are being bullied for who they are and how they identify, and I get off easy with a little vulgarity thrown at me for a few years. While I could rest in knowing my real identity as a straight man would be accepted in the long run, many LGBTQ folk didn't have that confidence.
Reflecting on that over the past few years has given me a sense of compassion for LGBTQ victims of bullying. It's given me a passion for standing alongside those who are true to themselves and experience great pain and suffering – both externally and internally.
When I'm writhing in pain and depression, I typically turn to my good friend Henri Nouwen to attempt to remember who I am at the base of it all. Below I have summarized the key points from his work Life of the Beloved that deeply touch me.
I've been taken by God – set apart for his glory.
I've been blessed by God – affirmed by others that Christ dwells in me.
I've been broken by the world and allowed by God to dwell in the brokenness – intentionally and unintentionally experiencing a broken heart, a broken body, a broken soul…all for seeming naught.
Except it's not for naught, because I've also been given. All of what I've experienced – the laughter, the joy, the tears, the pain; low valleys and mountaintops – all of it is for God's glory. My life and yours – everything we do, which for us includes using our words, minds, hearts, and all else – are to be given to each other and God for blessing those we encounter and to bring about his kingdom.
I'm still learning what it looks like to actively live this out, but as I look back, I see my past as a living sacrifice. Not as a martyr, but as a joyful participant (when I have enough objectivity to look at myself in the right light). As I learn to embrace my own identity and God's unconditional love for me, I've become increasingly aware of his unconditional love for all people – regardless of race, gender, gender identity, orientation, ethnicity, socio-economic status…and the list goes on.
Wherever we go and whatever we do, we know we have a resting place in our Lord. As I grow in understanding of what it is to live in true and proper worship of God, I take comfort that my same God promises us safety.
"The Lord is my shepherd, I lack nothing. He makes me lie down in green pastures, he leads me beside quiet waters, he refreshes my soul. He guides me along the right paths for his name's sake. Even though I walk through the darkest valley, I will fear no evil, for you are with me; your rod and your staff, they comfort me" (Psalm 23:1-4).