The Coalition for Responsible Home Education (CRHE), a nonprofit organization founded last year by homeschool alumni, has a chance to win a $1000 grant and needs your help! All you need to do is click on this poll and vote for them! It's super easy, and will only take a second. I've previously run guest posts by two of CRHE's board members, Kathryn Brightbill and Ryan Stollar. Some of you have asked what you can do to help homeschooled children. Well, now you have an opportunity!
CRHE is currently neck in neck with the next contender, so please vote and share! Voting ends Wednesday November 26th.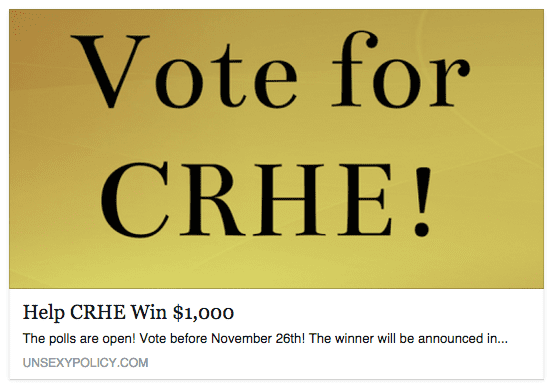 Homeschool alumni have recently founded two nonprofit organizations, CRHE and Homeschool Alumni Reaching Out (HARO). CRHE advocates for homeschool policy that takes children's interests into account and HARO offers community support for alumni and raises awareness about child abuse in homeschooling communities. I am a blog partner HARO's Homeschoolers Anonymous (HA), and have written about CRHE's Homeschooling's Invisible Children (HIC) website in the past. I am excited about these and other efforts by homeschool alumni and am glad to do my part! Please do your part by voting for CRHE!