I wrote two weeks ago about a fund drive being held by the Coalition for Responsible Home Education, but I want to touch on it again. You can read more about the organization and their efforts here, and view suggested donation levels and incentives here. The fund drive lasts for the month of December, and all donations are tax deductible. Today I want to write about why you should support the organization. In part, I want to explain why I care about organizations like the Coalition for Responsible Home Education and Homeschool Alumni Reaching Out.
The Coalition for Responsible Home Education was founded in December 2013 by homeschool alumni. The organization's byline on their website is "Advocating for Homeschooled Children." Given its makeup, the organization takes a different approach from other organizations that deal with homeschooling—one that centers on the interests of homeschooled children.
In a blog post some time back, Stop Saying Homeschoolers Are Brilliant, I wrote about the problems with research homeschooling parents tout as proof of the magical nature of homeschooling, where every child is (purportedly) above average.
The Coalition for Responsible Home Education works to counteract such faux research. They perform critical analysis of existing research, looking at studies published by HSLDA-affiliated Brian Ray and others, and conduct their own original research as well. For example, their post on "The Homeschool Math Gap" looks at differences in homeschooled students' performance in math and reading. According to their fundraising pitch, they have two studies planned for next year: "one on the factors that affect homeschoolers' academic performance and one on homeschool child abuse fatalities." They also run the Homeschooling's Invisible Children database.
In past posts and guest posts, including HSLDA and the Deregulation of Homeschooling and Homeschool Regulations and Children's Rights, I've written and published pieces on the lack of oversight of homeschooling.
The Coalition for Responsible Home Education works to counter the trend towards removal of oversight by tracking bills affecting homeschooling law, making policy recommendations, and creating overviews of current homeschooling law.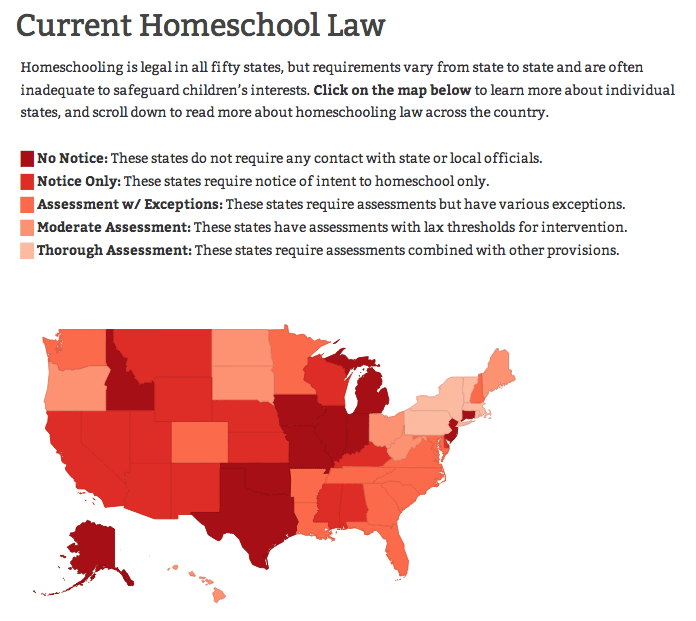 I've written before about Why Homeschooling Is Attractive to Abusive Parents and what happens When Abusive Parents Homeschool, but I've not been in the place to point toward resources. Now I can.
The Coalition for Responsible Home Education offers a variety of resources, all aimed at promoting the wellbeing of homeschooled children. They have articles and information for homeschooling parents. They have a section geared toward currently homeschooled children, complete with advice for children who are being educationally neglected or who are living in bad home environments. Finally, they have a page on how to support homeschooled children you may know, and information on recognizing and reporting child abuse and educational neglect in homeschool settings.
If you have the interest and the resources, please donate. I believe it is important for organizations founded by homeschool alumni and geared toward promoting the wellbeing of homeschooled children to succeed, and I'm not alone in that. The fundraising appeal is calling for 150 donors. Please give.