Last week, Great Britain's Prince Harry and his wife Meghan Markle, styled the Duke and Duchess of Sussex, announced that they are stepping back from their duties as senior royals. The couple plans to work toward becoming financially independent and to lead their own lives, away from the spotlight. Everyone and their mother has commented on this story, including the New York Times' very white Maureen Dowd, who chided Meghan for not being a good enough black person (yes, that really happened).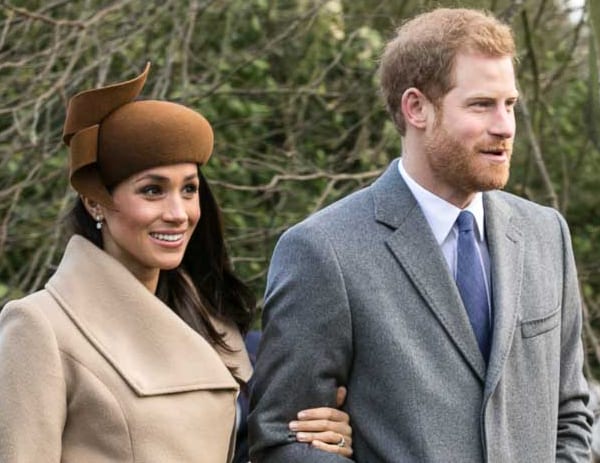 I wasn't going to write about the Sussexes' decision—I've been privately cheering them on, because seriously, their lives are their lives—but then even Christianity Today stepped in to comment. (Clearly, everyone and their mother really meant everyone and their mother.) "Britain's royal family isn't the only institution struggling to retain and empower the next generation," wrote Christianity Today's Krish Kandiah.
The Christianity Today piece, which uses a comparison between the Sussexes' leaving Buckingham Palace and the younger generation leaving the evangelical church as its framing, is sympathetic toward Harry and Meghan. "Many are hopeful that this will catalyze the modernization of the monarchy and facilitate it to further its positive contribution to the UK's and the Commonwealth's public life," Kandiah writes.
Kandiah continues as follows:
Christians should consider carefully our response to this latest episode with "Harry and Meghan." The church and the royal family have more in common than we might at first imagine. Both are ancient institutions struggling with recent scandals of high-profile members failing to deal adequately with accusations of sexual abuse; accused of being biased against women and non-inclusive of people of color; and now apparently losing the allegiance of a new generation.
For many years, the Barna Group has been analyzing generational engagement with churches. In his book, Faith for Exiles, David Kinnaman states that in 2011, 59 percent of young Americans who grew up Christian had stopped attending their churches. Less than a decade later, the number has now increased to 64 percent. Despite numerous initiatives to try and reverse the trend, we have not managed to sufficiently engage young adults with Christianity.
This speaks to a major challenge to the mission of the church: for all the evangelistic initiatives, for all the church planting, for all the populist fears of immigration diluting the Christian population's majority, the biggest challenge to the Christian church is our inability to disciple our own children and help them transition from childhood faith to adult belief.
Kandiah, who lives in the UK, is non-white, and is an advocate for foster children and unaccompanied minors and asylum seekers. He describes himself as an egalitarian, and his approach to foster and adoptive children seems compassionate and open-eyed.
In his Christianity Today article, Kandiah calls on the church, like the royal family, to "renegotiate how it holds on to the past and contextualizes for the present":
Harry and Meghan's story highlights that transitioning tradition is not just a problem for the institution of the church. And like the royal family, the church needs to renegotiate how it holds on to the past and contextualizes for the present. For Christians, this necessarily involves working out the relationship between the unchanging gospel and our current culture—a conversation that has been on the church's agenda since the time of the New Testament, when the topics ranged from the eating of meat offered to idols to the question of circumcising Gentile believers.

At the crux of these debates, Christians have had to wrestle with their own traditions and look behind and beyond them to discover what is essential to the gospel and what is culturally contingent.
I actually really like this framing.
Harry and Meghan are leaving because they decided they didn't need to put up with the harm staying was causing them. Staying in the royal family meant having no privacy, putting up with constant press harassment, and having their every move scrutinized and judged. Add in the racism Meghan was facing. The Sussexes decided they would be better off leaving, even if doing so cost them—a lot. How many young people leaving the evangelical church have made the same calculus?
Perhaps the royal family will change, prompted by Harry and Meghan's decision. Perhaps the evangelical church, too, will change, if enough of its younger generation leaves. In either case, it is young people voting with their feet who hold the power. They don't need the institutions that have caused them harm; those institutions need them. By leaving, young people may cause a crisis within these institutions that forces change.
But even if these institutions refuse to change, those young people who vote with their feet have won. They have removed themselves from toxic situations, and that isn't nothing. (Not being put in this situation in the first place is better. Not having to leave your family, your community, everything you have ever known in order to find acceptance or safety—that is definitely the best option. It's just not one every young person has.)
I leave you with two tweets from evangelical young people who made the decision to walk away and who see Meghan and Harry as a kindred spirits. The first tweet was sent before Kandiah's article; the other sent in response.
It's okay to spend less time with your toxic parents. It's okay to move across the globe and start ignoring your father. It's okay to marry a prince and teach him about boundaries. It's okay to dismantle a dynasty because they're toxic colonizers. Do what you need to cope.

— Eve Ettinger (@eve_ettinger) January 8, 2020
YES THANK YOU CT I FEEL SEEN pic.twitter.com/SnFtSpQldd

— Luke Hobbs (@LukeHobbs) January 12, 2020
"We haven't been able to completely prevent our kids from realizing that we comprehensively suck." Vast oversimplification but true.

— Luke Hobbs (@LukeHobbs) January 12, 2020
I have a Patreon! Please support my writing!