What do faith, politics, and mini cupcakes have in common? Not much, except that they have recently been featured in newspaper columns.
Rabbi David Saperstein, director of the Religious Action Center of Reform Judaism, and Rev. Oliver Thomas, a member of USA Today's Board of Contributors suggest five rules for faith and politics in a recent edition of USA Today. In summary, here are their suggested rules:
1. It is never appropriate — explicitly or implicitly — to impose a religious test for public office.
2. Religious leaders should refrain from using religious authority or threats to coerce the political decisions of American citizens or candidates.
3. Candidates should refrain from citing religion as the exclusive authority for their position on issues.
4. Politicians should try to be inclusive of all citizens when — in their public capacity — they choose to speak religiously.
5. Religious organizations have the constitutional freedom — and we would argue moral duty— to speak out on the great issues that confront our nation, but as tax-exempt entities they should never endorse or oppose candidates for public office.
What do you think? Agree? Disagree? Before you comment, you should read what Saperstein and Thomas actually wrote.
On a lighter and sweeter note, Julia Moskin writes for the New York Times about the increasingly popularity of miniature desserts. For example, she observes:
Mini popsicles, tiny macarons, bite-size ice cream sandwiches and baby caramel apples are popping up around New York. Mini cupcakes are the new, post-Magnolia standard at bakeries like Sugar Sweet Sunshine and Spot Dessert Bar, and even nationwide at Starbucks, which began selling a line of "petite" desserts in March.
Small sweets have swamped the mass market, too. The 100-calorie treat has become standard for baking giants like General Mills and Nabisco: mini muffins and two-bite croissants get prime supermarket real estate. A line of gadgets for home bakers, Babycakes, has sold more than a million machines, according to the company.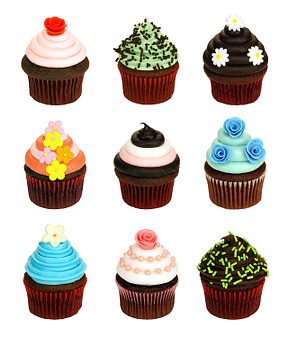 Why are we buying more bite-sized treats, rather than the oversize delights that have filled out our plates and enlarged our waistlines? As Moskin asks:
Why do we find tiny-size sweets enchanting, if they are inherently less satisfying? Or to frame the problem another way: Everybody knows that "fun size" candy bars are a trick-or-treating staple, but nobody has ever explained what's fun about them.
You can check out her answer in her engaging article. Here's what I think:
1. Smaller treats are more affordable. When we have less spare change in our pockets, or no spare change, we'd rather spend $1.00 on a mini cupcake than $3.95 for a giant one.
2. Smaller treats allow us to have a moment of enjoyment without making us feel guilty.
3. Smaller treats are healthier.
4. Smaller treats invite our interest when larger treats would scare us away. When I'm standing in line for a cup of coffee and see an attractive little cupcake for a dollar, I'm tempted in a way I would not be by a giant, 700-calorie, expensive monster.
5. Smaller treats are trendy. We like to be trendy.
What do you think? Are you buying tiny treats? If so, why? Are you tempted?