Part 2 of series:
Thanksgiving: Not Just a Day, But a Season
A Season of Thanksgiving: Don't Overlook the Heart of Thanksgiving
In just over a week, Americans will celebrate Thanksgiving Day. Yet for many of us, the actual holiday is so full of activity that we have little time for intentional, extended giving of thanks to God. So, as has been my tradition for many years, I am putting up several posts in anticipation of Thanksgiving Day in order to encourage my readers to let this be a season, not just a day of gratitude.
When you think of Thanksgiving, what images come to mind? Roast turkey? Pumpkin pie? Watching football with your family? Perhaps the Macy's Thanksgiving Day Parade?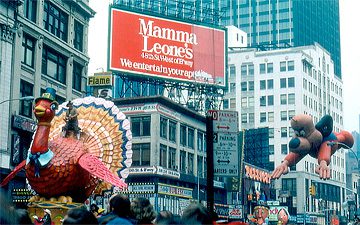 I grew up watching this parade on television, marveling at the giant helium balloon representations of Underdog and Bullwinkle, and waiting for Santa to appear to kick off the Christmas shopping season. Then, in 1982, I had the privilege of spending Thanksgiving Day in New York City. Of course, I had to see the Macy's Parade in person. There, standing next to Central Park, I watched the bands and giant balloons from only a few feet away. I discovered that it was a lot colder watching the parade in person than from the comfortable vantage point of my living room. But plenty of hot coffee kept me going through the whole spectacle.
That evening some friends and I had Thanksgiving dinner at the Helmsley Palace Hotel. (Yes, the one once owned and managed by the infamous Leona Helmsley and her husband. It's now called the New York Palace.) We arrived an hour before our prearranged sitting and enjoyed appetizers in the hotel bar. It was the most elegant place I had ever enjoyed a drink and some peanuts. And, believe me, I paid for every inch of elegance. Thanksgiving dinner was served in the fabulously ritzy dining room. It was one of the most over-the-top meals of my life.
But, no matter the grandeur of that Thanksgiving meal, it still wasn't quite right. After all, for me, the heart of my Thanksgiving holiday wasn't going to parades or eating lavish meals. It was about sharing a day with family, and mine was 3,000 miles away in Southern California. The best tasting turkey in the most opulent dining room didn't satisfy the real longing of my heart – to be home.
I wasn't the only one who felt such a longing. In fact, the Thanksgiving weekend is the busiest travel weekend of the year. Around 40 million people each year travel more than 50 miles in order to share Thanksgiving dinner with their families. Several years ago, the Bureau of Transportation Statistics estimated that the average Thanksgiving traveler covers 214 miles. Talk about a yearning for home!
If you think about it, however, the actual events of Thanksgiving Day can be rather underwhelming. In addition to watching the Macy's Parade, tens of millions of people watch football, while tens of millions of people cook mass quantities of traditional food. Then they all get together to eat more than they should, only to top off their gluttony with pumpkin or mince pie. Then there's clean up, a bit more TV, and that just about sums up the day for many of us. It's more about armchair quarterbacking and eating voraciously than our hearts, even though there's can be something wonderful about just being with your family.
A college friend of mine named Jeff decided one year that his family's Thanksgiving was far too secular. It needed some real gratitude, he thought. So Jeff, as a new Christian, volunteered to say the blessing before the meal. It was usually done perfunctorily by the most religious of his uncles, which wasn't saying much in Jeff's family. But Jeff was going to redeem Thanksgiving once and for all. When it came time to pray, he started by thanking the Lord for the family's many blessings. Then he turned to larger issues, expressing gratitude for freedom, for our country, and so on. Finally, Jeff got explicitly religious, using his prayer as an opportunity to evangelize his godless relatives. After about five or six minutes, these godless relatives were about ready tar and feather Jeff. Concerned, his mother tapped his arm and said softly, "Honey, don't you think it's time to eat now?" In response to this, his slightly religious uncle yelled, "Amen!" Jeff's family immediately dug into the turkey, leaving Jeff somewhere mid-sentence.
Now I do not recommend Jeff's evangelistic strategy. But I do appreciate his intentions. Thanksgiving should be about more than a parade, a gridiron battle, and pumpkin pie. In spite of the modern penchant for referring to the day as "Turkey Day," it's still meant to be a time for intentional gratitude. This has been the point of Thanksgiving Day for throughout American history. (Stay tuned. I'll have more to say about the history of Thanksgiving Day later in this blog series.)
Don't worry. I'm not going to ask you to give up any of your prized Thanksgiving traditions. Go ahead and watch the parade and the games, if you wish. Drive several hours to grandma's house and back. Eat way too much turkey. Take a long nap. Or whatever. These can be delightful traditions.
But I am going to ask you not to forget the heart of Thanksgiving. In fact, I'm going to encourage you to let Thanksgiving be more than just a day. Why not take time during this week and next to remember God's blessings and thank him for them? If your Thanksgiving Day is already full with family folderol, then set aside some time on the day before or the day after to remember all that God has given, and to say "Thank you." Better yet, do this for several minutes each day this week and next. If you do, not only will you be doing the right thing, since God deserves thanks for all he has done for you, but also you will find that your celebration of Thanksgiving is richer and fuller than you have imagined it could be. In fact, you might just discover that your overall happiness with life improves.
Expressing heartfelt gratitude to God is one of life's greatest joys. It's a joy that many of us rarely experience. And it is the true heart of Thanksgiving. So let me invite you – yes, urge you – to take time in this season of Thanksgiving for real expression of gratitude to God. You'll be glad you did.