Advent is coming. It's time to get ready.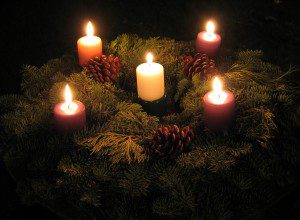 You might be wondering, "How do I get ready for Advent? There aren't any presents to buy. No parties to throw. No decorations to put up. So what am I supposed to do to get ready?"
It is true that, compared to its more popular cousin, Christmas, Advent requires relatively little preparation. In fact, part of the point of Advent is to carve out time for quiet, reflection, and renewal. So, getting ready for Advent isn't meant to be one more chore to fill your otherwise busy holidays.
Rather, getting ready for Advent is mostly a matter of learning about it and choosing to celebrate it. It's deciding that, this year, you're going to make a bit of time for God so that you might grow in your relationship with him.
If you're familiar with Advent and have celebrated it in the past, then mostly what you need from me is a simple reminder: Advent begins this Sunday (November 27).
If you're not particular familiar with Advent, or if you know about it but haven't celebrated it in the past, then I have a bit more to offer. This "bit" comes in several forms:
My blog series covers the basics of Advent: its meaning, traditions, and spiritual purpose.
This devotional guide is meant for individuals, families, groups of friends, or worshiping communities. It uses an Advent wreath, and contains Scripture readings, prayers, and basic explanations.
If the whole notion of the Christian or liturgical year, including Advent, is unfamiliar to you, you will find this series helpful.
Discovering Advent: How to Experience the Power of Waiting on God at Christmastime
My new e-book tells the story of my personal discovery of Advent, something Christians have been celebrating for centuries, but which has been a relatively new addition to my life. As I share my story, I explain the meaning, traditions, and purpose of Advent. I suggest ways you can grow closer to God in Advent as you wait upon him. I also deal with specific questions such as: Is Advent biblical? Discovering Advent also includes an Advent Devotional Guide for personal, family, or group worship.
Kindle edition – $2.99 · · · · · · Nook edition – $2.99
Given the fact that I have lots of free material about Advent on my blog, you may be wondering about the benefit of purchasing Discovering Advent. In truth, the basic material on my blog is quite similar to that in the e-book. After all, Advent is Advent. But the e-book is a thorough rewrite of everything I have previously written, with some new material added. If you have a Kindle or Nook, I think you'll be happy that you bought Discovering Advent.