Two recent news stories share a common theme: Your life is not private. For better or for worse, you are living in public. Millions of people and hundreds of pundits believe that this is, truly, for worse. I want to argue a point on the other side. In some ways, the expansion of public living and the loss of privacy just might be a good thing.
Before you fire off a nasty comment – which will be in public, by the way – allow me to explain.
First, the data. A headline in USA Today proclaims: "Gadgets Make Office Party Antics Even Riskier." Laura Petrecca explains how the proliferation of electronic media – phones that take videos, Twitter, Facebook, etc. – means that your silliness at the office Christmas party might very well be broadcast to the world and saved forever in the bowels of the Internet.
We may be talking about more than silliness here. According to Petrecca:
Four in 10 workers have committed or witnessed an inappropriate or embarrassing action at a work holiday party, says a survey from human resources firm Adecco. A new poll of Monster.com users found that nearly one in 10 workers admit to acting in a somewhat or extremely regrettable way at a past workplace party. Half of workers have seen someone under the influence of alcohol behave improperly during a work-related outing, such as flirting with a supervisor or driving drunk, according to another survey from addiction treatment group Caron Treatment Centers.
Now, all of this debauchery can be captured digitally for the world to see.
The second article focuses not on office Christmas parties, but Facebook. (Start sounding the Darth Vader music from Star Wars at the mention of Facebook.) Jenna Wortham, writing for the New York Times, explains a radical new development in the way Facebook chronicles the lives of users. In "Your Life on Facebook, in Total Recall," Wortham notes that Facebook is
rolling out a revamped profile feature called Timeline that makes a user's entire history of photos, links and other things shared on Facebook accessible with a single click. This may be the first moment that many of Facebook's 800 million members realize just how many digital bread crumbs they have been leaving on the site — and on the Web in general.
What does this mean for users? Wortham finds an example in Ben Werdmuller:
"We've all been dropping status updates and photos into a void," said Ben Werdmuller, the chief technology officer at Latakoo, a video service. "We knew we were sharing this much, of course, but it's weird to realize they've been keeping this information and can serve it up for anyone to see."
Mr. Werdmuller, who lives in Berkeley, Calif., said the experience of browsing through his social history on Facebook, complete with pictures of old flames, was emotionally evocative — not unlike unearthing an old yearbook or a shoebox filled with photographs and letters.
But while those items would probably live only on a dusty shelf in a closet, these boxes of memories are freely available online for anyone with access to your Facebook page to view.
"It's unsettling to see the past presented as clearly as the present," Mr. Werdmuller said. "It's your life in context, all in one place."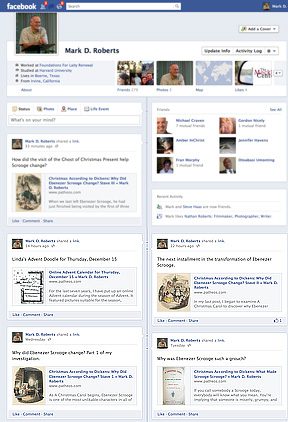 I want to try this out, so I went to the Facebook account I have used since April 9 of last year (
http://www.facebook.com/drmarkdroberts
). After messing around for a while, I found a way to upgrade my wall to the Timeline mode. Now I can see everything that has appeared on my wall since I joined. And you can see everything too. I noticed that I have the option of deleting (or hiding) anything on my timeline. So I am not stuck with any post or picture I find embarrassing. (For the record, I deleted a couple of minor posts just to check out this feature, nothing more.)
So, now more than ever, you are living your life in public. I can think of ways this is good.
Let's take the office Christmas parties for example. Apparently, millions of people every year act in these parties in ways that are inappropriate, ways they end up regretting. They do this largely under the influence of alcohol. But what if people knew there was a good chance that their antics would be recorded for the world to see, either in video or text form? I'm sure some folks would continue to delight in their debauchery. But others, I expect, would make different choices. Would you flirt with someone if you knew your spouse might see it? Your boss? Your children? Your grandchildren? Your great-great-grandchildren?
I have similar reaction to the Facebook Timeline. If I know that what I say or do will be recorded for eternity, then I will be more careful about what I say or do. This is a good thing, in my view.
What we're really talking about here is accountability, being held accountable for our actions. We're talking about living in a community (even an online community) that helps us live in better ways. In the olden days, when I was a boy, my behavior was monitored, not just by my parents, but by their friends, and by the parents of my friends, and our neighbors, and so forth. This kind of community helped me to act more decently than I would have otherwise. It kept me in line when I was inclined to fall out of line. It shaped me and helped me become the person I am today.
So, my life isn't private. That's okay with me. I need the help of my community, even my larger online community, including you, to be the person I want to be in every part of my life, even at office Christmas parties.