The headline of this New York Times article caught my eye and sped up my pulse: "U.S. Safety Board Urges Cellphone Ban for Drivers."  They're not talking only about handheld cellphone usage:
As part of its recommendation, the National Transportation Safety Board is urging states to ban drivers from using hands-free devices, including wireless headsets. No state now outlaws such activity, but the board said that drivers faced serious risks from talking on wireless headsets, just as they do by taking a hand off the wheel to hold a phone to their ear.
I'll admit that my first reaction to this story was negative: Government intrusion into my private life! Once again, the government wants to limit my freedom. Don't they have anything better to do with their time? Etc. etc.
But, as I've though more about this, I've been on the verge of repentance.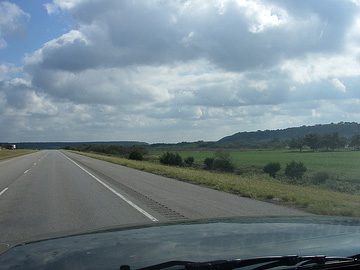 So, here's my question for you: What would it take for you
willingly
to give up using your cell phone in the car?
Let's suppose that a nationwide ban on cell phone usage while driving would save 100 lives a year? Would you be willing to go along with it?
What if a nationwide cellphone driving ban would save 1,000 lives? Would you be happy to give it up?
I must admit that this would be hard for me. I spend most of my driving time these days traveling through the open spaces of Texas. I rarely drive in traffic. And if I'm in traffic, I almost never use my cellphone. And, no matter where I am, I almost usually use a headset when I talk on my cellphone in the car.  But, would I be willing to give up my freedom for the sake of saving lives? And if so, how many lives would it take to make me happy?
How about you?