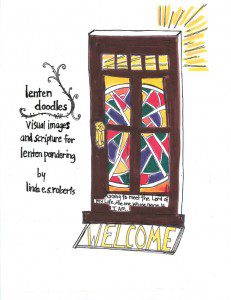 If you've been following my blog for a while, you may recall that in Advent I posted devotional doodles drawn by my wife, Linda. These doodles include biblical passages, lyrics from hymns and songs, bits of poetry, and Linda's thoughts about God and his grace.
Now, I'm pleased to report that Linda has produced 46 doodles for Lent. I will be posting them, one per day, throughout the season of Lent.
If you find Linda's doodles helpful to you, you can purchase them at blurb.com. The paper versions are wonderful, but pricey. The iPad version is inexpensive. As of now, the only e-book version is for the iPad. Here's the blurb.com link for Linda's Lenten Doodles.
Linda's purpose here is not to sell books, but rather to encourage you in your Lenten devotion to God. So, you can find all of her doodles on my website each day of Lent. Linda, by the way, in addition to being my wife and the mother of our children, is a spiritual director, marriage and family counselor, executive coach, and retreat speaker. You can learn more about here at her website. Linda's loves to see people grow in God's grace. That's why she does what she does.
Doodles for Ash Wednesday, the First Day of Lent
Click on the images above to see them full size.
Copyright © 2012, Linda E.S. Roberts. If you would like to use these doodles for a ministry or other non-profit purpose, please
contact Mark
.