On Friday morning at 12:01, I found myself sitting with my teenaged daughter in a theater vibrating with expectation. Along with four hundred eager fans, we were about to watch the film version of Suzanne Collins' novel The Hunger Games. I looked around the theatre to see if anyone looked my age or older. I spied a few who seemed to be parents. But there was no doubt that I was in the 1% of this crowd, the over-50 1%, that is.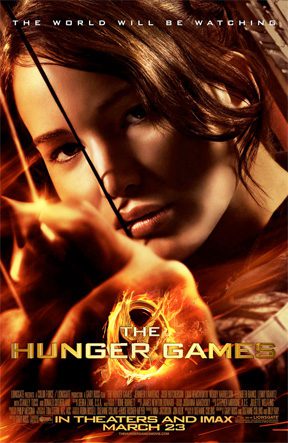 As it turns out, I was helping The Hunger Games set a box office record. It ranks first in "all-time highest grossing non-sequel midnight screenings ever." There's no doubt that this movie will be a blockbuster. Not only has it started strong, but also it will continue to draw multiple millions of moviegoers.
This has perplexed many people, especially parents who wonder why their children want to rush off to see a movie about children killing other children. One obvious reason for this is that their children, usually teenagers, have read and loved The Hunger Games series of three novels. I'd guess that the vast majority of those who joined me at midnight a couple of days ago were already big fans of the story they were about to see on the big screen.
Alternatively, it may be that almost all of the females in the audience loved the books, and brought their male friends along for the premiere. In my completely non-scientific survey, most of the readers of The Hunger Games are female, especially among teenagers. Of course this ups the ante on the popularity question. Why in the world would girls flock to a movie in which the main course is an extended and violent portrayal of kids killing other kids? Why is The Hunger Games so popular, especially among young people who, if they lived in its fictional nation of Panem, might find themselves in a place to kill or be killed by their peers, even their close friends? Why have so many young readers fallen in love with The Hunger Games, and are now translating that love into blockbusting ticket buying?
To be sure, there are some easy answers to these questions. The Hunger Games is an engaging story, a page-turner. Suzanne Collins is an entertaining writer who combines predictability with surprise in the way of all accomplished thriller writers. Plus, the story has plenty of action, dangers, and intrigue. I envy Collins' imagination, even though I wouldn't want to have her nightmares.
But, I don't think the extraordinary popularity of The Hunger Games can be explained by the answers I've just given. They contribute, but they're not nearly enough. They simply don't account for the heart connection many young readers feel with this literature, and now with this movie.
I have a couple of theses on the popularity of The Hunger Games. These are based, I should explain, not simply or even mainly on the movie I saw a couple of nights ago. Last year, I read the all three books in The Hunger Games series. I did so because my daughter loved them and I have intentionally tried to read books she enjoys. (Yes, this means that I also read all four of the Twilight novels, something not many men in their fifties can say without embarrassment.)
Before I began
The Hunger Games
, I would have bet that the popularity of these books was rooted in two predictable factors: the appeal of the protagonist and the presence of adolescent romance. I was shocked to discover that neither of these factors are adequate to explain why teenagers love
The Hunger Games
.
The main protagonist of the books and movie, the teenage girl known as Katniss Everdeen, is an impressive warrior, especially with the bow and arrow. But she has been hardened by a life of suffering and loss, as well as hatred for the government of Panem and the oppressive society it imposes on its citizens. Only occasionally does Katniss show human warmth, and even then she is unusually restrained. She almost never laughs, cries, or gives evidence of vulnerability. She is not what I expected in a protagonist, a female version of Harry Potter, someone who is hard not to love. Katniss is, in fact, a hard person to like, especially as one moves into the second and third books. The movie version of The Hunger Games softens up Katniss quite a bit, but she is still a flinty character. No, she isn't nearly as hard and disturbed as Lisbeth Salander, the girl with the dragon tattoo who played with fire and kicked the hornet's nest. But Katniss is well on her way to joining Lisbeth's league.
There are romantic elements in The Hunger Games, but they are nothing compared to the raw passion of Twilight or the heartfelt love in Harry Potter. Without spoiling the story, let me say simply that there is precious little romance in The Hunger Games, and what is there is restrained and almost always mixed with sadness. There is actually more genuine love in this story than romance, such as the love between sisters or sacrificial love between friends. But there isn't a whole lot of love, either.
So, if the popularity of The Hunger Games cannot be adequately explained by its engaging action, its peculiar protagonist, or its sparsity of romance, what will do it? There has to be something more, something that accounts for why millions of teenagers love this story. As I wrote above, I have a couple of theses. I'll present and defend them in my next post in this series. In the meanwhile, I'd be most interested in your ideas. If you're following The Hunger Games phenomenon, and especially if you've seen the movie and/or read the books, why do you think The Hunger Games is so popular?