A few days ago, I put up a post concerning the effort of New York City's Mayor Bloomberg to ban the sale of sugary drinks over 16 ounces. In the days since his announcement, I've been watching the response. Mostly, it has been predictable. Those who lean toward big government applaud Bloomberg's move, while those who prefer small government decry it. For the first group, the ends justify the means. For the second group, the means are an unacceptable denial of freedom.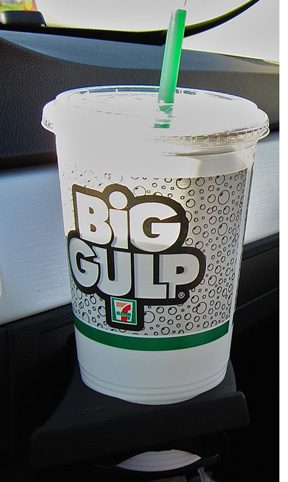 Not to be left out, the Los Angeles Times jumped into the fray with an editorial. (Thanks, Bill Goff, for drawing this to my attention.) I was impressed with the wisdom of the Times piece. Here are a couple of excerpts, but I recommend that your read the whole column.
Almost everything government does restricts the freedom of the governed in some way. Spending programs have to be paid for with taxes that leave people less money to use as they see fit. Laws limit what people can do without risking fines, lawsuits or incarceration. People tend to accept these limits without complaint when there's a clear connection to public safety and civil order, or a clear benefit from the spending that's proportionate to the cost.
The support weakens when the connection to public safety isn't so clear or the benefits are more abstract. For example, seat belt laws are widely supported: There's no question that they save lives and reduce the severity of injuries. But when the federal government lowered the speed limit on all interstate highways to 55 miles per hour in 1974, numerous states rebelled, insisting that there was no public safety reason for such a low limit in rural areas. . . .
The mayor's initiative also rests on a shaky scientific foundation. Researchers have found that people who regularly drink soda are more likely to be overweight, and that those who increase their soda intake have a greater chance of becoming obese and diabetic. But there's little data to support the idea that a ban on large cups and bottles of sugary beverages would make a real difference in obesity, especially a ban as porous as the one Bloomberg has proposed.
With no precedents to show the effectiveness of Bloomberg's approach, a better way to balance the competing interests of public health and personal choice would be to require more effective disclosure about the calories in soda and a more aggressive effort to educate the public about the associated risks and costs. There are nearly 400 calories in 32 ounces of Coca-Cola Classic, which is almost as much as aMcDonald's quarter-pound hamburger. Raising awareness about calorie counts may also encourage restaurants to compete to offer the healthiest goods, not just the biggest portions. . . .
The larger and more difficult question for the public is where to draw the line between an appropriate government effort to improve public health and an inappropriate interference with individual autonomy. If the only consideration were reducing how much taxpayers had to spend on healthcare, then Bloomberg's next logical step would be to require restaurants to serve vegetables with every food order, or to require every New Yorker to join a health club, or to ban ice cream.
Vegetables required? Well, okay. Join a health club. That's fine. Ban ice cream? Never.