Years ago, I taught my daughter how to be a "good" hiker. But, in the process, did I do a bad thing?
I have always loved hiking. I don't need to dangle from ropes, trudge for miles with a hefty backpack, or scale Mt. Everest. But I enjoy getting out into nature, walking on quiet forest paths or along alpine streams. I can cover quite a few miles in a long day hike, which allows me to get far away from the crowds and way into the glories of nature.
When I became a father, I desperately wanted to pass my love of hiking on to my children. My effort began even before they could walk, as I took them in a backpack when my wife and I explored the High Sierra mountains of California. My son, Nathan, became my faithful hiking companion at a young age. He loved hiking as if it were in his DNA to do so.
My daughter, Kara, took a peculiar approach to hiking, however. As soon as she could walk, she took great pleasure being out on a trail. But, for Kara, a trail was not a path to some destination. Rather, it was itself a glorious destination, a place to explore every rock, every log, every flower. If left to her own devices, Kara would progress about fifty feet an hour, thrilled by everything she saw along the way, delighted by every rock she had scaled and every log she had crossed.
You'd think I would have rejoiced over my daughter's unusual love for nature. I did, in a way. But, at the same time, I found myself impatient with her pace. After all, I wanted to hike to some mountain lake. I didn't want to lollygag at the trailhead, examining each bit of nature as if it were a treasure. There were far greater riches to behold if only we could walk a few miles further.
My efforts at cajoling and coercing Kara to hike more quickly failed miserably. Begging and commanding didn't do much better. I began to imagine a future of all-day, one-hundred-yard hikes. Not as bad as sitting in traffic, but not what I aspired to accomplish as a hiker.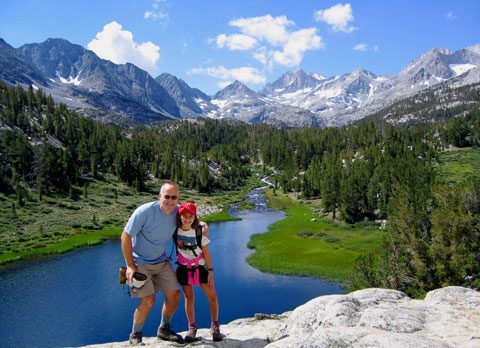 One day, when we were supposed to hike Kara's our cousins, she was enjoying her usual investigation of all measure of trail minutiae. I tried a new motivational strategy. "Kara," I said excitedly, "let's see if we can be the first people up the mountain. Let's try to beat everybody else." Kara looked up at me, looked down at the rocks she had been admiring, and said, "Okay." She took off up the trail, boots a-blazing. We soon passed our family, leaving them in our dust. We were, indeed, the first hikers up the mountain. We won.
I had tapped into Kara' innate competitiveness, her love of accomplishment. Even as a six-year-old child, she wanted to be first. This meant she could hike quickly and effectively if she thought of it as a race, or as a challenge to be overcome. She could also cover long distances with great endurance. Once, when she was about eight, we did an exhausting 15-mile hike, one that included several thousand feet of elevation gain at high altitudes. Kara was the ultimate hiker. Or was she
I wonder sometimes if I did a bad thing when I taught my daughter to think of hiking as a race to be run rather than as an opportunity to slow down and delight in small gifts of creation. Did I steal a precious part of her childhood because of my own impatience with ordinary rocks, flowers, and logs? Or, by helping Kara to cover the miles, did I enable her to see beauty that she'd never have glimpsed from the trailhead?