Twice in the last four years we spent our summer vacation with the Obamas. Well, okay, that's a bit of an exaggeration. But, truly, two times during our last four summer vacations we encountered the President and/or his family . . . and were somewhat inconvenienced in the process.
Here are the facts. Last month, my family and I vacationed in Mammoth Lakes, California, a picturesque spot high in the Eastern Sierra. We got to Mammoth by way of Reno, Nevada, which lies about three hours away by car. On our return trip, we were informed by airline officials that our flight might be impacted by the fact that Air Force One was on the tarmac. President Obama was making a speech nearby, and when he returned to the airport, all regular service would be shut down.
As we were boarding our aircraft, all of a sudden the terminal doors were closed. All the passengers who had already boarded the plane would have to stay put. Those of us who were yet to board would be "trapped" in the terminal. I rushed to a window in order to see Air Force One about a quarter mile away, with a caravan of dark windowed SUVs circling the plane, not to mention one conspicuous long, black limo. Though I was quite a distance from the action, I could see President Obama exit from the limo and enter Air Force One with another man in tow. (He turned out to be Nevada Senator Harry Reid.) When it was time for Air Force One to take off, I filmed the event. I'm happy to share it with you here, though it isn't terribly exciting.
Our first encounter with the Obama family was more interesting. It happened three years ago in Montana. My family and I, along with some friends, began a hike that would take us along the lower Gallatin River, not far from Yellowstone National Park. Hiking through a pine forest, we climbed a ridge and then descended in the direction of the river. But as we got about forty yards from the water, we were stopped by a forest ranger who told us we could go no further. I asked him why, and he said he couldn't tell us. I wondered if there had been a grizzly bear attack or something like that on ahead. But then I remembered that President Obama and his family were supposed to be in this part of Montana. Could they be out in the forest like us?
As we stood there trying to decide what to do, we glimpsed, between the trees, some rafts on the river. They appeared to stop across the river from where we were waiting. After about ten minutes, the forest ranger said we would be free to go on, "Just as long as you are not terrorists." Yes, this is what he actually said. At that point we knew for sure that some part of the Obama clan had been on the river near us. Technically, we had seen them, though we couldn't make out the details.
As we talked along the trail by the river, we came upon a fisherman who was jumping out of his skin with excitement. "I just saw Michelle Obama and her daughters!" he exulted. "I saw the first lady, right there in the river." Apparently, the rangers had not cleared the river of anglers. This man had a fish tale bigger than any he had told before.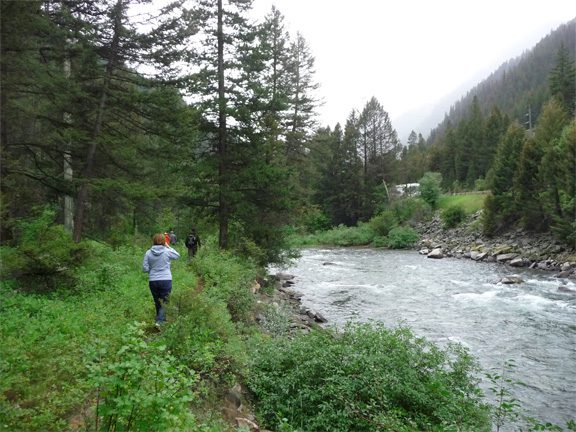 Anyway, our inconvenience over, we walked for a mile or so along the Gallatin River before returning to our car. On the way back to Bozeman, where we were staying, we passed a long caravan of SUVs with blackened windows. As I recall, there seemed also to be an ambulance and several state troopers. No doubt about it, in one of those cars sat President Obama, on his way to join his family in the Montana woods. Later, I checked the news to confirm what we had figured out.
One last bit of ironic trivia. The river upon which the Obama family rafted and along with we hiked is the Gallatin River. It was named in 1805 by Meriwether Lewis, of Lewis & Clark fame, after Albert Gallatin, who was then U.S. Treasury Secretary. Twenty-six years later, Gallatin founded the University of the City of New York. Sixty-five years later, this university was renamed New York University. Today, my son attends NYU. Specifically, he is a student in the Gallatin School of Individualized Study, a school named after the university's founder, Albert Gallatin. As of yet, however, my son has not run into President Obama at his school.