I have a sweet tooth. It's part of my genetic makeup. Give me something sweet to eat and I'll enjoy it. Give my a plate of cookies and soon they'll be gone . . . all of them. Similarly with a bowl of M&Ms or a carton of gelato. If you don't believe me, just ask my wife.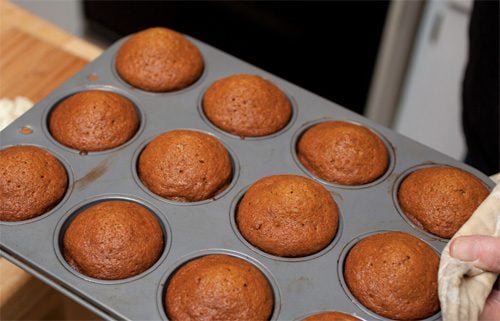 Among my favorite sweets are pumpkin muffins. I don't eat them all year, however. Only in the Fall. I'm a stickler for things like this. But once Fall rolls around, my taste buds will be primed for my first annual pumpkin muffin.
Years ago, when I was the pastor of Irvine Presbyterian Church, a friend in the church made me a plate of pumpkin muffins. I don't know if Michelle was aware of my fondness for this delicacy or if she was simply being kind. But I loved her pumpkin muffins and made sure to thank her energetically.
The next year, when Fall came, a plate of pumpkin muffins showed up on my desk at work. And the next year. And the next. And the next. It became, if you pardon the pun, a sweet tradition.
Then I left Irvine Presbyterian Church and moved to Texas. I thought that was the end of the pumpkin muffins tradition. But, no! Somehow, each year, Michelle managed to get a plate of muffins to me.
I just finished this year's round of pumpkin muffins. They were delicious, as always. But now, when I eat the muffins Michelle made for me, I taste them differently. I sense so much more than the physical sweetness. Now, I think of twenty-seven years of friendship, of sharing both good times and hard times. I think of Michelle's unwavering faithfulness and consistent kindness. I thank God for the gift of friendship, as well as for the gift of fantastic pumpkin muffins.
No matter how much I love all sorts of sweets, true friendship is sweeter still.