In my last blog post, I told the story of the time when my teenage son, Nathan, met Eugene Peterson. It was a sweet story of about a man of genuine humility and care for others.
This story about Eugene reminds me of another Laity Lodge story. I've called it "Unflinching Hospitality," and in a few moments you'll see why.
We at Laity Lodge were committed to showing hospitality to all of our guests. This wasn't a strategy for getting more business. Rather, it was an expression of our conviction that all human beings are created in the image of God and therefore worthy of deep respect. And it was also an expression of our understanding of the gospel of God's grace through Christ. We sought to embody this grace in the way we treated each and every guest to Laity Lodge.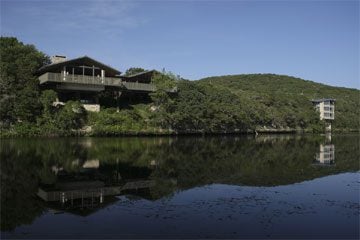 Hospitality often began with the hostesses in the Laity Lodge office. When people arrived at the Lodge, they were welcomed, registered, and affirmed by the fine women who "got" hospitality right down to their bones. If somebody showed up at three in the morning, one of our hostesses would be their to greet them and show them to their rooms as if it were nothing unusual.
Connie was one of our experienced hostesses, a kind and gracious representative of Laity Lodge's core values. She was also a common-sense woman who didn't take guff from anyone. Connie wasn't a pushover. But she was a someone who demonstrated the love of Christ to our Laity Lodge guests.
One time when Connie was working in the Lodge office, an older gentleman came in to see her. He was carrying an armload of dirty clothing. "I need my wash done," he said. "Oh," Connie responded without flinching, "we'll get that for you by tomorrow afternoon." The man left the office satisfied.
The thing was, we didn't do people's wash at Laity Lodge. We did have available washing machines and dryers, and would even give people enough quarters so they could do their own wash. But we didn't do it for them. Connie knew this, of course. She could have said this to the man who dropped off his dirty clothes. But she sensed that he wasn't quite up to the task of doing his own wash. So she promised that we'd do it for him.
What did Connie do with his laundry? Did she summon one of the housekeepers with a request to wash his clothes? No. Did she assign it to one of our young interns? No. What did Connie do? She carried the man's clothes over to the wash house and put them in the washer. An hour later she moved them to the dryer. Later that evening, she collected his clean clothes and folded them neatly.
The next day, the man came into the office to retrieve his clothes. Connie presented them to him. He thanked her and left. I'm quite sure he had no idea that his request was unusual. And I'm guessing he never imagined that Connie was the one who actually washed his socks and underwear. No, he was blissfully unaware. And Connie was blissfully unflustered. She was there to show hospitality and that's just what she did.
I doubt I would ever have known this story except I happened to be in the office when Connie handed the clothes to our guest. I didn't say anything, but I wondered what in the world was going on. When he left, I asked her about it. She explained what had happened.
"But we don't do people's wash," I exclaimed, feeling defensive for Connie.
"Well, we did this time!" she responded, once again without flinching. "We're all about hospitality here."
Yes, we were. To paraphrase Jesus rather freely, "If someone wants you to wash their socks, wash their t-shirts as well." Amen, Jesus. And thanks, Connie, for embodying this truth for me.