This morning I'm sitting in a Holiday Inn Express in Las Vegas, Nevada. My wife and I stayed here last night on our way home from Zion National Park, where we celebrated Thanksgiving with our extended family. Holiday Inn Express offers a free breakfast to their guests. In my opinion, it's one of the better breakfasts in midrange hotels.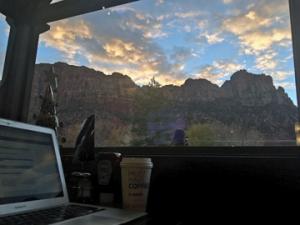 I know a lot about the Holiday Inn Express breakfasts because I recently ate them for six consecutive days. You see, during our six days in Zion, we stayed at the Holiday Inn Express is Springdale, Utah, right next to the national park. Each morning, I rose early for a cup of fairly decent coffee and a variety of breakfast foods. There, enjoying my cinnamon roll, I drank in the wonder of Zion Canyon at sunrise.
The best thing about breakfasts at the hotel in Zion was the view, to be sure. But the next best thing was the staff. Two men oversaw the breakfast operation, sometimes working together and sometimes working separately with another helper. Brian and Lance did a fine job with the operational element of their work. The breakfast buffet was always well stocked and the eating space was spotlessly clean.
But what distinguished Brian and Lance most of all was their friendliness and their eagerness to serve. They always greeted the guests with "Good morning," often adding "How is your stay?" They wanted to know if they could do anything to help us. Though I'm not an extrovert in the morning, I found myself looking forward to being welcomed by Brian and/or Lance each morning. They made a real difference.
Today, when I entered the breakfast room at the hotel in Las Vegas, I noticed that it was a clean and that the ample food was laid out well. The person in charge of the meal was doing fine with the operation. But he did not greet me. He didn't even make eye contact. Finally, I said "Good morning." He looked at me with surprise and then responded with his own "Good morning." That was it. During the meal, I watched him scurry around making sure there was plenty of coffee and food. But he did not interact with the guests.
I don't know this man or his story. I'm not intending to criticize him. He is doing, I expect, what his job requires. But I am struck by the difference between what I experienced in Zion and what I'm experiencing now. One man appears to see his job as, well, just a job. Brian and Lance, on the contrary, saw their jobs as so much more, as an opportunity to serve people, to help them feel welcome. They turned their breakfast space into a kind of spa for the soul, not just a place to fill up on scrambled eggs and Cinnabon mini rolls.
My guess is that Brian and Lance get much more out of their jobs than the operations person in Las Vegas. I know they get friendly responses from guests, happy smiles and lots of "thank yous." I expect they also get a significant number of tips, though there was no official tip jar. But I doubt these men work mainly for what they get. They seem happiest when they are giving to others.
I expect many of us have something to learn from Brian and Lance. When we focus on serving people, no matter the context, when we show up with a positive attitude, even when our work isn't ideal, we can make a real difference, a difference for others, a difference for ourselves. Our job can be so much more than just a job.