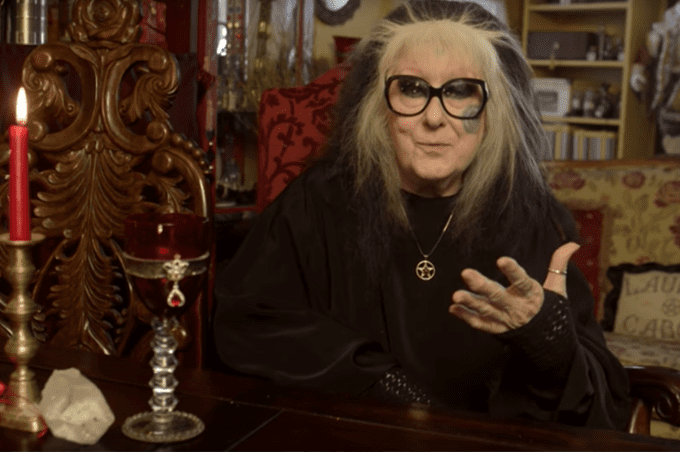 When you think of modern witchcraft in Salem, there's one name that stands above them all, Laurie Cabot. Laurie Cabot is a legend and opened the first Witchcraft Shop in the United States solely devoted to Witchcraft. She was declared the Official Witch of Salem by Governer Dukakis in the '70s for her work with children. Laurie is the author of six books, including her most recent Laurie Cabot's Book of Shadows. She has helped the police successfully find missing persons (as well as catch a killer on the run) using her psychic ability. She founded the Witches' League for Public Awareness to defend the civil rights of witches everywhere and founded her own tradition of Witchcraft, which stems from the Traditional Witchcraft of the Witches of Kent as was passed on to her, but which was expanded upon by her own research into science, metaphysics, and Witchcraft.
She has been on Unsolved Mysteries, Leonard Nimoy's In Search Of…, Phil Donahue, National Geographic, CNN, Oprah, and many other shows and periodicals educating people about the truth about Modern Witchcraft. She has two famous students, Sully Erna of the band Godsmack and author Christopher Penczak who co-founded the Temple of Witchcraft Tradition – both of whom were initiated as High Priests together by Laurie. Laurie is also in Godsmack's video for their hit song Voodoo:
She also co-wrote several songs on Sully Erna's solo album such as Avalon and My Light:
She owned many stores throughout the years in Salem such as Crow Haven Corner and The Cat, the Crow, and the Crown. While she no longer runs a store anymore at 85 years old, she still does psychic readings, workshops, and creates many of her custom one of a kind majickal items and tools, blends, and art alongside her daughter Penny at Enchanted, which was opened by a High Priest of her tradition, Chris Levasseur. The shop, which is open year round and also available online, is located on Pickering Wharf in Salem, tucked away from the crowds of Essex Street during October, but still in walking distance.
For several years now I've had the honor and privilege of being a psychic reader at Enchanted every October. This year, she taught a workshop on mediumship, which was amazing and with her permission I recorded the audio of the class. Near the end of the class, something wonderful happened. The Egyptian god Thoth appeared to her with a message to deliver. With Laurie and Penny's permission, they've allowed me to share these thoughts from Thoth as I find them compelling and important.
 

View this post on Instagram

 
"Well, again this sounds fantastic, but the god Thoth is here, the Egyptian god Thoth. He's saying everyone should be keeping a journal and writing down your life because if you wrote all the things that are good and bad you'd see there's more good than bad and you'd appreciate your life more. Write down where you were born, where you've lived, and compare it to the rest of the world. You are so privileged, and you don't even know it unless you put it on paper and list all the things good and bad you won't realize how grateful you should be of who you are and where you are. You should be giving gratitude to the universe more often. Stop complaining, he says. He said it's important in this timespan in the world that those who are privileged should know it, there's such a division he says between the privileged and unprivileged and most of you don't even realize it."

She continued to expand upon the message that Thoth delivered and she began to muse, "You know it's true, everyone seems to be entitled lately. You're not entitled to water coming out of a faucet. Think about that. We need to reflect on that more, on what he's saying, and then that makes your life greater and better when you recognize those things more often instead of taking it all for granted. We are a privileged people, much more than we realized. Now that he's said that I can look back and think that he's right, I can feel that too that I should be more grateful for where I am and what has happened in my lifetime."
---
Ways To Support My Work: