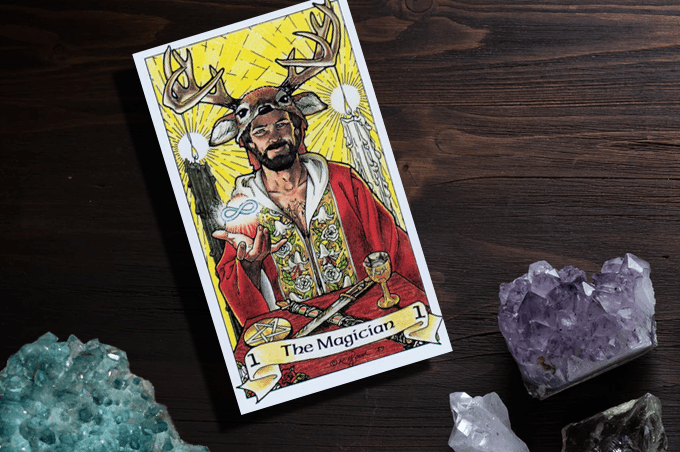 The Robin Wood Tarot by Robin Wood is a deck that is very close to my heart for sentimental reasons. It was the second tarot deck that I ever owned and the first that I was able to ever doing readings with. The deck was created by Wiccan artist Robin Wood, who did the illustrations in many Scott Cunningham books such as Magical Herbalism: The Secret Craft of the Wise, Earth Power: Techniques of Natural Magic, and Earth, Air, Fire, Water. She also did the cover art for some of the older editions of those books. This is another reason that I really love this deck, because it reminds me of my early days as a seeker exploring magick.
 

View this post on Instagram

 
Created in 1991, The Robin Wood Tarot is one of the most popular decks in the world. The deck is fairly traditional, being very close to the Rider-Waite-Smith deck. The artistic interpretations vary a little, but not too much. The artwork is done in ink and colored pencil. They have a very light Wiccan/Pagan spin to them without necessarily straying too far from the original RWS deck. The card stock is decent, being neither amazing nor disappointing and they have a light gloss to the coating.
 

View this post on Instagram

 
The Robin Wood Tarot contains a fair amount of nudity, but all are tastefully done. The deck also keeps the spirit of having both light and dark cards but the imagery is not as intimidating or scary as some decks, making it approachable to the beginner or someone who is a little apprehensive of having their cards read the first time. This makes it easy to read and learn with, and as such is a great beginner's deck for those who are seeking to learn the tarot for the first time. While the deck comes with a fairly standard "Little White Book" of card meanings, you can also buy the full companion book if you want to dive even deeper into Robin's concepts and meaning behind the deck.
 

View this post on Instagram

 
---
Connect With Me