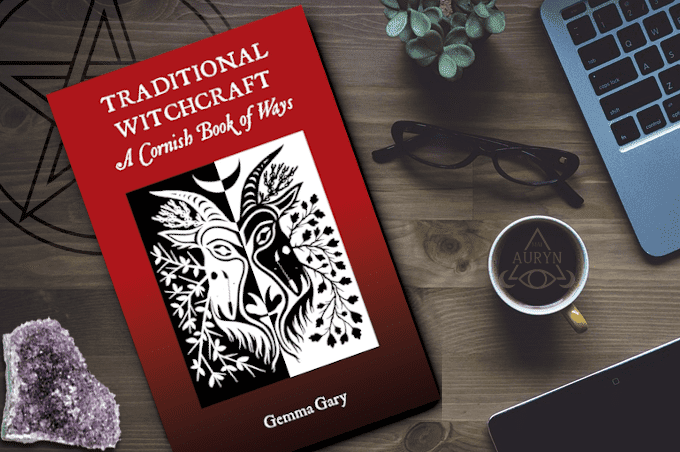 What I love about Gemma's work is that she has a "voice" as a writer. When I read her work I can "hear" her friendly calm and centered voice with her British accent and it feels both inviting and like she's sharing secrets of wisdom. She sort of expertly dances with storytelling and keeping a specific "aesthetic feel" to the writing in alignment with Trad Craft without ever crossing the line into pretentiousness. Her passion for the subject seems to come first and foremost. Traditional Witchcraft: A Cornish Book of Ways is a prime example of that.
To my knowledge Traditional Witchcraft: A Cornish Book of Ways was one of the first books that were both well-written and well-edited on a form of Trad Craft that served as being a primer, and a how-to. While there are books that preceded this one through Capal Bann, such as the work of Michael Howard and Nigel Jackson, those books are sort of a hot mess as they seem to be crucially lacking an editor, including spelling mistakes (as opposed to Howard's later publications).
What I enjoy about Gemma's work is that she's not trying to impress you. She isn't trying to use unnecessary academic or overly poetic language to convey something. Instead, she seems more grounded and there's a practicality and accessibility to the information and practices that feel more in alignment with a lineage of traditional witches (whether they're new or not) who would just be common folk (if not poor) as opposed to arm-chair educated elites trying to stroke their egos and fill pages in a book that could be summarized in a paragraph. It truly feels like she's sharing something that she hopes you can use, regardless of who you are.
Gemma stresses that this book isn't a claim to any sort of historical Cornish Witchcraft tradition and that none were ever set in stone. As is the way of folk witchery, it varied among person to person and evolved and changed in different ways with each practitioner. What she does is collect folk-lore and magical practices from the Corwnall region and shares how she's taken that information and created a cohesive tradition out of it – thus the book's subtitle is "A Cornish Book of Ways" and not "The Cornish Book of Ways."
The book has a strong focus on the faery folk and the land spirits of Cornwall, particularly on the Goat God, Bucca. The Bucca in this book takes the form of Bucca Gwidder and Bucca Dhu (the Light Bucca and the Dark Bucca, respectively). These two conjoin to become the androgynous Sabbatic Goat similar to Baphomet. The book is full of information, foundational practices of Trad Craft (such as the witch's compass), spells and workings, seasonal and lunar rites, and a self-dedication.Traditional Witchcraft: A Cornish Book of Ways, like all of Gary's books includes beautiful artwork throughout it created by her hand and beautiful photos from Jane Cox. This is a book that anyone with an interest in Trad Craft should have on their shelves.
---
Related Articles
Review: The Devil's Dozen
Beginner Books Recommended By Trad. Craft Witches
That Time I Danced With The Devil
The Yule Goat
---
Connect With Me
---
Psychic Witch: A Metaphysical Guide to Meditation, Magick and Manifestation