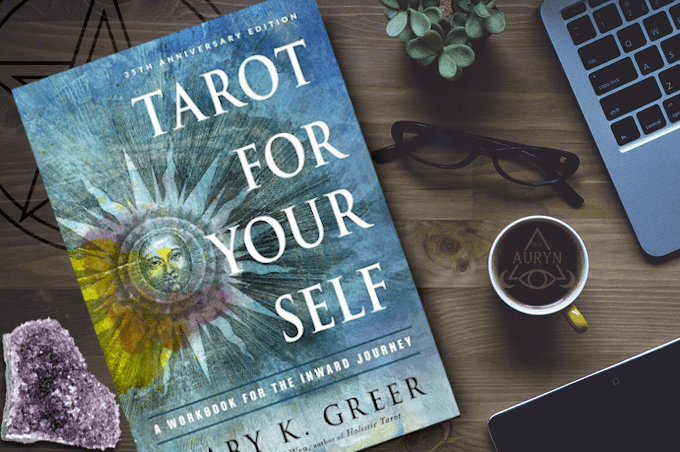 Today there's an endless sea of tarot books. This is both amazing and overwhelming for those just starting out to learn about tarot, specifically the Rider-Waite-Smith deck and its countless derivatives. However, there are few books that are titans in this category with such a huge historical impact. Tarot For Your Self: A Workbook for the Inward Journey by Mary K. Greer is hands-down one of them. When I first began using tarot early in High School, I relied on "The Little White Book" that came with the deck. This led to a lot of vagueness and confusion about what my readings for others meant. Likewise, I could never interpret my readings for myself clearly. I tried a few other books and they just led to more confusion. Then I finally got my hands on Tarot For Yourself, which then became my tarot Bible and helped me to connect with the cards on a personal level with clarity. It's still the first book I recommend to people asking which book they should read to learn tarot.
Tarot For Your Self was one of the first books (if not the first book) to take a look at the tarot as an introspective spiritual tool, an idea that is not only popular now, but taken as a given. Throughout the book you're not only taught about the tarot and its meaning, but you're also given exercises and asked introspective questions based on the card and its meaning. Through this method the tarot begins to unlock for you as a reader, as you begin building a personal connection with the cards and increase your understanding of what that card means in divination. Greer brought an intuitive approach to the tarot without neglecting or dismissing its rich esoteric symbolism or the "traditional" cartomancy of tarot readings.
The 35th anniversary edition of Tarot For Your Self presents this influential classic in a new beautiful cover with "french flaps." It includes the 20th year preface as well as a new 35th anniversary preface. Also included is a new introduction by Benebell Wen where she shares her own experience with this tarot classic and its influence. If you're looking to learn how to make tarot truly a tool that feels personalized, this is the book for you. It's one of those books that everyone who reads tarot should own, period. In fact, if you bought and owned only one tarot book, this is still my recommendation.
---

---
Click Below To Purchase My Book: