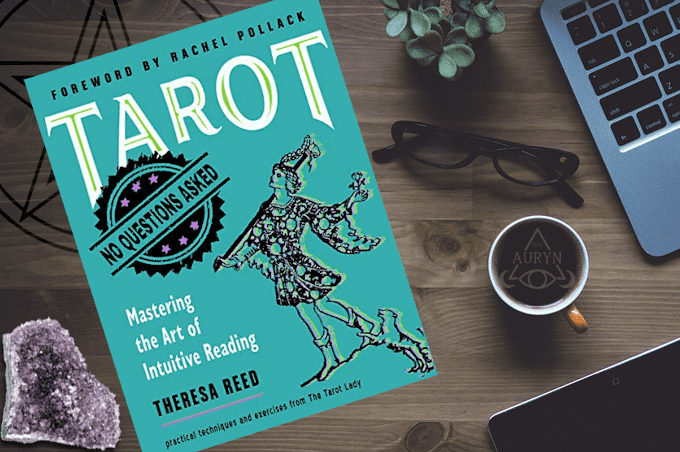 Tarot: No Questions Asked: Mastering the Art of Intuitive Reading by Theresa Reed is the book I wish I owned when I began doing tarot readings for others professionally years ago. The tarot is a symbolic language that you establish with your conscious mind, subconscious mind, and the collective unconscious. To have clear intuitive or psychic readings one must have that symbolic language established and just as important – personalized in one's relation to those symbols. Theresa clearly seems to understand this and in this book, it definitely shows. Just like her previous book, Astrology For Real Life, In this book, Theresa teaches the reader in an easy to follow, friendly, and often humorous tone.
The first part of Tarot: No Questions Asked is a run-down of every card in the tarot which helps you to create your own unique interpretations of the cards to help establish that divinatory language necessary for accurate readings. She provides the "traditional" summarization of which card means, then gives you other ways of looking at the card, how to embody the energy of the card, and contemplative questions to deepen your own personal relationship with that card. She also provides great "tarotcises" for each card to bring even more layers of personal connection to the cards.
The second part of the book is all about using your intuitive faculties in tarot readings, including tarot specific exercises to help strengthen those intuitive muscles. She shares amazing insights and helpful tips that have been hard-earned through her years as a professional tarot reader. When I first started reading tarot for others in a professional setting, I wasn't really prepared to read for folks who didn't have any questions and wanted a general reading. It's moments like this where trusting your intuition becomes so critical in readings, to trust that the cards you're laying down are accurate despite them not wanting to look at anything specific or even giving any feedback during the reading. When you finish this book, you should be able to read anyone on anything intuitive, regardless of if they have questions or none to ask. Tarot: No Questions Asked is definitely one of the best books written on approaching the tarot intuitively there's ever been and I highly recommend this book to tarot readers of any and every skill level.
---
Ways To Support My Work: