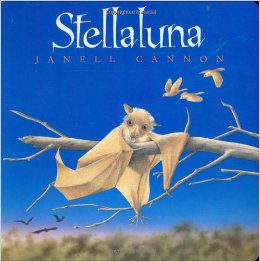 As a secular parent, I am constantly searching for books meant to get my child thinking more deeply about morality, ethics  and the nature of the universe. Written stories are so powerful in getting children — heck, all of us — to think more deeply about what is important in life and how we can be better human beings. That's why the Bible and so many other religious texts are so compelling; Jesus' parables alone have laid the foundation for the moral compass of millions of people on this planet.
But Biblical literature is the tip of the iceberg, as far as I'm concerned. And, although it may come across as blasphemous, some of what you find in the New Testament pales in comparison to the philosophical lessons that can be culled from secular literature these days, if only we take the time to see it.
That's why I reached out to Jana Mohr Lone, founder and director of the University of Washington's Center for Philosophy for Children, to share her favorite children's books. Lone has an incredibly cool blog (where I've spent many hours of my life) and is expert at pointing out exactly why certain books are so good for kids — and how to get the most out of them. Such a gift to us busy, working parents!
I cannot tell you how excited I am to publish this list. Thank you, Jana.
____________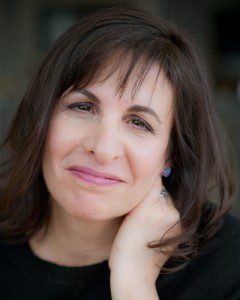 Guest Post
By Jana Mohr Lone
Picture books often raise essential questions about topics like fairness and justice, art and beauty, ethics, life and death and the nature of reality, social and political issues, and the nature of knowledge. Clearly children's authors know that children are philosophically capable!
Although we think of picture books as being for young children, I have found that picture books also inspire li
vely philosophical exchanges with older K-12 students as well as college undergraduates. Listening to stories being read aloud, an experience many of us had when we were children, is conducive to creating an open and relaxed atmosphere for thinking about deep and fundamental questions.
Here are 12 of my favorites in no particular order. After reading one of these books with your children, try asking them, "What are you wondering about after hearing this story? What questions did this make you think about?"

1. Frog and Toad Together by Arnold Lobel

All five stories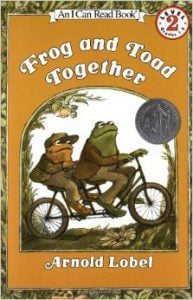 in this book are philosophically interesting, as is true of all of Arnold's Lobel's work. These stories, through the amusing adventures of the likable friends Frog and Toad, raise questions about the meaning of bravery, where dreams come from, the nature of willpower, cause and effect, and more.
2. The Big Orange Splot by Daniel Manus Pinkwater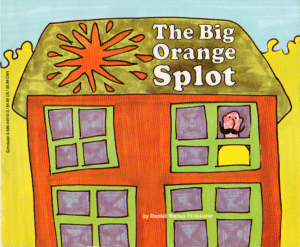 Mr. Plumbean lives on a street where the houses are all painted exactly the same. He and his neighbors all like this, characterizing their street as a "neat street." One day, a seagull drops a can of bright orange paint on Mr. Plumbean's house, leaving a big orange splot on the house. This leads to Mr. Plumbean deciding to repaint his house in a rainbow of colors, and story describes the resulting effects on the neighborhood. The story inspires conversations about conformity and independence and our obligations to our communities. Was Mr. Plumbean was right to paint his house in a way different from his neighbors, when part of the community agreement was that they would keep their houses looking the same? Does Mr. Plumbean have the right to have his house look the way he wants it to look, even if it offends his neighbors?
3. Frederick by Leo Lionni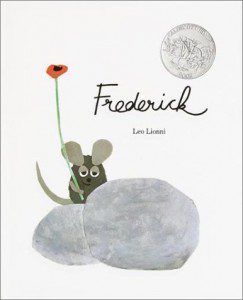 A family of five field mice is gathering food for the winter and everyone is working hard to bring in as much food as they can, except Frederick. Frederick seems to spend his time staring at the meadow and half-asleep, dreaming. When the other mice ask him what he is doing, Frederick replies that he is gathering sun rays, colors and words. Once winter sets in, the five mice hide away in an old stone wall, and as time goes on there is less food and more cold. Then they remember Frederick's fall activities and ask him about his supplies. Frederick proceeds to describe the rays of the sun and colors, and begins reciting poetry.
The family realizes that he is a poet. The story beautifully raises questions about what constitutes work and whether some forms of work are more important than others, whether Frederick was pulling his weight in the family, and what responsibilities family members have to each other.

4. Harold and the Purple Crayon by Crockett Johnson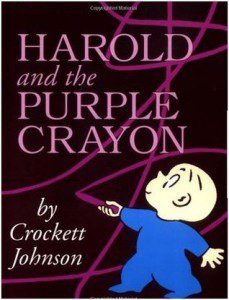 Harold decides, "after thinking it over for some time," to take a walk in the moonlight. No moon is out, so Harold takes his purple crayon and draws one, and then he draws something to walk on. Harold goes on to draw a forest in which he wanders, a dragon that ends up frightening him, an ocean in which he almost drowns and a boat which saves him, a beach, a lunch to eat, and so on. The story inspires conversations about what it means to pretend and why we do so, whether what Harold draws is real and how it can scare him, and whether we can create our own realities.

5. The Other Side by Jacqueline Woodson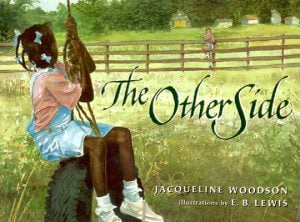 The Other Side begins as follows: "That summer the fence that stretched through our town seemed bigger." The story is narrated by Clover, who lives in a house on the side of the fence that separates the black townspeople from the whites in the town. Clover's mother tells her not to climb over the fence, because it isn't safe. That summer Annie, a white girl Clover's age, begins sitting on the fence each day, by herself. Eventually the two girls end up sitting on the fence together and becoming friends. The book ends with Annie saying, "Someday somebody's going to come along and knock this old fence down," and Clover responding, "Yeah, someday." The story raises questions about race and racial identity, why people divide themselves from each other, the nature of friendship, and about the ways in which small acts can lead to social change. 
6. Let's Do Nothing by Tony Fucile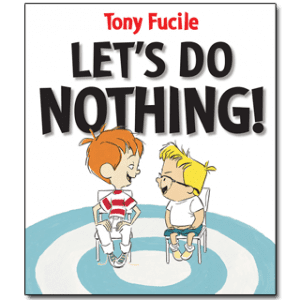 Frankie and Sal, after concluding that they have "done it all," try to think of what's left to do. Then Frankie exclaims, "Let's do nothing!" All throughout the day, Frankie and Sal try to do nothing. The trouble is that doing nothing is not easy. If you blink, you're not doing nothing. If you open your eyes, you're not doing nothing, but if you close them, you're also not doing nothing. Finally the boys conclude, "There is no way to do nothing." Young children love to talk about the nature of nothing. The puzzle of defining "nothing," and trying to make sense of what we mean when we use the term "nothing" can help students to begin to grasp the idea of a paradox. Is nothing something? If so, how can it be nothing.
7. Morris the Moose by B. Wiseman
Morris meets a cow and dec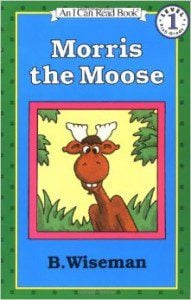 lares that the cow is a funny looking moose, insisting, despite the cow's protests, that the cow must be a moose because she "has four legs and things on her head." When Morris and the cow approach a deer for help, the deer insists that they are all deer, and when the three of them ask a horse to assist, the horse claims they are all horses. It is not until the animals see their joint reflections in the water that they conclude that they are not all the same.
Why does Morris believe that the cow is a moose? Does Morris have good reasons for believing this? If you have good reasons for believing something, do you know it? What makes a moose a moose? A cow a cow? Is there something essential that makes us what we are? If so, what is it?
8. Stellaluna by Jannell Cannon
Stellaluna is a young fruit bat who becomes separated from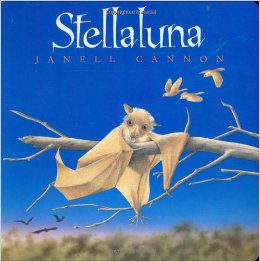 her mother and lands in a nest of baby birds, becoming an adoptive member of the bird family. She learns to act like a baby bird and struggles to accommodate to the family, but she never completely fits in. Eventually she is able to regain her identity as a bat, and she and her bird friends wonder together about friendship and being alike and different at the same time. When Stellaluna lives like a bird, is she a bird or a bat? How do we know? Can birds and bats be friends? Could we be friends with a bird or a bat?
9. The Three Questions by Jon Muth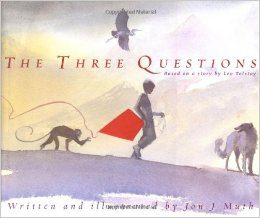 Jon Muth takes Leo Tolstoy's short story, The Three Questions, as the starting point for an account of a young boy's search for an understanding of the moral dimension of his life. Nikolai asks his friends to help him to find the answers what he considers the three most important questions:
• When is the best time to do things?
• Who is the most important one?
• What is the right thing to do?
Nikolai's search for the answers leads him to seek the help of someone he believes is wiser than himself, who helps him to conclude that the meaning of life rests in the relationships we form and the way we treat others. The story raises interesting philosophical questions about the nature of a good life and can inspire children to consider what they think are the most important questions in life.
10. Knuffle Bunny by Mo Willems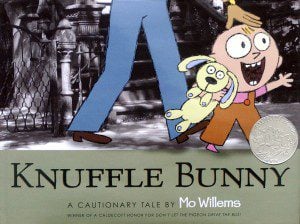 A man and his young daughter, Trixie, go to a laundromat. On their way home, Trixie remembers something, and says to her father "Aggle flaggle klabble!" Trixie's father responds, "That's right, we're going home." But again, Trixie tries to communicate to him: "Aggle flaggle klabble! Blaggle plabble! Wumby flappy?! Snurp." When he is unable to understand, Trixie starts to wail. When they get home, Trixie's mother asks about Trixie's favorite stuffed animal, "Where's Knuffle Bunny?" Realizing that they have forgotten it at the laundromat, the family heads out to find Knuffle Bunny, and finally Trixie's father finds the stuffed animal. When he does, Trixie says what the story describes as her first words, "Knuffle Bunny!"
When Trixie says, "Aggle flaggle klabble," and "blaggle plabble," etc., what does she mean? Are these words? Are the words "Knuffle Bunny" Trixie's real first words? What makes a word a word? What makes gibberish gibberish? Do we need words in order to communicate?
11. Why? by Lindsay Camp and Tony Ross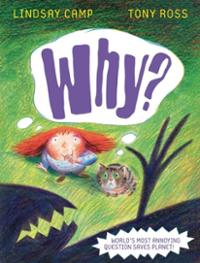 Lily, in response to virtually anything that happens, asks the question, "Why?" Her dad tries to respond to her questioning, but sometimes, "when "a bit tired or too busy," he says only, "It just does, Lily. It just does." One day a giant spaceship lands and the aliens that emerge from the ship announce that their mission is to destroy the planet. Terrified, no one responds, except Lily, who asks, of course, "Why?" After a series of "why" questions, the aliens realize that they don't know why, and they leave.
Questions beginning with "Why" are very popular with young children, and can also mark the beginning of philosophical wondering. Does asking questions have the potential to make a difference in the world? How do we know when to ask a question, and what makes a question a good question?
12. Four Feet, Two Sandals by Karen Lynn Williams and Khadra Mohammed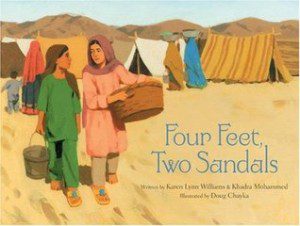 Four Feet, Two Sandals tells the story of two young girls, Lina and Feroza, and their families, who are living in a refugee camp in Pakistan, having fled the war in Afghanistan. The girls become friends when each finds one sandal from a matching pair. They decide to share the sandals, taking turns wearing them. The story describes the girls' lives in the camp, with long lines for water and the stressful wait for new homes. Eventually, Lina's family receives permission to emigrate to the United States, and Feroza gives the sandals to Lina, saying, "You cannot go barefoot to America." As she is leaving, Lina gives the shoes back to Feroza, as Lina's mother has saved money to buy her shoes. Feroza then gives Lina one sandal to keep, noting that "it is good to remember."
The story inspires conversations about the refugee experience, and about friendship and the obligations of friendship. Why do the girls decide to share the shoes? And why does Feroza give Lina one shoe at the end of the story? Did Lina do the right thing in accepting it