The rapid rise of the "Nones" — those unaffiliated with religious groups — was back in the news this week, when the Pew Forum on Religion and Public Life released its most recent study on American religiosity. Here's what Pew had to say:
The number of Americans who do not identify with any religion continues to grow at a rapid pace. One-fifth of the U.S. public – and a third of adults under 30 – are religiously unaffiliated today, the highest percentages ever in Pew Research Center polling… Their ranks now include more than 13 million self-described atheists and agnostics (nearly 6% of the U.S. public), as well as nearly 33 million people who say they have no particular religious affiliation (14%).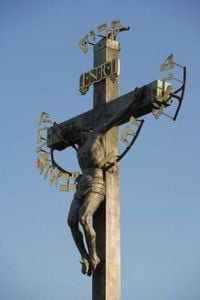 In addition, the group emphasized that, for the first time in history, there is no Protestant majority in the United States. That is, Protestants have dropped to 48 percent, whereas they comprised 53 percent of the public as recently as 2007 — a drop of 5 percent in five years. (Catholics, by comparison dropped 1 percent during the same time period — to 22 percent). As you all know, Protestants are Christians who broke off from the Catholic Church 500 years ago. Although there are more than 33,000 (!!) Protestant denominations, all of them still operate in ways that are separate and distinct from the Catholic Church. But what are the differences, really? I mean, all Christians Churches hold the same core value: Jesus Christ was the son of the God who died for our sins, arose from the dead, and ascended to heaven. Isn't the rest just window-dressing?
Well, here, you decide.
Twelve Differences Between Catholics and Protestants:
1. The Pope. Catholics have a Pope, which they consider a vicar for Christ — an infallible stand-in, if you will — that heads the Church. Protestants believe no human is infallible and Jesus alone heads up the Church.
2.  Big, Fancy Cathedrals. Catholics have them; Protestants don't. Why? Well, Catholicism says that "humanity must discover its unity and salvation" within a church. Protestants say all Christians can be saved, regardless of church membership. (Ergo… shitty, abandoned storefront churches? All Protestant.)
3. Saints. Catholics pray to saints (holy dead people) in addition to God and Jesus. Protestants acknowledge saints, but don't pray to them. [Note: There is much debate about the use of the word "pray" in this context, so let me clarify: Saints are seen by Catholics as an intermediary to God or Jesus. Although Catholics do technically pray to saints, they are not praying for the saints to help them directly but to intervene on their behalf. They are asking the saints (in the form of a prayer) to pray for them. It's like praying for prayers. Hope this helps.]
4.  Holy Water. Catholics only.
5. Celibacy and Nuns. Catholics only.
6. Purgatory: Catholics only.
7. Scripture: The be-all, end-all for Protestants is "the Word of God." For Catholics, tradition is just as important as scripture — maybe even more so.
8. Catechism: Protestant kids memorize the Bible. Catholic kids get catechism.
9. Authori-tay: In Catholicism, only the Roman Catholic Church has authority to interpret the Bible. Protestants hold that each individual has authority to interpret the Bible.
10. Sacraments: Catholic are the only ones to have the concept of the seven sacraments (baptism, confirmation, the Eucharist, penance, anointing of the sick, holy orders, and matrimony). Protestants teach that salvation is attained through faith alone.
11. Holidays: Catholics have 10 Holy Days of Obligation (which mean they must go to Mass). Protestants are more like, "Just come to church on Christmas, that's all we ask."
12. Communion: In Catholicism, the bread and wine "become" the body and blood of Jesus Christ, meaning that Jesus is truly present on the altar. In Protestantism, the bread and wine are symbolic.
This post originally appeared in October 2012.