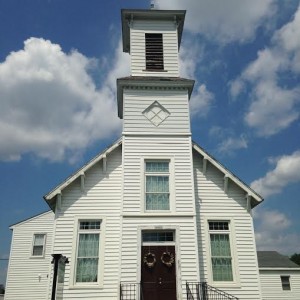 by Bruce Gerencser cross posted from his blog The Life and Times of Bruce Gerencser
Evangelicals are fond of saying that the LORD is on their side. Culture warriors frequently invoke God being with them as proof that their causes are righteous and just. Christian politicians, when justifying their murderous, imperialistic wars, often suggest that God not only approves of their violence, but is also the mighty general that leads the troops into battle.
From February 23 to March 6, 1836, Mexican President General Antonio López de Santa Anna and his troops laid siege to the Alamo. On March 6th, Mexican troops overran the Alamo's defenses, killing several hundred people in the process.
The day after the siege began, William B. Travis, the commander of the Texian forces, wrote an open letter titled To the People of Texas & All Americans in the World. Travis wrote:
To the People of Texas & All Americans in the World:

Fellow citizens & compatriots—I am besieged, by a thousand or more of the Mexicans under Santa Anna—I have sustained a continual Bombardment & cannonade for 24 hours & have not lost a man. The enemy has demanded a surrender at discretion, otherwise, the garrison are to be put to the sword, if the fort is taken—I have answered the demand with a cannon shot, & our flag still waves proudly from the walls. I shall never surrender or retreat. Then, I call on you in the name of Liberty, of patriotism & everything dear to the American character, to come to our aid, with all dispatch—The enemy is receiving reinforcements daily & will no doubt increase to three or four thousand in four or five days. If this call is neglected, I am determined to sustain myself as long as possible & die like a soldier who never forgets what is due to his own honor & that of his country—Victory or Death.

William Barret Travis

Lt. Col. comdt

P.S. The Lord is on our side—When the enemy appeared in sight we had not three bushels of corn—We have since found in deserted houses 80 or 90 bushels & got into the walls 20 or 30 head of Beeves.
Travis, like countless Christians before and after him, believed that the LORD was on his side. Despite overwhelming forces outside the Alamo gates, Travis believed God would send reinforcements and lead them to victory over the Mexicans. No reinforcements came, and Travis, along with most of the people behind the walls of the Alamo, died.
Twenty-five years later, the United States found itself embroiled in a violent, bloody civil war that resulted in 750,000 deaths. Both the North and the South claimed that God was on their side. The 20th century would find the United States embroiled in two world wars and major conflicts in Korea and Vietnam.  Fueled by theocratic and nationalistic fervor, American political leaders believed that a victory over totalitarianism and communism was a triumph for Christianity. In other words, THE LORD IS ON OUR SIDE!
In the late 20th and 21st century, the United States found itself waging a crusade in the Middle East against Islāmic terrorists.  President George W. Bush framed invasions of Iraq and Afghanistan as holy wars — good vs. evil. God is on our side, President Bush told the American people, repeating a time-worn cliché that has resulted in maiming and killing millions of people.
The 2016 presidential election invigorated the religious-right, resulting in the election of the most unqualified candidate in American history — Donald Trump. Eighty-two percent of white Evangelicals voted for a man who bragged about sexual assault and grabbing pussy. Believing that Hillary Clinton and the Democratic Party were the personification of evil, Evangelicals stormed the throne room of heaven with their prayers and voted their "conscience." Come January 20th, Evangelicals will cheer as God's man becomes the forty-fifth president of the Christian United States of America. In unison they will cry, THE LORD IS ON OUR SIDE!
And when a modern-day battle of the Alamo, one fought with weapons that have the power to erase the human race, causes horrific bloodshed, will Evangelicals still cry, THE LORD IS ON OUR SIDE?  When millions of people lose their health insurance, their good-paying jobs, and Social Security benefits are cut, will Evangelicals still think God is on their side?
How much suffering, death, and loss must happen before Christians are willing to admit that, when it comes to the machinations of men, God is nowhere to be found. The only gods at work in the affairs of men are those who are very much earthly. If God is indeed on their side, then Christians have no response when secularists say that their God is a violent, bloodthirsty megalomaniac. If the Lord is on the United States' side, then he is culpable for the worldwide slaughter of millions of men, women, children. He is responsible for the savagery of those who, with great fervor and pride, say THE LORD IS ON OUR SIDE! And when the last news reports Americans hear warn of incoming "enemy" nuclear warheads, just remember, THE LORD IS ON OUR SIDE!
Read more by Bruce Gerencser:
~~~~~~~~
Spiritual Abuse Survivor Blogs Network member, Bruce Gerencser blogs at The Life and Times of Bruce Gerencser He writes from the unique perspective of having been a pastor for many years and having seen it all in churches. His journey out of being a true believer and pastor has been an interesting and informative one.
Bruce Gerencser spent 25 years pastoring Independent Fundamental Baptist, Southern Baptist, and Christian Union churches in Ohio, Michigan, and Texas. Bruce attended Midwestern Baptist College in Pontiac, Michigan. He is a writer and operates The Life and Times of Bruce Gerencser blog. Bruce lives in NW Ohio with his wife of 35 years. They have six children, and eleven grandchildren.
---
Stay in touch! Like No Longer Quivering on Facebook:
If this is your first time visiting NLQ please read our Welcome page and our Comment Policy!
Copyright notice: If you use any content from NLQ, including any of our research or Quoting Quiverfull quotes, please give us credit and a link back to this site. All original content is owned by No Longer Quivering and Patheos.com
Read our hate mail at Jerks 4 Jesus
Contact NLQ at SuzanneNLQ@gmail.com
Comments open below
NLQ Recommended Reading …