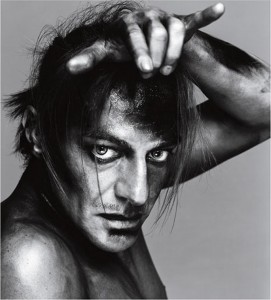 Is there life for high fashion's ultimate bad boy John Galliano after his anti-Semitic remarks were caught on video a few years ago? We'll soon see. Numerous sources are reporting that Galliano will be at New York Fashion Week next month, and his old friends Oscar de la Renta and Vogue editor Anna Wintour are helping him make it happen. Rumors are this may be a trial balloon for Galliano replacing de la Renta when he retires.
Galliano was fired from the top design job at Dior after 15 years when he drunkenly told off a woman who was annoying him at a Paris cafe by saying, "I love Hitler… People like you would be dead. Your mothers, your forefathers would all be f*cking gassed." It wasn't his first public drunken anti-Semitic tirade. The deciding factor was probably that he was caught on a tourist's camcorder and it was picked up by the British tabloid The Sun and then went viral.
Many were repulsed. Some dismissed the incident as theater. I came of age in the punk scene when many "bad boys" used Nazi trappings as the ultimate bad boy symbols. They did this not because they were anti-Semitic, but because they were childish and uneducated. (It's worth some note that Galliano and his boyfriend would have been killed by the Nazis too.) But a court in France, where making a public racial slur is actually against the law, did find him guilty in 2011.
My question is whether Galliano can be forgiven. Should such an act be a career-ending event, or is a period of punishment and repentance followed by public statements of contrition enough? And more importantly, has his heart changed? In today's Women's Wear Daily (site has paywall), Galliano is quoted as saying:
"I am an alcoholic … I have been in recovery for the past two years. Several years prior to my sobriety, I descended into the madness of the disease. I said and did things which hurt others, especially members of the Jewish community. I have expressed my sorrow privately and publicly for the pain which I caused, and I continue to do so. I remain committed to making amends to those I have hurt."
I know a thing or two about
alcoholic madness and recovery
, and that in and of itself is not an excuse. But it does help in understanding what happened. Drunkenness loosens inhibitions and enlarges emotions. So you could argue that being drunk just caused Galliano to say what he was really thinking. I remember watching the video a year and a half ago, though, and thinking it seemed more like theater. Unlike fellow Catholic Mel Gibson's public rants, Galliano didn't seem filled with hatred and venom. Where with Gibson it seemed like he was speaking his mind, with Galliano it seemed rather like he was going for maximum shock value.
What I'm guessing was at play was the dynamic where alcoholism can make a person more and more isolated, antisocial, easily irritated. This is the kind of "madness" that I think took hold of him. Treating the alcoholism, when done sincerely and wholeheartedly, can restore a person's relationship with the world and people around them. This is not surface stuff; rather it gets to the core sense of connectedness that I would call spiritual.
Also, according to Abraham H. Foxman, ADL's national director:
"Mr Galliano has… dedicated a significant amount of time to researching, reading and learning about the evils of anti-Semitism and bigotry. Along his journey to recovery he met with us on numerous occasions."
I think it's entirely possible, after clearing his head and his heart through recovery and educating himself that the Nazi legacy is too hurtful to be fodder for bad boy theater, that John Galliano has changed. I hope it's true.
What do you think? Should a public figure ever be able to come back from statements like that? Is alcoholism an excuse? An explanation?