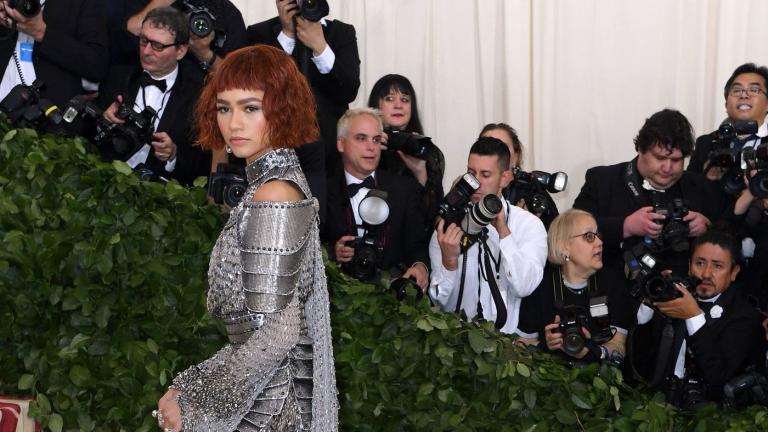 Annually, the glittering elite of Hollywood gather in New York City for their own private themed Halloween extravaganza that we call the Met Gala.  The event, ostensibly a party thrown to celebrate a new exhibit, is more obviously remarkable for the competing costumes on display: lavish, outrageous, impractical, and loads of fun.
For those who hate red carpets and find Angelina Jolie's Oscar-worthy leg a source of downright sin – well, get your pearls ready for the clutching because the haute couture designers delight in letting their imaginations run wild with side slits, peek-a-boo detailing, and complex straps that outdo Ikea.
Normally, the Catholic world might ignore the Met Gala, except that this year the theme was "Heavenly Bodies," celebrating Catholic religious items from chasubles through to chalices at the Metropolitan Museum of Art.  And since the costumes of each Met Gala are themed towards the featured exhibit, you can bet your bare bodkin that there were some costumes on display that sent us clutching not only our pearls but our rosaries.
The New York Times, Vogue and EW have good photo coverage for those who'd like to scroll through and judge the costumes for themselves.  And my fellow Catholic Patheos bloggers have got you covered from several angles, including Jane the Actuary, Pax Culturati, The Deacon's Bench, Labyrinthine Mind, and Father Dwight Longenecker – who kept using the word "vulgar" like that one lady from Singing in the Rain.
But here at Pop Feminist, we like to take you behind the curtain, as it were, to talk about why in the world any of this is happening at all.
What is the Met Gala Anyway?
The Met Gala is an annual fundraiser that helps support the cost of running and maintaining the Metropolitan Museum of Art. 
For those who live in NYC, it's common knowledge that a ticket to get into the museum may be listed as $20 or so – but that price is actually a suggested donation.  And many's the afternoon your humble, impecunious blogger (whom you can support directly here!) has walked up with her carefully stored dollar, slipped it to the ticket taker and said, "This is what I can afford today."  They give me my sticker and off I go to enjoy gorgeous art for the afternoon, practically for free.
But how, you ask, can an enormous museum that must cost millions per year just for upkeep, let alone the hiring of so many staff members to glower at people who might run off with a Monet, subsist on the revenue of largely destitute artists who keep paying one single buck to get in the door?
The answer is by throwing a huge fundraising gala, with astronomical ticket prices, and luring finally-not-destitute celebrities there to dazzle potential investors, who in turn make large sustaining grants to the Met which keeps the damn doors open.
But Why Are They Wearing Such Dumb Clothes?
In my time in New York City, I've held quite a few jobs and, much to my dismay, had a stint in there of working for several non-profit corporations just as they were gearing up for their galas.  Because the city is a global financial center, "gala season" is really a thing here, and millionaires and other successful leaders of industry are expected to make the rounds to various charities in the spring and again in the autumn.
Each gala will boast certain "chairs" – which is just a fancy name given to the biggest celebrity your organization can get to show up and give a speech at your party.  For example, when I worked for one veterans' association, the big get was Stephen Colbert as the chair (although I think they, too, were going after George Clooney).  The chair is given the meal for free, and understands that his or her presence is meant to entice wealthy donors to attend the gala, get roaring drunk, and donate extravagantly.  The bigger the "get," the more likely millionaires will be scrambling over themselves to buy tickets, drink, and donate.
But every gala does this.  And since the likes of Stephen Colbert live in town, often only a few doors down from the captains of industry, a successful gala needs to do something more. 

Which is where the genius of the Met Gala comes in.
As mentioned, after you start attending a few galas – even if, like me, you tend to be merely staff, grabbing canapes while the boss is off schmoozing – they start to get boring.  You go through your "Super Fancy Wardrobe With Metallic Embellishments" fairly quickly.  You start to see familiar faces, and get embarrassed for them when you recognize that they're recycling ballgowns, too.  For all that there's Cristal, it quickly becomes crusty.
What New York City loves is an "event."  Something out of the ordinary.  Something spectacular.  What the Met Gala does is it allows celebrities who, may I remind you, dress up for a living, to have their own private Halloween.  They're given permission to wear outrageous costumes – the likes of which only Cher might wear with any seriousness to the Oscars.  This, in turn, allows designers to let their imaginations run wild.  And both of these combine to entice a ton of A-list celebrities and A-list designers to one single Gala…
Which means that all those bored millionaires who might otherwise skip the veterans' gala because Stephen Colbert is their neighbor, will nevertheless definitely make it a point to pay a mind-boggling amount of money to make it to the Met.
Which means, once more, that the damn doors stay open for poor folk such as I.
But Do the Costumes Have To Be So…Vulgar?
Well, in one respect, probably.  Because the Met Gala has become the American equivalent of Versailles, or being introduced at St. James' Court during the Season (c'mon my Regency fans, you know what I mean), part of what celebrities and designers get out of paying for their own truly staggering, please pay off my college loan instead, highly priced tickets is visibility.
Every artist is a business of one.  Jennifer Lawrence can only sell her own talents, and not those of Jennifer Lopez.  That means that as the sole business owner
and
the sole product of your business, artists depend
entirely
on publicity to get a job at all.  The Met Gala for many of the celebrities who attend is an opportunity to sell their business.  And that's why
Katy Perry
will always look slightly vulgar and offensive, while
Brooke Shields
will look feminine and classic.  Celebrities get to play dress up, yes, but still within the confines of their brand.
And let's be honest: you saw Katy Perry's absurd winged contraption considerably earlier than you saw Brooke Shields' demure blue gown.  News outlets, much like P.T. Barnum, are going to lead with the weird, the controversial, the vulgar before showing off much beauty.  So if you're trying to drum up publicity for your business, you might just consider a truly bizarre ensemble.
But Why Catholic?  Isn't That Sacrilegious?
I'm not going to argue in favor of every sartorial choice on the Met Gala's red carpet.  I was pleased to see a number of nods to Joan of Arc, particularly after #MeToo.  But I was also unsurprised to see the usual amounts of skin on display – skin which largely doesn't bother me, but which might startle someone else.
After the furor I saw from other Catholic pundits, I frankly expected something truly blasphemous – a pregnant nun, or a pedophile priest.  But while there was perhaps some ill-advised papal and cardinal-themed dresses, a questionable nativity chapeau, and an embroidered stole on Jared Leto that I would have advised against – I found the costumes largely tame, given what the Met Gala is and what this theme might have encouraged.
More, I saw quite a number of pseudo-halos, wimples, tiaras, and chain mail, and an awful lot of gold and rococo ornamentation.  There was color, which is always a relief on a red carpet.  And as usual, the menswear lagged behind the flowing trains that the women sported (and some poor assistant had to run around lifting).
To be sure, the theme – like most of the themes at the Met Gala – encouraged cultural appropriation.  And quite a bit of Catholic outrage stems more from this sentiment: "How dare you look like us?  How dare you take our images without understanding them?"
It's a worthy sentiment.  And one that I would encourage you to consider if you've ever dressed up like "cowboys and Indians," or done the Mikado as a white person in full Geisha gear, or performed Fiddler on the Roof without understanding the mezuzah.  That's cultural appropriation, too.  How well did you really understand the significance of a kippah?
So, Did The Met Gala Have The Right To Encourage Catholic Dress?
Sure.  Let's remember why this was the theme this year: the Met is featuring a collection of Catholic fashion pieces, collectively titled "Heavenly Bodies."  Just for context, the Met also houses several wings year-round devoted entirely to Medieval Art which is almost exclusively Catholic and sacred.  They have a gorgeous chapel with some of the most exquisite wood engravings paneling the walls, as well as a reverent curation of reliquaries, chalices, and other holy items.
Featuring the ornate fashion of the Catholic church is well within the Metropolitan Museum of Art's purview, and in fact draws attention to the church for all those starving artists like myself, all those wandering tourists and innumerable school groups who will continue to visit the exhibit after the last feather from Katy Perry's angel wings is gone.
The Catholic faith is also a cornerstone of New York City.  Millions stream through St. Patrick's Cathedral, proud of the renovations no matter what their own faith tradition may be.  And much like the Met Gala, St. Patrick's opens out – almost in conversation – with the modern statue of Atlas carrying the world on his shoulders that greets the visitor to Rockefeller Center.  The ancient and the new.  The ornate and the vulgar.  The church and the consumer.  Both live together here.
Cardinal Dolan's words might be a bit pie-in-the-sky, perhaps.  I've been less than impressed by his leadership here in town, although he is jovial and a great speaker and just the sort of guy you want at a gala.  But I think, beyond speaking with dewy-eyes about the Met Gala being a beacon of "goodness, truth, and beauty," even as Rhianna wears a bedazzled sexy papal gown with knee-high disco boots…
There is something to be said for remembering that Catholicism is not Puritanism. 
(As the Simpsons know.)
Isn't it ironic that we're clutching our pearls over Miley Cyrus' lower back, when considerably more than that is on display in the Sistine Chapel?  Or are we only calm when skin is painted, or carved from marble, and suitably pinned down to some idea of piousness from the past.  Real people with their real bodies posed for the nudes that adorn our crucifixes.  And Christ Himself wore no loincloth either at His Nativity or at His Crucifixion.
We Catholics are not gnostics, despising our bodies as inherently evil.  We are not Puritans, whitewashing our walls and wearing only black and buckles.  We Catholics partake of the flesh of Christ, kneel at "the Word became Flesh and dwelt among us," believe in a carnal and incarnate God.
And we are scandalized at that very incarnation.
Once again, yes – some of the costumes are dopey.  Rhianna's get-up is legitimately vulgar.  I would prefer Jared Leto not to wear anything that resembles a stole.  And no, this was a far cry from a pious, alterna-Halloween, All Saints Day bathrobes and wimples extravaganza.
But, friends.  I beg you not to cast out the prodigals, just because they came home.  And they had more fun than you.
---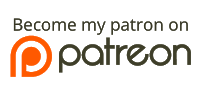 Image courtesy of David Fisher / REX / Shutterstock
Want to let Emily pay more than a buck to see the Met?  Now you can be her Patron on Patreon for as little as $1/month!