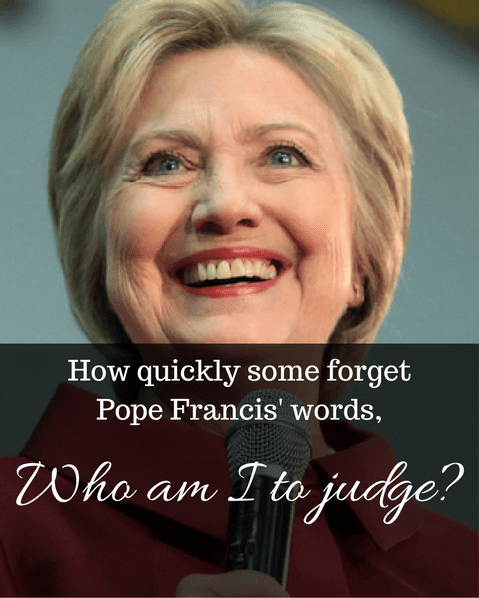 Imagine a respectable Priest posting the above photo on social media after more and more news comes out to testify against the worthiness of Hillary Clinton for the office of President of the United States of America.
Now imagine this Priest would not post the same image of Clinton's rival, Mr. Donald Trump. Why? Because Trump is just entirely unworthy and, even if Trump is no where near perfect, Clinton can at least prevent some bad things from happening and bring about some good things – BUT NOT TRUMP! Third part isn't an option, and not voting isn't an option; it's Clinton or bust, and no matter what she has done, no matter what we've believed about her, she can do something good. So, as Pope Francis said, "Who am I to judge?" And, let me say that completely out of context and without mention of what has been done or promoted by her, even if it isn't an attack on Clinton's soul. Of course, the USCCB have a more complete analysis of voting that blows mine out of the water, but I'm Father Right.
Well, the opposite happened recently.
Father Frank Pavone of Priests for Life posted a similar image, reading "How quickly some forget Pope Francis' words, Who am I to Judge?" with Donald Trump in the background. You can see it here.
Until next time,
Keith Michael Estrada