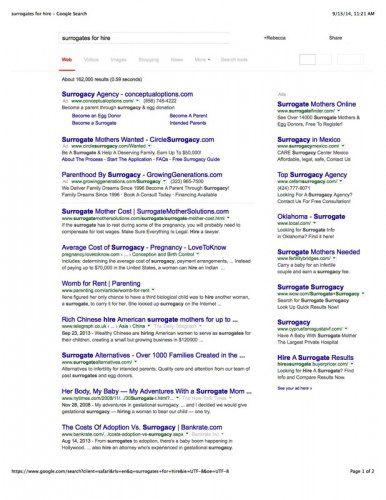 It's the new hot trend. Go online and pick an egg donor from photos and order up a harvesting of her body in order to design a baby, made to your specifications. Then hire a "surrogate" (read that breeder) to carry the baby to term for you. And if the thing goes wrong, as biology is wont to do, why, then, order the surrogate to kill the baby for you. You know, like a Roman Pater discussing the upcoming birth of his child with the family Mater in this love letter from the front:
"Know that I am still in Alexandria…. I ask and beg you to take good care of our baby son, and as soon as I received payment I shall send it up to you. If you are delivered (before I come home), if it is a boy keep it, if a girl, discard it."
This lovely practice of "discarding" baby girls —along with babies with birth defects — runs throughout recorded history. It is still practiced in parts of the world today.
Early Christians labeled the practice infanticide. They went out into the streets, got these baby girls, brought them home and raised them.
The idea that there is no Greek nor Jew, no male nor female but all are one in Christ Jesus was a startling Christian innovation. The teaching, which was formalized in writing as early as the Didache, that all human life, including unborn human life, is sacred, is another peculiar Christian innovation.
Today's version of "discard it," at least in the "civilized" West, is abortion. The neat tidiness of legal killing in a clinical situation has it all over any other mass killing field in history. There are no furnaces belching out smoke to run day and night disposing the bodies. No one sees the carnage except the medical staff. Even the receptionist who sits out front is left innocent of what is really happening.
Combine this take-a-number-and-wait killing field with the highly-lucrative business of harvesting and renting women's bodies as if they were farm animals in order to manufacture made-to-order babies for sale, and you have the total commercialization of human life and human beings.
Call it "creating families" or whatever pretty little phrase you want to paste over its ugliness. This is the practice of commercialized medicine for hire, put to the service of creating, buying and selling people. It has nothing to do with the healing arts or medicine practiced to save lives.
It is the ultimate prostitution, and the "doctors" who do it are the ultimate pimps. It degrades women and babies to the level of chattel for the express and openly acknowledged business of buying and selling people.
The tripping up part, of course, is what if the baby-buyers decide at the last minute that they don't want their new human widget. What if, say, there's a divorce? Or the manufacturing process goes awry and the baby has a cleft palate or down's syndrome or spina bifida. What if those designer genes turn out to be somewhat idiosyncratic?
In that circumstance, our "modern" baby buyers do the modern thing. They order the baby killed. It is, after all, their possession that they bought in good faith that it would be delivered as ordered.
Now, it's defective. They're behaving the way anyone would if the factory delivered the wrong purchase. They are sending it back. Consider these stories:
1. An Australian couple who was paying a woman from Thailand to carry their twin unborn babies as a surrogate asked the woman to abort one of the babies because testing had revealed one of the babies has Down Syndrome.The couple enlisted the woman, whose family was heavily in debt, to become their surrogate and to use IVF to become pregnant. She was subsequently found to be pregnant with twins but the initial joy turned to rejection when testing showed a boy nicknamed Gammy was diagnosed with Down Syndrome.The couple wanted the mother to have an abortion, but she refused and eventually gave birth to Gammy and his twin sister in Bangkok. The couple then refused to take Gammy back with them to Australia and left him in Thailand.
2. A British surrogate mother said yesterday that she is raising a disabled baby as her own after the child's intended mother told her she did not want a 'dribbling cabbage' for a daughter.The healthy boy was taken home by the childless British couple whom the surrogate mother claims then rejected his unwell sister because of her disability.'I remember her saying to me, "She'd be a ****ing dribbling cabbage! Who would want to adopt her? No one would want to adopt a disabled child".'She is now raising the baby – identified only as Amy – with her partner and their other children.
3. A British woman who agreed to become a surrogate mother for an American couple is suing them for allegedly backing out of the deal because she is carrying twins.Helen Beasley, 26, claims Californians Charles Wheeler and Martha Berman demanded she abort one of the foetuses because they only wanted one child.When she refused, they allegedly refused to have anything more to do with her.Miss Beasley, who is six months pregnant, wants to put the twins up for adoption. But under Californian law, parental rights in a surrogacy agreement go to the intended parents, not the surrogate mother.Miss Beasley, a single woman from the Midlands, already has a nine-year- old son. The two of them arrived in the U.S. a week ago.She said she could not afford to support the twins, so adopting them herself was not an option. But she claimed to feel very responsible for the babies.'You can't help but get attached to them, and I just want the best for them,' she said last night. 'When they're born, what happens to them? I can't have them. I can't do anything with them. They're not mine.
4. "The View" host Sheri Shepherd reportedly wants "nothing to do" with her unborn childnow that her marriage has folded. Shepherd reportedly used IVF to conceive a child with her husband Lamar Sally but now is not interested in caring for the baby, who is being carried by a surrogate mother. 5. Doctors told surrogate mother Crystal Kelley, 29,five months into her pregnancy last year that the baby she was carrying had a series of disabilities. When the child's parents told her they wanted to abort the foetus, she fled from Connecticut across the country to Michigan, where under state law she had legal rights as the child's mother. … The baby was suspected to have a cleft palate, a brain cyst and serious heart defects. Doctors were unable to locate the child's spleen or stomach, and gave the baby only a 25 percent chance of living a normal life They offered her $10,000 to have the procedure but Ms Kelley refused, demanding $15,000 instead in what she says was a "weak moment". The parents refused, and reminded her of her contractual obligation to abort the foetus if it displayed signs of abnormality. If she refused, she would be sued for the fee she had already received, plus all the medical expenses and legal fees.