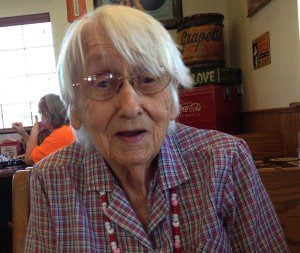 My mother is doing a new thing with her dementia.
A couple of years ago, she stopped eating. It took all sorts of finagling to get her started again. Now, she eats and demands ice cream (which she always tells me she hasn't had "in years") in between meals. Yesterday, she asked me how I was doing. "I haven't seen you in a long time," she said.
A few months before she quit eating, she stopped drinking water. We had to put her in the hospital a couple of times because she got so dehydrated. Then, we managed to get her going again on drinking water, and now it's like it never happened.
The new deal is that she won't sleep. She was up — and me along with with her — all night Sunday night. Just refused to go to bed. All day yesterday she was hyper confused and weepy. But she wouldn't take a nap and when bedtime came, she flat-out refused to lie down and go to sleep.
I managed to get her down by being very firm with her. I scolded her like she was a two-year-old (which makes me feel like a rat) and told her to lie down and go to sleep. She slept, but I didn't. I was up until almost four in the morning, and then I didn't sleep when I finally went to bed.
Long story not so short: I'm taking a zombie day. I had all sorts of things planned that I needed to do, but I don't think I'm going to do them. My brain is mush and I feel all sorts of jangled and disconnected. I don't care about anything right now.
This is what caregiving for the elderly can be like when it gets choppy. My mother is unfailingly sweet. The whole time she was up during the night, she was chirpy and jazzed. She kept greeting me with delight and wanting to go for a drive, get ice cream or just chatter.
The bad part was the next day, when the exhaustion left her confused and unable to function. She was in one of those down moods when she knows that her mind is haywire and she feels demoralized because of it.
But as night came on, she started shifting upwards, ready to roll on into dawn again.
I've learned that we can get her past these things. Overcoming the refusals to eat and drink taught me that. It takes a concerted effort and lots of imagination, but it's possible to flip the switch back into place and get her going again. Right now, I've got to re-teach her night and day. Odd as it seems, night and day have been an increasing challenge for quite some time.
I'm not sure why, but she forgets that night is night and then gets upset when other people don't respond to her in what she thinks is the proper manner. She can go for hours, waking you over and over every minute or so with the same request. It's usually that she wants to get ready to go to adult day care.
I just dealt with it as best I could. But an all night elderly romper room is too much. We've got to flip the switch back. I may ask the doc for sleeping pills, if nothing else works. I hate to do that, but, hey, she can't go 24/7 for very long. For that matter, neither can I.
In the meantime, I hope you'll bear with me. I've got cotton brain.