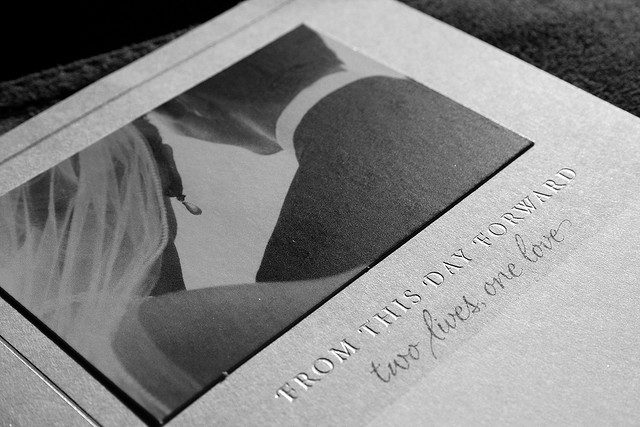 He who made them in the first place, made them man and woman. For this cause a man shall leave his father and mother and go to his wife and the two shall become one. So they are no longer two, but one. What God has put together, let no man take apart. Jesus Christ
Jesus' statement on marriage was one of his "tough" sayings. He didn't equivocate about marriage, and neither can we.
Here's what He said, broken down:
1. God created humanity as man and woman. This was ordained from the beginning, as part of the order of creation.

2. Marriage is between one man and one woman. Not, notice, one man and many woman, or groups of people, two men or two women. God's created gift of marriage is not any of the innovative adaptations humans seek to apply it. Marriage before God is between one man and one woman. This definition of marriage is also given in the first chapters of Genesis. Jesus is not creating new law here. He is quoting Scripture which decides the order of creation as God intended it.

3. Divorce is a human contrivance that comes from our hardness of hearts. Further down in the exchange I quote from above, the Pharisees challenged Jesus in an attempt to attack Him. They asked Him why the law of Moses allowed divorce. Jesus answered them simply: Moses (not, notice God) allowed divorce because of the Israelites' hard hearts. But, He adds, it was not so from the beginning. He goes on to say that, basically, divorce is a human contrivance and that even if someone divorces under civil law, they are still married before God and that any further marriage would be living in adultery.

What does this mean to us as Catholics?

It means that gay marriage is, at best, a human contrivance that has no existence before God. Churches of various denominations can decide to allow it, but they are teaching a false teaching to their flocks. I would not want to be a preacher who had deliberately done this on the Day of Judgement.

It also means that people who divorce and remarry are not remarried at all before God. They do not have the power to dissolve a sacramental marriage. The courts do not have this power, and neither does the Church. Jesus Christ has plainly said that it can not be done. When divorced people remarry, they are not married before God. They are cohabiting.

This gets into the thorny questions of the various accommodations the Church has made to our human fallenness in this area. Marriage Tribunals exist that go over divorced individuals' marriages in detail in order to see if they can find a way in which the original marriage was not "licit," which is to say that it was not a marriage before God in the first place. This looks, from the outside, like they are straining out gnats of situation so that they can swallow the camel of divorce. But that is a topic for another blog post.
What does all this say about gay marriage? It says that gay marriage doesn't exist before God. It has never and will never exist before God.
What does that say about us and how we conduct our social and professional lives?
It says, first of all, that we cannot accept or accede to gay marriage as a social construct, anymore than we should accept or concede to divorce as a social construct.
Now we all know that we've done the hat-tip to divorce. My husband and I were once part of a large Sunday School class at a Methodist Church that was comprised of about 20 married couples. In that group, there were only three couples who had not been previously married, divorced and remarried. We actually felt like outsiders in much of the conversation, since we had no share in the miserable, teary-eyed stories of grief and personal tragedy that accompanied this divorced lifestyle and history.
Divorce wasn't so ubiquitous in the Episcopal Churches we attended. In fact, it was rather rare. It's certainly a reality in our Catholic parish, but when we gather with groups, life-long married couples with their only spouses are the majority.
The point to all this is simply that we've swallowed the camel of divorce. In the process, we've created generations of feral children and all but destroyed the working class.
One reason why divorce has been so disastrous for the working class is that divorce creates and exacerbates poverty. Divorce splits the assets of the married couple. Every single divorce does this. Several divorces can atomize an individual's lifetime accumulation of property and savings to the point that they have, literally, nothing.
Divorce with children is much easier to weather when the divorcing parents are each capable of financially providing for their children's care. When divorce hits people who are struggling to get by with McJobs, the family is plunged from barely getting by into a sinkhole of poverty. Whichever spouse ends up with the children is always the most poor because the kids are such a drain on the time, resources and career opportunities of a single parent.
This means, among other things, that unless family members can take up the child care, these kids spend almost all of their waking hours either under the authority of bad public schools, or home alone. As we say here in Oklahoma, they get their raisin' from indifferent teachers in slum schools and other children.
Is it any wonder that they grow into messed up adults? Is it any wonder that they turn to gangs for the family they've never had? Is it any wonder that they are prey to every social innovation that comes along?
Divorce has destroyed our families and it has fed our kids into the maw of the culture.
Enter same sex marriage.
If divorce damaged and defaced marriage to the point that it created generations of feral children, gay marriage destroys it utterly. Marriage no longer exists as a legal construct in this country. It is now an elastic non-definition based on feelings rather than law. Since the Supreme Court "found" a right to privacy in the 14th Amendment, along with a new right to individual autonomy, the legal fence around marriage that allowed it to exist as a discreet legal entity is down.
Marriage no longer exists as a legal construct. I think that, in time, this will lead to the overturning of laws that grant marriage special privileges. That almost has to happen, for the simple reason that enforcing and allowing those privileges will become too burdensome on governance at all levels.
Also, marriage in itself is no longer deemed either a foundational institution or a core method of child rearing. Marriage is now, under the law, a matter of nebulous feelings, intent, and newly created rights to individual autonomy.
In short, marriage, as the vague and non-defined whatever that it is under Obergefell no longer provides for a social good that justifies granting it special privileges. When it is promoted by nonsensical slogans such as "love is equal," you almost know that marriage is now about nothing from a legal standpoint. The decision itself reflects this.
Does that mean that marriage no longer exists?
Have we, by our own contrivance, done away with what God created and told us that we may not put asunder?
No.
Marriage, real marriage is not a relationship. It is a reality. Marriage is the God-ordained root of human society by which human beings become more fully human. It is the civilization-builder that makes us unique among all of creation. It is also a gift that will last as long as this created order in which we live and breath, move and work, lasts.
Without marriage, there is no civilization. Men and women, when they are separated from one another, are useless creatures. Men without women rapidly descend to the brute. Women without men dither and spin. But when we come together, we create civilization.
We weren't meant, as some false faiths teach, to lord it over one another and abuse one another. That is the sin of the garden. It is not the natural order of how we were created. Misogyny is the curse of our fallenness.
There is a reason why societies which degrade the female are both brutal and backward. That reason is that these societies violate the natural civilization-creating order that God intended. They suppress the feminine to the point that they descend to the male brutishness. They are societies that are trying to function with half their heart and half their brain.
The Obergefell decision destroyed marriage as a legal construct. But it did not destroy true marriage. The Court does not have that power.
And neither do you and I.
We cannot destroy marriage by divorce, domestic violence and adultery. We can not destroy it by the sophistry of legal definitions and media propaganda. Marriage, created by God from the beginning, is not ours to destroy. What we maim and damage and inflict grave harm upon with our behavior is ourselves, our spouses, our extended families, and, most of all, our children. If we continue down this path, and it appears that we will, what we will ultimately destroy is our society and our civilization.
Gay marriage does not and cannot destroy true marriage. Neither does divorce.
What both these things destroy is our society. Our children. And our own lives.