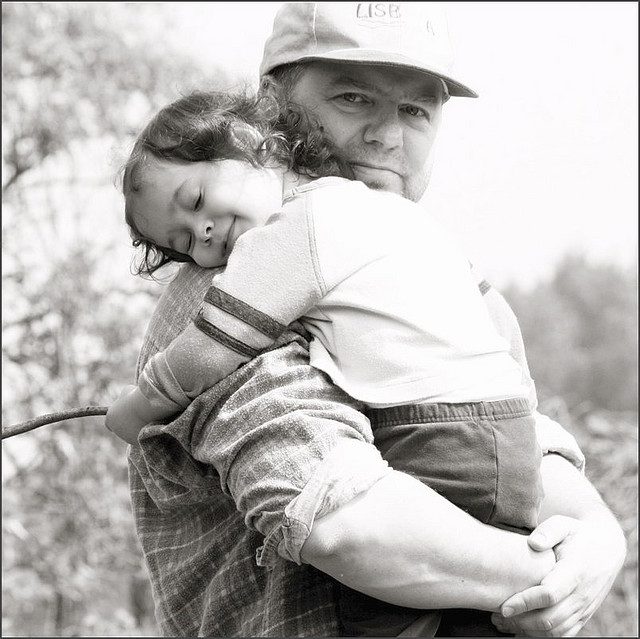 This is a re-run of a post I wrote a while back. Happy Father's Day Daddy. I love you. I miss you. I look forward to the day when I see you again.
Where I'm from, we call our fathers "Daddy."
It's not unusual to see 60-year-old cowboys, complete with the hat, the cattle and the big belt buckle, addressing their 80-year-old fathers as "Daddy." It's just the way we talk.
My Daddy was what pundits condescendingly refer to as "blue collar" or "working class." What that means is that he was a highly skilled person who could pull an engine out of a car, take it apart, rebuild it like new, put it back in the car, test drive the car to see if all was right and still be home in time for eight hours sleep before he had to get up for work the next day.
The men I grew up around never worried about being man enough. The very notion of worrying about a thing like that was as foreign to them as worrying about being American or Oklahoman enough. They worked hard as mechanics, truck drivers, machinists, butchers and carpenters. Then they came home and put in gardens and maintained their houses. No one in my neighborhood would have considered calling a plumber, roofer or any other handyman to repair their homes. If the plumbing was broke (things were never "broken"; they were "broke") they fixed it. If the roof leaked, they would get together with the rest of the boys from thereabouts and put on a new one.
My Daddy thought nothing of getting together with my uncle and putting up a wall, complete with texture and paint, in one day. They could turn around and take it down the same way. They built their own garages, added rooms to their houses and dug their own tornado shelters.
Not one of the men I knew as a child would consider raising a hand to a woman. A man who would hit a woman was a coward, not a man, a nothing, in their eyes. Any man stupid enough to do a thing like that was very likely to have the other men thereabouts take them out some night and "knock some sense into him."
It never entered my mind to be afraid of anything when I was little. Whatever bad was out there, I believed my daddy would make sure it never touched me. I can not remember a time when he didn't seem as big and safe as a fort.
I also can't remember the first time he lifted me astride a horse. I do remember sitting behind him on his horse as we rode for hours. I was maybe four or so when he got me my first horse, a gentle fellow named Shorty.
Owning a horse meant I had to learn to brush him down before saddling him, then brush him down again after the ride. I had to make sure he had water, hay and grain and that his hooves were free of rocks and other things that might harm him. I was responsible for soft-soaping my saddle and bridle, for cleaning the bits.
I didn't know how to do all this at four, but I learned how from my daddy who taught me by doing it with me. He also taught me to never let the horse get the best of me by getting angry with the animal, jerking him around or failing to get back up and get on when I was tossed off.
He had a contempt that he imparted to me for the kind of man who would get panicky on a horse and then take it out on the horse by yanking the bits, yelling at the animal or digging his heels into the horse's sides.
Shorty was a kindly horse with a lot of patience for little girls but not a lot of gas in his tank. As I grew from a tiny girl into a little girl, I became increasingly impatient with his lack of go. One day when I was about seven I decided I wanted to see if I could get a rise out of him.
I saddled up and climbed on Shorty, armed with a water pistol. I rode him for a while, then stood in the stirrups, leaned forward, and squirted. Sweet, gentle Shorty broke in half. I managed to ride it out, but I certainly did get a rise out of him. It was more than I bargained for, but it was fun. I finally got Shorty quieted and looked around to see my daddy standing across the lot, staring at me.
The word we use today is "busted." I had been caught red-handed, abusing my horse. I had no idea what Daddy was going to do, but I expected something massive. What he did instead was much more effective.
"Becky Ann, you know better than that." he said. That was all. He didn't yell or threaten. He didn't even ground me from riding; just, "you know better than that." But it was enough. I have never abused an animal again.
Years before that, when I was a pre-schooler, I stole a pack of chewing gum from a store and got caught. Daddy didn't yell at me. He took me back to the store and made me hand the gum to the clerk and say "I stole this." That was a long time ago, but I can still feel the humiliation of that moment. Then, to add insult to injury, he bought the gum and gave it to me.
Another lesson learned. The temptation to steal left me that day and has never returned.
Daddy was teaching more than how to ride and care for a horse, more even than not to steal. He was teaching me a whole set of values. He was also, though neither of us was aware of it, teaching me about men. There wasn't a plan in this. I feel confident that my daddy never read a single book on how to raise kids. He didn't make dates to "have a talk" with me or attempt to manipulate me. He just talked to me as part of our daily interactions. Like I was a person. He spent time with me. That's how he caught me with the stolen gum, how he saw me shoot water into Shorty's ear; he was there.
Woody Allen has said that 90% of life is showing up. I think that more than 90% of being a father is being there. You don't have to ride horses with your kids or break down engines to be a good dad, but you do need to be there. Share the one thing that is completely yours with your children: Share yourself. Teach them about men by being a safe and reliable man in their lives. Give them the gift of security by always being the dad on the beat, ready to protect and rescue them when they need it.
My father had a lot of faults. But he was there and he loved me without question. He used to embarrass me, bragging on me to people, but I realize now that having your very own Daddy think you are the greatest thing since sliced bread is loft to your wings for your whole life. Children, boys or girls, it doesn't matter, need their Daddys. They need them home, with their Mamas, taking care of things.
My Daddy was there. And he loved me unconditionally. I've never read a child-rearing advice book that just plainly said that this is what children need, but it IS what children need. Nothing else will substitute.