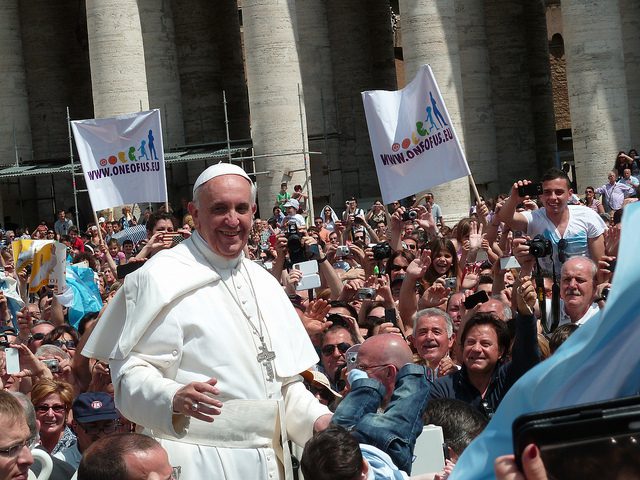 Redefining Francis to fit their political agenda is the new game of the left. It is an attempt to deify what are in fact callous and money-driven political positions.
If their ideas had to stand on their own merits, neither political party would do so well. In fact, if they were shorn of the god-gloss that counterfeit clergy obligingly spray all over them, We the People would have an easier time seeing through their charades and demanding better of them.
Pope Francis, as he is deliberately misinterpreted by left-wing media, bears no resemblance to Pope Francis the Vicar of Christ that he is. However, facts, reality and truth will not stop the msm in its quest to make him into an apologist for their secular values.
The Washington Post published an article today which is an example of these brazen attempts to hijack the pope for left wing politics.
I wrote about it for CatholicVote.
Here's part of what I said:
Back in the dark days of AIDs, when a diagnosis of HIV positive was a death sentence, someone I loved dearly got the bad word that this killer virus was crawling through his immune system.

He cried. I cried. We both believed his doctor who said that in three years he would be terribly ill, and within five years, he would be dead. We struggled to fit our understanding around this reality.

My friend called me one day during this coming-to-terms time. He had heard some flat-liner preacher on the radio saying that AIDS was God's punishment to the gays, and that they were getting what they deserved. I still remember the anguish in his voice.

My friend was not religious, yet this diatribe from a radio preacher cut him to the bone. It is a terrible thing to tell people that God hates them. It is also, always, untrue. This preacher who said that AIDS was God's punishment on the gays and that they deserved what they got was misrepresenting God.

"That's why I'm a Christian," I told my friend. "So that I don't get what I deserve."

Read the rest here.