RESOURCES
Self-Justification
vs Justification-by-Faith
Resources: Books, Articles, Posts, Videos
with Ted Peters
Our topic is self-justification coupled with scapegoating. This is the answer. What's the question?
Why is it that human sin is so confounding, so difficult to grasp? The answer: because we lie to ourselves.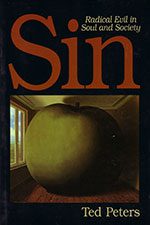 What makes sin so ungodly is that we daily draw a line between good and evil. In our imaginations, we place ourselves on the good side of the line. I call this, self-justification. We justify ourselves in our imaginations.
Whom do we place on the other side of that line? I refer to him, her, or they as the scapegoat. We scapegoat others in order to justify ourselves. This is a lie, to be sure. But, it's an everyday lie. It's so normal that we hardly even recognize the everyday practice of self-deception.
Self-Justification in Adam and Eve
In the case of Adam and Eve in Genesis 2-3, our first ancestors scapegoated God. They drew a line between good and evil. They placed themselves on the good side. And, eventually, they placed God on the evil side. Adam and Eve set the model we all imitate. Atheism today typically glorifies the atheist and denigrates the divine scapegoat. Poor God.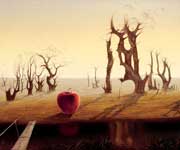 Believers as well as unbelievers scapegoat God. The gospel tells us that God accepts being placed on the evil side of the lines we draw. God became present when Jesus Christ on the cross became the scapegoat for the self-justifying crucifiers. God works for our salvation not from the good side of the line, but rather from the evil side where we place everyone other than ourselves.
Lutherans and other Reformation Christians emphasize that we are justified by God's grace through our faith. The problem that God's grace must overcome is our resistance. We resist, because we are perpetually trying to justify ourselves. Can God's grace penetrate our resistance?
Below is a list of articles and resources to expand on loci such as sin, evil, self-justification, scapegoating, and worse.
Here's a video on theological anthropology.
Here's a bunch of articles pertinent to self-justification vs justification-by-faith.
The Spirituality of Justification
The Resistance of Self-Justification to God's Grace (Inaugural Mannermaa Lecture)
Justice, Justification, and Self-Justification
Covenant, Blood, and Violence: America at War with Itself and Others
Entheocaric Freedom: Clarifying Confusions
Grace, Doubt, and Evil: The Constructive Task of Reformation Theology
Here's an 8 part series of posts on Sin.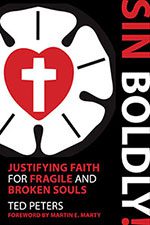 SIN 7 The true story of Satanic Panic
SIN 8 How can Satan cast out Satan?
SIN 9 Ted's Tips on Satan and Demons
Here's an 7 part series of posts on Atonement: How does Jesus Save?
How does Jesus save? Part Two Teacher & Moral Influence
How does Jesus save? Part Three Christus Victor
How does Jesus save? Part Four Satisfaction
How does Jesus save? Part Five Penal Substitution
How does Jesus save? Part Six Happy Exchange
How does Jesus save? Part Seven: Final Scapegoat
Six Ways of Salvation: How Does Jesus Save?
Forthcoming: a 3 part series of posts on Resentment & Compassion