Sin Boldly!
Resources: Books, Articles, Posts, Videos
with Ted Peters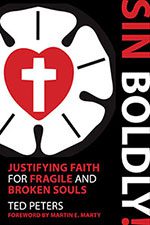 Sin Boldly!
Sin boldly! Really? Yes. To sin boldly means two things. First, relish and enjoy the freedom given you by God's grace. Second, make moral decisions based on your best judgment. Then, proceed to act. None of your moral judgments will be pure and undefiled. So, proceed to sin boldly!
Grace is the key. If we are justified by God's grace in our faith, then we do not need to justify ourselves. We do not need to purify ourselves by scapegoating others. We do not need to claim innocence on the grounds that we did nothing rather than risk making a mistake. Why? Because God has already rightwised us–justified us–by grace. Peter Marty's Reformation sermon on 10.31.2021 helps us grasp this.
Where does "Sin Boldly!" come from?
Where do we get the maxim to sin boldly! It comes from a letter written by Martin Luther (1483-1546) to his younger colleague at Wittenberg University, Philip Melanchthon (1497-1560).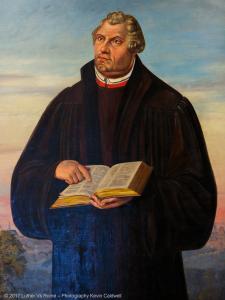 "If you are a preacher of grace, then preach a true and not a fictitious grace; if grace is true, you must bear a true and not a fictitious sin. God does not save people who are only fictitious sinners. Be a sinner and sin boldly, but believe and rejoice in Christ even more boldly, for he is victorious over sin, death, and the world. As long as we are here [in this world] we have to sin. This life is not the dwelling place of righteousness, but, as [Saint] Peter says, we look for new heavens and a new earth in which righteousness dwells. It is enough that by the riches of God's glory we have come to know the Lamb that takes away the sin of the world. No sin will separate us from the Lamb, even though we commit fornication and murder a thousand times a day. Do you think that the purchase price that was paid for the redemption of our sins by so great a Lamb is too small? Pray boldly—you too are a mighty sinner." (Luther 1961-1986, 48: 281-282)
Only sinners in this life make moral decisions and take compassionate actions. That describes you and me. That describes every conscientious Christian who is simul justus et peccator, at once both saint and sinner.
Here is my ethical advice. If sinful action is unavoidable, be honest and follow the best path your judgment can set out. Make moral decisions carefully but courageously!
Below I've listed a number of videos and articles as resources for loci such as sin, evil, scapegoating, self-justification, justification-by-faith, grace, and such.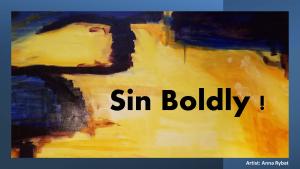 If you'd like to watch a video presentation, try one of these.
Sin 5: Self-Justification and Scapegoating
What do Lutherans think about self-justification?
If you'd like to read a post or an article, just click.
SIN 7 The true story of Satanic Panic
SIN 8 How can Satan cast out Satan?
SIN 9 Ted's Tips on Satan and Demons
How does Jesus save? Part Seven: Final Scapegoat
The Spirituality of Justification
The Resistance of Self-Justification to God's Grace (Inaugural Mannermaa Lecture)
Justice, Justification, and Self-Justification
Covenant, Blood, and Violence: America at War with Itself and Others
Entheocaric Freedom: Clarifying Confusions
Grace, Doubt, and Evil: The Constructive Task of Reformation Theology
Six Ways of Salvation: How Does Jesus Save?
How does Jesus save? Part Seven: Final Scapegoat