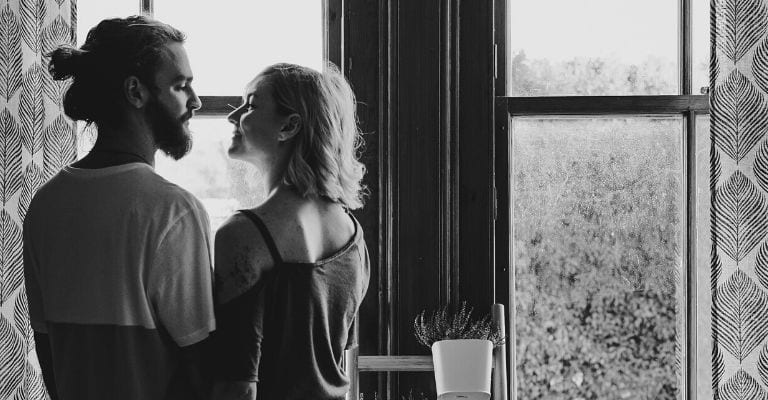 Quarantine can test the best of marriages. But if you're already struggling, being stuck in a house for weeks with your husband may put the last nail in the coffin of your union. So if you're struggling, the thought of quarantine may have you wondering, "How can I make my marriage stronger?"
If you have a strong relationship, you might enjoy spending a few weeks holed up with your husband. If you're already on the rocks, sheltering in place could create trouble.
You can use the coronavirus pandemic to make your marriage stronger.
The virus itself won't make your marriage stronger. But you can use the time you're holed up to improve the quality of your marriage, without your husband even knowing it.
If my husband and I had been quarantined at certain points in our marriage, it probably would have been o-ver.
Our marriage was far from strong.
I felt like it was hard enough to live with him when I had to see him only a few hours a day. We argued constantly. Thankfully, I don't feel that way now. I'm crazy about him, and he feels the same way about me.
I found the secret to a happier marriage, and you can, too.
I changed my mindset about my marriage and my husband.
If you don't think this works, here's what a student in my Change Your Mind; Change Your Marriage session said, "My husband and I were very good at being teammates, but we began to feel more like roommates than a married couple. I immediately began to see that start to change just one week into Sheila's course ."
It only takes one person who's willing to do or think something different to change a marriage.
It sounds simple, but it's not easy.
You can use this time when distractions are low to come out of this quarantine with a stronger marriage.
You can change your mindset and change the whole atmosphere of your marriage.
Start thinking of him as someone you respect
Changing your mindset about respecting your husband is one of the fastest ways to strengthen your marriage. Many women think respecting their husbands means they have to become a doormat. That was my mindset. It's not true. You don't have to become a doormat or someone you're not. With a few simple changes, you can make your husband feel respected, and in return, he'll make you feel loved. I used to have the mindset that he needed to do something respectable before I could respect him. I decided to treat him like someone I already respected and found out what he considered disrespectful. I was disrespecting my husband in ways I didn't realize and you might be, too.
Don't judge him
Change your mindset about assumptions and decide to reserve judgment until you get details. I had a mindset, I knew best so I jumped to conclusions or got defensive without giving him a chance to explain. When I stopped jumping to conclusions and thinking I already the answers, I started to see him differently. I started to expect the best, so I started to see the best. When I assumed he cared about me and wanted what was best for me, I started to see what he did to show me he cared.
Treat him like a stranger
Treat your husband like a stranger if you want to strengthen your marriage. Here's what I mean. If a stranger unloaded your dishwasher or took out your trash, you'd say thank you. Give your husband the same courtesy. Appreciate him. You might not think there's anything to appreciate, especially if he's been sitting on the sofa wearing the same shirt playing video games for days. You can thank him for what he does. For example, if he makes the bed, thank him. Should you have to thank him if he sleeps in the bed, too? Yep, because it lets him know you appreciate that he took the time to help.
Touch is strong
Touch is a powerful human connection. Sit next to him on the sofa. Hold his hand. Hug him.
Your marriage won't change overnight or even in two weeks, but when you decide to change your mindset and treat him differently, chances are he'll change the way he responds to you.
As hard as coronavirus quarantine is, it's a perfect to start practicing a new mindset about your husband and practicing new skills to fix your marriage.
Contact me, and I'll help you enroll for my next session of Change Your Mind: Change Your Marriage.
Need skills to build intimacy?
---
Subscribe to updates from The Not So Excellent Wife here!
Also known as the Not So Excellent Wife, Sheila Qualls understands how tiring a tough marriage can be.
She went from the brink of divorce to having a thriving marriage by translating timeless truths into practical skills. She's helped women just like you turn their men into the husbands they want.
After 33 years of marriage, she's a coach and a speaker whose passion is to equip women to break relationship-stifling habits and do marriage God's way. And you don't have to be a doormat to do it.
She and her husband Kendall live in Minnesota with their five children and their Black Lab, Largo.
In addition to wife coaching, Sheila also coaches moms who want to improve their parenting skills. She is a member of the MOPS Speaker Network. Her work has been featured on the MOPS Blog, The Upper Room, Grown and Flown, Scary Mommy, Beliefnet, Candidly Christian, Crosswalk.com, The Mighty and on various other sites on the Internet.