13 Tips to Help You Know How to Best Home School Your Child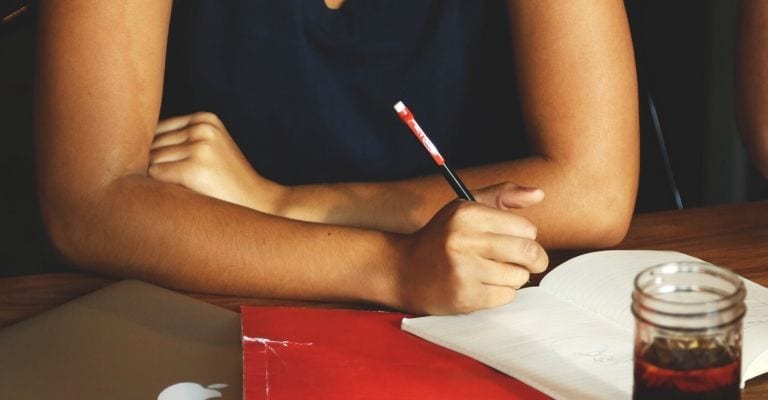 When the World Health Organization (WHO) declared coronavirus a pandemic, it set off a pandemic of fear among moms worldwide. Just like that, Covid-19 has left "regular school" moms trying to figure out how to home school a child.
Curse you, coronavirus!
Unlike a disease-related pandemic, moms have no emergency plan for how to home school a child. It may feel overwhelming or daunting. To describe it in a word: scary.
I home schooled four of my five children through high school. I can say with confidence, you can do this like a pro.
When I started home schooling, I wish someone had told me what to expect and how to be most effective. If I could go back, I'd do a few things differently, such as not try to turn my home into a school. My poor kids were tied to their desks slaving over workbooks all day.
I want to spare you some of the mistakes I made as a new homeschooling mom and set you up for success.
Here are 13 tips I'd give a new homeschooling mom so you can home school like a pro:
Relax. I wish someone had told me this when I started home schooling. You were your child's first teacher. You taught them how to spell their name and helped them memorize their address and phone number. There'll be days when you'll wonder if your kids learned anything or if you've done enough. Remember, you have a vested interest in your child's success. Make this a time to remember.

Have fun. Learning is important, but it's okay to have fun while doing it. When you make learning fun and not stressful, you create a love of learning in your kids. Games are a great way to teach skills. The best part about using games is your kids don't feel like they're learning. Use Connect 4 to teach critical thinking and reasoning. Teach science outside. Take a nature hike. Re-enact history. Have a medieval feast. The world is now your classroom. Take advantage of it.
Don't make home a school. As a young homeschooling mom, I made the mistake of trying to recreate school at home. One of the benefits of homeschooling is flexibility. "Regular school "teachers work hard, and we appreciate them. But they teach 20 to 30 students at a time. There's a reason their days are structured in a certain way. You won't have 20 kids at home. You'll be able to "do school" in less time and in different ways. You decide the hours and set the schedule. If something isn't working, change it. If you want to sleep in and start a little later, that's okay. If your kid wants to take a break and play outside between subjects, allow it. If you want to do math outside on the deck, that's fine. Structure your environment and your schedule in the way that works best for your family.

Don't be shamed. Homeschooling can produce a huge shame factor. It's easy to feel like you're "not as good as" when you hear your friends tell stories of how 'Little Jessie' finished his math book in a week. That's great for 'Little Jessie,' but don't compare your child to him. Celebrate your child's accomplishments. Don't let anyone shame you for the way you choose to set up your school or for how much or how little your child gets done in a given day.
Avoid comparing your kid to others. It's easy to compare your kids to others when you homeschool. You're now responsible for your kids' education. It feels like their success is a reflection of you. It's not. Push your child to do his or her personal best. Compare his math score today to his math score from yesterday, not to your friend's kid's score. When you appreciate your child and celebrate his accomplishments, you'll build his or her confidence like never before.
Figure out how and when your child learns best. Take a few days to figure out how and when your child best learns before setting a schedule. One of the best things about home schooling is you can tailor learning to your kid's style. Some schools have a one size fits all formula, which works great for some kids. Some kids learn well while sitting at a desk. Others may need to move around while learning. Some learn by touching and doing. Others learn by watching and hearing. Figure out your child's learning style and tailor most lessons to fit it. Schedule subjects that are tough for your kids when they're at their peak learning time. If your kid isn't a morning person, don't start the day with subjects that are difficult for him/her. Almost all kids learn well using manipulatives for math. Add, subtract, multiply and divide using edible manipulatives like M &M's or Skittles. For every problem they get right, let them eat a piece of candy.

Set a schedule and establish who's in charge. Setting a schedule keeps you on task and lets your child know who's in charge. Classroom teachers set schedules, and children have no doubt who's in charge when they're in school. If teachers didn't set rules and schedules, they wouldn't be able to get things done. The same is true with homeschooling. Decide what time you'll start the day, but also set an ending time. Your kid doesn't need to do homework in the evenings. He'll finish his schoolwork during the day. You set the schedule and the rules, but remember you can also change them.
Teach everyone together. "Regular schools" segregate students by age, but that's not necessary at home. If you're teaching different grades, they can learn together. You can teach the main lesson to the group but tailor the homework assignments to each child's skill level. If you're learning about Ancient Times, assign a paper to the older students but let the younger ones complete a coloring sheet or act out a scene from history.
Ask for help. Get help if you need it. YouTube and Kahn Academy are great tutors. Don't be afraid to phone a friend. You don't have to be an expert in every subject. "Regular schools" have math teachers, English teachers and science teachers. No one is expected to know everything, and you aren't either. I went through Algebra II four times, and I needed help every time.
Be patient when your kids challenge you. Invariably you'll hear, "That's not how we learned it as school." Be patient. Let your child know there are a variety of ways to learn and teach. Explain that you're the teacher now, and you're going to teach in ways that work best for him/her. Ask for their input on how they think they learn best.
Build a relationship. Never underestimate the power of your smile. Your child wants to please you. When you smile and encourage him/her, they will want to perform for you. In addition to educating them, you have an opportunity to build a relationship with your child and learn more about them.
The Internet is your friend. When I started home schooling, most people didn't have the Internet or computers. If I didn't understand a concept, my only option was to phone a friend. The Internet is a great resource for homeschoolers. Anything you want to know you can find on the Internet. Don't remember how to do algebra? Google it. Want to dissect without making a mess in your kitchen? Do it virtually. Can't remember a date or a fact? The Internet places anything you want to know at your fingertips.
Stick it out. Home schooling is hard. Some days you will literally curse coronavirus. There will be tears and fears. After 20 years of home schooling, I can say with confidence that it's worth it for reasons that may not be evident to you right now. Don't be hard on yourself. Your relationship with your child will grow stronger. Your confidence will grow as you learn along with your child.
Sheila Qualls homeschooled four of her five children all the way through high school. Two of her children have Bachelor's Degrees, one earned an Associates Degree and joined the military, one is on her way to college in the fall, and the last one will resume lessons at the kitchen table compliments of coronavirus.
Need skills to build intimacy?
---
Subscribe to updates from The Not So Excellent Wife here!
Also known as the Not So Excellent Wife, Sheila Qualls understands how tiring a tough marriage can be.
She went from the brink of divorce to having a thriving marriage by translating timeless truths into practical skills. She's helped women just like you turn their men into the husbands they want.
After 33 years of marriage, she's a coach and a speaker whose passion is to equip women to break relationship-killing habits and do marriage God's way. And you don't have to be a doormat to do it.
She and her husband, Kendall, live in Minnesota. They have five children and a Black Lab named Largo.
In addition to coaching, Sheila is a member of the MOPS Speaker Network. Her work has been featured on the MOPS Blog, The Upper Room, Grown and Flown, Scary Mommy, Beliefnet, Candidly Christian, Crosswalk.com, The Mighty and on various other sites on the Internet.