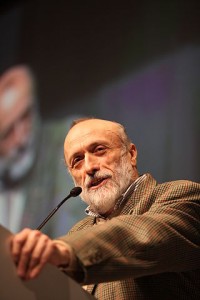 We reported this summer that Pope Francis had advocated for churches to slow down.
This week, Slow Food International founder, Carlo Petrini reported that he recently received a phone call from the pope.
Petrini says:
We also talked about the farming world. Pope Francis wanted to emphasize how precious the good practices of rural communities are to the world's destiny. On this subject in particular, the Pope had strong words: "The work of these people is extraordinary," he said. "Accumulating money must not be the primary goal. My grandmother used to tell me that when you die, your shroud has no pockets for money."
He concludes:
I do not have the capacity or the knowledge to open a deep and learned dialog on the question of faith, but I know that if humanity wants to escape the desert of ideas that surrounds it, people who know how to communicate like Pope Francis will be of great value.
These stories deepen my appreciation for Pope Francis…
Maybe we should send him a copy of our SLOW CHURCH book when it comes out?
IMAGE CREDIT: Carlo Petrini by Bruno Cordioli.
Creative Commons Licensed via Wikimedia Commons.