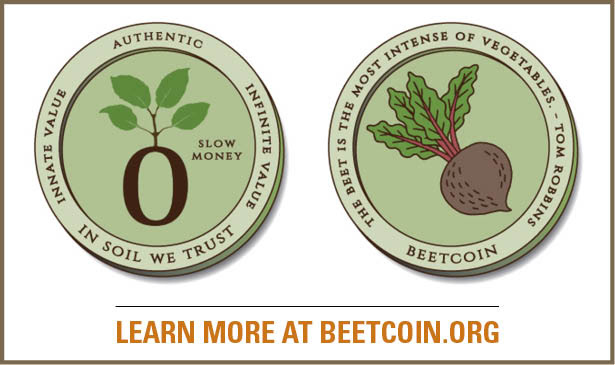 Friends of Slow Church,
The last four months have been almost magical. Since Slow Church officially released on June 3, we've been surprised, delighted, and truly humbled by people's responses to the book. Those responses have been overwhelmingly positive, and even the occasional pushback we've received has helped move the Slow Church conversation forward. We're grateful for all of it. Thank you.
I have two goals for this post. First, I want to give you the briefest update on what's been happening with the book. Second, we want to make an exciting announcement about how Slow Church has been invited to dialogue with two movements that helped inspire it: Slow Food and Slow Money.
Slow Church is now well into its fourth printing. In just the last month or so, Slow Church has been the subject of glowing, feature-length reviews in the print editions of Sojourners, Christianity Today, and Books & Culture. It seems like every week we hear from another church, university, or seminary that is using the book in ways we couldn't have anticipated. Slow Church is being added to the syllabus in college courses from Massachusetts to Washington. Seminaries and churches are using it as a book-in-common. House churches and small groups are using our new Conversation Guide to help enhance their discussion of the book. Perhaps most meaningful of all, in the last four months we've been able to talk about Slow Church in dozens of venues around North America. You've invited us into your sanctuaries, lecture halls, neighborhoods, backyards, and living rooms. You showed us tremendous hospitality, and we learned so much from you about what lived-out Slow Church can look like. A busy half-year of touring draws to a close this November with an important event in Louisville, Kentucky, and that brings us to our second point.
We are thrilled to announce that Slow Church will be the subject of the closing session of this year's Slow Money conference. (Wendell Berry is the opening session!)
Are you familiar yet with the Slow Money Movement? Slow Money brings money literally "down to earth" by supporting a new generation of entrepreneurs and investors who measure success not just by return-on-investment but on how our economic activities strengthen neighborhoods, promote cultural and ecological diversity, and contribute to resilient local communities. Over the next four weeks, we're going to be doing a series of blog posts that will put Slow Church in conversation with Slow Money. But we'll give away the ending here: we think Slow Money is doing vital, even necessary work.
The Slow Money Gathering annually brings together hundreds of thought leaders, food entrepreneurs, farmers, social investors, writers, artists, philanthropists, and community practitioners from around the globe. This year, we get to hear from some of our heroes—including Wendell Berry, Mary Berry, Vandana Shiva, and Joel Salatin, to name a very few. And as we said, the conference concludes with a session on Slow Church, where I will share the stage with the founder of Slow Money, the president of Slow Food USA, and the Vice President of Slow Food Italy!
We think the 2014 Slow Money Gathering is a huge opportunity for people of faith to contribute to some of the most important economic and ecological conversations of our time. Our friends at Slow Money agree, so they are offering a 25% registration discount to the Slow Church community. I want to personally invite you to attend. Here are the details:
SLOW MONEY 2014
Date: November 10-12
Venue: The Kentucky Center for the Performing Arts
Where: Louisville, KY
Registration – 25% Off
My dream is that some of the people who have engaged so thoughtfully with Slow Church will attend the Slow Money keynotes and breakout sessions—and then meet together informally in the evenings to talk about what food justice, local economies, community agriculture, GMOs, soil fertility, and other conference topics mean to our local congregations and the neighborhoods we love.
I hope you consider attending this great event. But whether or not you can make it to Louisville, Chris and I want to thank you again for the last four months. Something special is stirring in our cities and towns, and you are all an important part of it.
P.S. If you can't attend the Slow Money Gathering in person in November, there is another fun way your presence can be felt. You've heard of Bitcoin, but have you ever heard of BEETCOIN? Slow Money is collecting tax-deductible BEETCOIN contributions that will be combined into three-year, 0% loans given by popular vote to two of the food entrepreneurs who will will be presenting in Louisville. You will be even be able to watch the presentations via a livestream on the web. This is crowdfunding the local food revolution. More details here.